REACH Ambassador Peer Mentor Program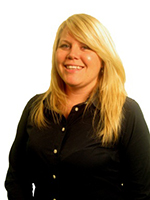 Leighann Valdez, M. A.
Coordinator
REACH
Undergraduate Affairs
Leighann joined the Collaborative Learning Community in Fall 2008. As coordinator of the REACH Ambassador Peer Mentor Program, the focus of her involvement centered on incorporating critical thinking into Ambassador event reflections. However, it soon became apparent that the potential benefits and implications of infusing critical thinking into the mentoring program were numerous and widespread across the program. She has since begun infusing the Paul-Elder critical thinking framework into multiple areas of the program and continues to experience a positive impact for the program, students and staff.
In her own words:
The Paul-Elder critical thinking framework will continue to be infused into the Ambassador Program to help foster growth and development through critical thinking and reflection of our student Ambassadors. The incorporation of the critical thinking framework is pervasive and benefits both our students and staff. Critical thinking will be used to increase program cohesiveness, outline specific and explicit goals and advance student growth and development. Specifically, event reflections will continue to be developed to deepen critical thinking concepts and student reflection. Students will critically reflect on their event experiences to determine how these relate to their leadership growth, development, and program goals. Moreover, various program forms and rubrics will continue to be refined to promote critical thinking in areas of the program such as: interviewing and hiring, ambassador evaluations, ambassador program surveys, small group planning, event reflections and the ambassador award of excellence. Lastly, infusing structured reflection into events and meeting formats will be explored, as well as incorporating Intellectual Traits into program learning objectives.
The implications of incorporating critical thinking into the Ambassador Program have been positive and far-reaching. The Paul-Elder critical thinking framework has contributed to greater program cohesiveness, deepened student reflection and student growth and development.
Learn more about the REACH Ambassador program: