BFA Graphic Design Track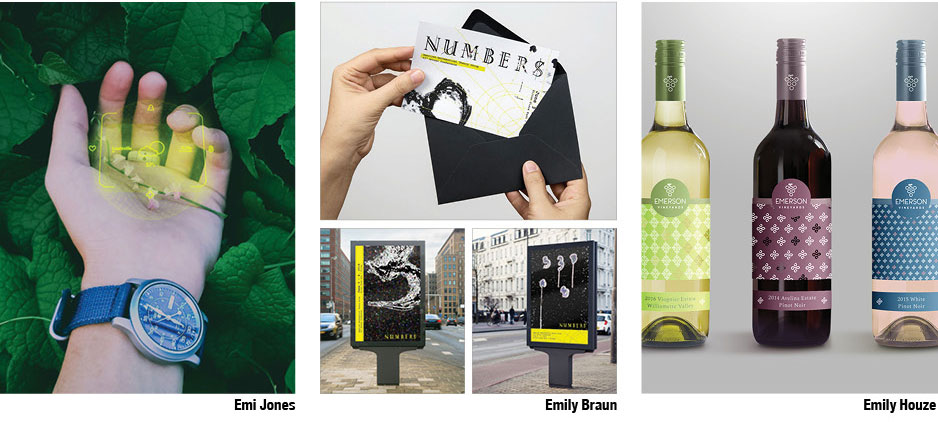 Check out more examples of our senior BFA candidates portfolios. | Class of 2021 website | Class of 2020 website
Graphic design, the planning and development of visual communication, is a very broad discipline. Designers create books, magazines, visual identification systems, web sites, packaging, advertising, architectural graphics, information graphics, museum displays, and many other applications. However diverse in its usage, all graphic design shares the same purpose — the articulate exchange of information between people through the use of image, mark and word. (The AIGA Career Guide is excellent resource for about the field.)
The graphic design program at the Hite Art Institute focuses on three aspects: conceptual development, compositional eloquence, and technical proficiency. These aims are accomplished through both hand and computer-based work.
As with all of the Hite's Bachelor of Fine Arts (BFA) programs, hallmarks are small class size, close working relationships with our faculty, and the benefit from a strong cohort of students. Since 2002, 96% of the students who are accepted into the graphic design BFA track, complete the major.
The Graphic Design BFA track is a professional preparatory program. It is intended to prepare students to eventually assume leadership positions in the field of graphic design. Our graduates do well in the professional world with more than 86%* working in graphic design or design/visual art related professions. (*data from 2010–2018). To see more about where our alums are working, view Graphic Design 2019 Report.
Admission and Program Information
The Bachelor of Fine Arts (BFA) degree is primarily intended for professionally oriented students. Admission is selective and enrollments are limited. We typically accept a maximum of 22 students a year into the graphic design BFA program.
To apply to the BFA program in graphic design, students must
be currently accepted majors in the Department of Art & Design (see Hite Undergraduate Admission Information);
have completed or are currently completing the 100-level foundations courses (ART 105, 106, 107), plus have completed or are currently enrolled in ART 205 Foundation Design Methods (Spring semester sections only),
have a combined minimum GPA in art and art history classes of 3.0, and a minimum overall GPA of 2.5.
Transfer student applications are reviewed on a case-by-case basis and admission is not guaranteed.
BFA Applications for Graphic Design are due by April 15 and are reviewed at the end of the spring semester.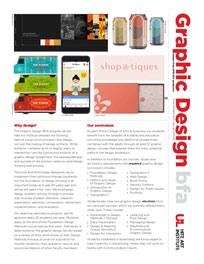 In addition to the Foundations program, students in the graphic design BFA track complete the following core courses (listed in sequence):
DES 373 Introduction to Visualization
DES 301 History of Graphic Design
DES 571 Typography I
DES 572 Typography II
DES 573 Typography III
DES 576 Interaction Design I
DES 578 Interaction Design III
DES 580 Design for Public Issues II
DES 583 Design Research Methods
DES 584 Design Futures
DES 594 Directed Studies in Graphic Design
DES 598 Professional Development in Design - CUE
Majors also take
two additional 500-level electives in graphic design;
one additional 300-level studio art course; and
one additional 300-level or above studio art or art history elective (which may also be one of the graphic design electives).
Electives in Graphic Design are offered on a rotating basis. These include:
DES 510 Information Visualization
DES 570 Design for Public Issues I
DES 577 Interaction Design II
DES 582 Human Experience In Design
DES 590 Special Topics in Design
Graphic Design courses are only open to students admitted to the BFA program in Graphic Design.
---
Internships in Graphic Design and
Requests for Graphic Design student work
Although an internship is not a requirement of the major, almost all graphic design students complete one or more semesters of internship experience. During the fall and spring semesters, full-time students participating in internships generally work from 8 to 10 hours per week (or approximately 120 hours during the semester); students are able to spend more hours per week in summer internships. Part-time students may be able to work more hours per week in an internship, on a case-by-case basis.
For organizations seeking graphic design interns, view our Internship Program Information. If your position qualifies as an internship, contact Sheri Squires to have your internship request posted for students.
For requests that do not qualify as internships, we will also post information about freelance assignments or pro bono design requests from 501(c)3 non-profit organizations. View our Request for Student Design Work, or contact Sheri Squires for additional information.
---
BFA Candidacy
Once admitted to the BFA program, students are expected to work closely with their mentor toward completion of the degree. All candidates must maintain an overall GPA of 2.5 or above and a departmental GPA of 3.00 or above to remain in the BFA program once accepted.
Graphic Design candidates must meet with their mentor each semester to ensure they are performing adequately and following the proper class sequence.
Completing the BFA in Graphic Design
In addition to completing the curricular requirements, BFA candidates must also pass their program's capstone requirement, part of the Department's Learning Outcome Measurement. The Graphic Design capstone consists of the student's successful completion of the Professional Development course and presentation of a portfolio of work to professionals in the field during the Portfolio Day event.
For further information regarding the BFA in Graphic Design, please contact:
Trysh Wahlig, M.Des
Assistant Professor
Email Trysh Wahlig 
Phone: 502.852.0807
Sheri Squires, B.S.Des.
Michael L. Power Designer in Residence
Email Sheri Squires
Phone: 502.852.3605
Save
Save
Save
Save
Save
Save