Elect Her 2016 Speakers
Attica
 Scott, KY State House of Representative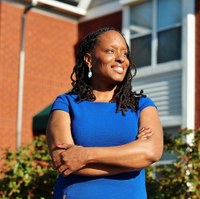 Attica Scott is a Community Coach with County Health Rankings & Roadmaps (CHR&R) which is a collaboration of the Robert Wood Johnson Foundation and the University of Wisconsin Population Health Institute where she serves on the CHR&R Health Equity Work Group.
Attica served as the District 1 representative to Louisville Metro Council from 2011-2014 and served as Chair of the Ad Hoc Louisville Affordable Housing Trust Fund Committee and Vice Chair of the Ad Hoc Vacant Properties Committee. She was a member of the Labor & Economic Development Committee, Public Safety Committee and Sustainability Committee.
In 2010, she graduated from the first class of Emerge Kentucky which prepares Democratic women to run for office and was recognized as a Connector by Leadership Louisville as a civic and non-profit community leader who is making a difference in our region. She was awarded the 2011 national "Woman of Vision" Award by the Ms. Foundation for Women. Attica was a 2013 member of the Bingham Fellows of Leadership Louisville focusing on creating a smart food culture in the Louisville area and that same year was a featured Daughter of Greatness at the Muhammad Ali Center.
Attica provides leadership to a number of non-profit Board of Directors including Seven Counties Services, Building Hope Kentucky, La Casita Center, Kling Center, Looking for Lilith Theatre Company, Shively Area Ministries, the Women's Network Commonwealth Institute for Policy Issues and Civic Engagement Board of Fellows and New Directions Housing Corporation. She previously served on the boards of Restorative Justice Louisville, National Organizers Alliance (Secretary), Community Development Corporation at Greater Friendship Baptist Church, Hispanic/Latino Coalition of Louisville, Democracy Resource Center, Equality Coalition for Housing Opportunities, Center for Labor Education and Research Advisory Board at the University of Kentucky, among many others.
She holds an undergraduate degree in Political Science from Knoxville College (a historically Black college) and a graduate degree in Communications from the University of Tennessee. Attica is a certified anti-racism trainer through Crossroads Ministry and the Commission on Religion in Appalachia.
Her proudest accomplishment is being a mom to Advocate and Ashanti.
Amanda Nitzken, University of Louisville Student Government Association Vice President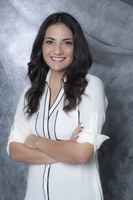 Amanda is a senior Political Science major with a minor in Middle Eastern & Islamic Studies from Louisville, KY. She was previously the Assistant to the Service Vice President in the 2014-2015 school year. In addition to her SGA experience, she is the President of the Sigma Kappa Sorority and a member of the Order of Omega. She looks forward to presiding over a productive student Senate and increasing SGA's efforts toward campus diversity.
She is also involved in the Rho Lambda Honor Scoiety, raiseRed, Honors Shadow Host program, Habitat for Humanity, and as a REACH Ambassador and Cochran Elementary Tutor.
Jessica Kelly, AAUW's Program Manager of Campus Leadership Programs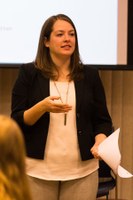 With a background in both women's issues and higher education student affairs, Jessica Kelly is committed to working with women leaders on college campuses. She currently serves as program manager for AAUW's campus leadership programs. There Kelly manages Elect Her, growing the program from 11 campuses in 2011 to 50 campuses in 2016.
Before coming to AAUW, Kelly worked for the women's studies program at Southern Connecticut State University, organizing academic conferences and leadership opportunities for students at the university and the surrounding community. Upon moving to Washington, D.C., she was program coordinator for the Lesbian, Gay, Bisexual, and Transgender Resource Center at George Washington University, where she advised and counseled LGBT students, managed leadership and community-building programs, and facilitated educational workshops on LGBT issues for the greater GW community.
Kelly earned a master's degree in higher education administration from George Washington University, a master's degree in women's studies from Southern Connecticut State University, and a bachelor's degree in English from the University of Connecticut. She lives in Washington, D.C.