UofL music professor gets innovative with new album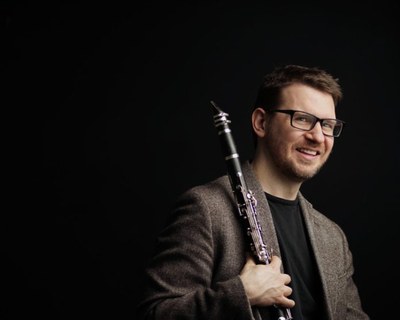 When Dr. Matthew Nelson was choosing the music for his new clarinet solo album, he knew one thing.
"I didn't want it to be the same old stuff," said Nelson, an assistant professor of Clarinet at the University of Louisville School of Music.
So, he spent a breakneck year selecting, researching, recording and mastering music that offered something new — a new timbre, a new technique, a new way of mimicking modern electronic sounds. The result is "Meditations and Tributes: Works for Solo Clarinet."
This is a premiere recording, so, "in a certain way, it's all uncharted territory," Nelson said. "This was a particularly forward-looking kind of recording project."
The album is all contemporary music, including several recordings and work from four winners of the UofL Grawemeyer Award for music composition. Composers Kaija Saariaho, Karel Husa and Krzysztof Penderecki were all previous winners, and Bent Sorensen won just recently.
There were several complicated pieces, including one that required Nelson to borrow a special instrument with an extra note and learn all new finger configurations.
"They're just very challenging pieces to get right," he said. "And there's nothing but me on these tracks, so it's pretty revealing if something doesn't sound right."
The project was backed by a grant from the UofL Office of the Executive Vice President for Research and Innovation. Nelson said the grant funding allowed him to spend a "significant" amount of time in the studio recording, editing and mastering each track.
"This project is a great example of the innovative research going on across campus," said Dr. Robert Keynton, interim EVPRI. "UofL strongly supports research and scholarly activity of our faculty from all schools, all departments across the campus community — they all are passionate about exploring and creating something new."
There are other research projects at the UofL School of Music, several of which have received support from the EVPRI throughout the past few years. There's a lot to explore, whether you're working to discover little-known pieces of music or diving headfirst into uncharted waters.
Just recently, for example, Nelson said he was asked by a colleague to go into a sound booth with his clarinet and make as many sounds as he could, whether pleasant or not — hisses, sputters, off-notes. The plan is to take those and make them into something coherent.
"There are elements of history, innovation, music and math," Nelson said. "All sorts of things are going on and it's a very exciting field in that way — you can go in so many directions."
Nelson said the album has so far been well-received. It is available on iTunes and Amazon, or you can stream it on Spotify or YouTube.