UofL Music Alumni Spotlight: Caitlin Edwards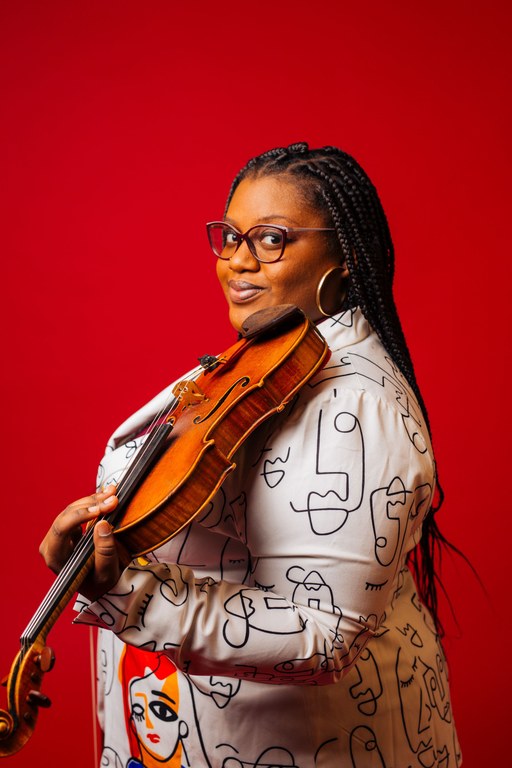 Caitlin Edwards began studying violin at the age of eight, and today, she boasts an impressive list of accomplishments from performing on The Late Show with Stephen Colbert, recording film scores by Hans Zimmer, to releasing her own CD.
Caitlin received degrees in Violin Performance from the University of Louisville (2017) and DePaul University (2019), studying with J. Patrick Rafferty and Janet Sung. She is currently a mentor with the Chicago Musical Pathways Initiative, a program designed to offer training for talented student musicians from traditionally underrepresented backgrounds. She performs frequently with local artists, and her Chicago based string quartet, D-Composed, which recently made their national television debut on The Late Show with Stephen Colbert.
She has soloed with the Chicago Solisti, University of Louisville Symphony, Alabama Youth Symphony and was a finalist in the Collegiate Virtuoso Concerto Competition in Atlanta, GA. In 2020, Caitlin was featured as a soloist in the "Dreams of Hope" documentary which premiered on PBS across the US and has received awards nationally and internationally.
Caitlin has performed with Sphinx Symphony Orchestra, Nairobi Philharmonic, Grant Park Festival Orchestra, Chicago Sinfonietta, the ReCollective Orchestra, the Matt Jones Orchestra, the National Repertory Orchestra, and the Wordless Music Orchestra. She was a semi-finalist for the New World Symphony national auditions and has performed at the Kennedy Center as a part of the National Symphony Orchestra Summer Music Institute.
She has performed and recorded with artists such as John Legend, Israel Houghton, Ms. Lauryn Hill, Common, Yolanda Adams, India Arie and on PJ Morton's "Gumbo Album", for which she received a Grammy Certificate. She also recorded for the Disney movie score, The Lion King, at Sony Studios.
Caitlin took some time to talk to the School of Music about her career and her experience at UofL.
Q: What do you consider your greatest professional accomplishments to date?
Caitlin: Receiving a 3Arts Award, releasing and recording an album of original music, recording for film scores by Hans Zimmer and Terence Blanchard, and contracting for cool concerts and recording sessions in Chicago!
Q: Tell us more about your CD release. How did it come about? Describe the music? How can we listen to it?
Caitlin: I began creating music during the pandemic. I eventually began experimenting with software instruments in Logic and pulling drum and piano samples from Splice, then I would create melodies, improvise, and record layers of myself over the track to create an ensemble sound. I also had friends and family to record piano, bass, and cello on the album. I'm classically trained, but I'm strongly influenced by gospel, R&B, and neo-soul music. I combined the classical sound of violin with the soul and harmonies of these genres to create a journey through my mind and heart during the early part of the pandemic. It is my first album so I'm definitely looking forward to the future! Exhale is available on all digital streaming platforms, and on my website for hard copies. https://www.caitlinedwards.com/store
Q: What was it like performing with some of the big celebrities you have worked with, like John Legend, etc?
Caitlin: I've never had a necessarily bad experience, which is great! I usually have the pleasure of playing or recording with friends, so it's just a fun experience in general. Some experiences, like Hollywood Bowl with Ms. Lauryn Hill, are exhilarating because of the energy, the lights and sounds, the people in the audience and of course getting to perform with one of my favorite artists on the planet!
Q: Describe your career path and what has that looked like.
Caitlin: I finished grad school at DePaul in 2019. While in grad school, I recorded regularly with the Matt Jones Orchestra, taught with various music programs, and traveled frequently for performances/recordings with the ReCollective Orchestra, Gateways Music Festival, Wordless Music Orchestra, and other gigs! I also began to contract musicians for recording sessions and shows within Chicago in 2019. My quartet D-Composed was also founded in 2017 and has been active to date, with performances on the Late Show with Stephen Colbert and collaborations with Google, MCA Chicago, Apple, and more. I gig with different orchestras around Chicago, record for studio sessions, teach sectionals for a high school and the Chicago Youth Symphony Orchestras, mentor with the Chicago Musical Pathways Initiative and regularly give solo performances/recitals. I am also a 2021 recipient of a 3Arts award! My career has been full of diverse experiences, and I'm truly thankful for the opportunities!
Q: What is your best college memory at UofL?
Caitlin: Traveling to Costa Rica with the orchestra in 2014, performing with the Brazilian and Contemporary Jazz ensembles, and theory with Chris Fitzgerald! :)
Q: What is the most important thing you learned while at UofL?
Caitlin: To be open to new things and to not limit yourself to one source/type of inspiration.
Q: What advice to you have for current students? Especially in the music industry?
Caitlin: Give attention, preparation, and value to every performance you give and every gig you take. Maintain your integrity! Aim to be at least 20-30 min early to things, you never know what may happen. Try new things, you never know what you might find you have a passion or gift for. Give respect to everyone you interact with, from your colleagues to the contractor, the maintenance worker, etc. Take a break and be kind to yourself.
To learn more about Caitlin and hear her music:
Album: https://www.caitlinedwards.com/album
Chamber ensemble: https://www.dcomposed.com
3Arts: https://3arts.org/artist/caitlin-edwards/
YouTube Channel: https://www.youtube.com/channel/UCttzf7Rd9X7PRBFquicjGyg