UofL hosts famed trumpeter Doc Severinsen for benefit concert: Saturday, April 7 at 8:00pm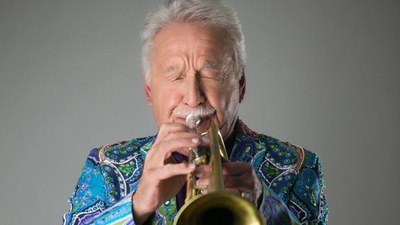 LOUISVILLE, Ky. – "Heeeeere's Johnny!" That lead-in, followed by a big-band trumpet blast, was the hallmark of late-night television for three decades. "Johnny" was Johnny Carson, the announcer was Ed McMahon and the bandleader was Doc Severinsen. Beginning in 1962, "The Tonight Show" with Johnny Carson ruled the night airwaves for 30 years.
A Louisville audience will have the chance to hear Severinsen's iconic big band sound next month. UofL's Department of Ophthalmology and Jazz Studies Program will present "Jazz-4-Sight" featuring Severinsen performing with the UofL Jazz Ensemble at 8 p.m. April 7 at the School of Music's Comstock Hall, 105 W. Brandeis Ave. Concert tickets are $50 a person, with all proceeds benefiting the Kentucky Lions Eye Center and UofL jazz students.
Doc Severinsen and His Big Band hit the road in 1992, following the final telecast of Carson's show, and hasn't stopped touring since. Audiences enjoy Severinsen's shows not only because he shared their living rooms for so many years but also because of the Big Band repertoire, which includes Duke Ellington and Count Basie standards, pop, jazz, ballads, big band classics and, of course, "The Tonight Show" theme.
Severinsen, 90, can still play hard and hit all the high notes, a result of his continued commitment to studio practice and the refinement of his craft. The trumpeter also surrounds himself with the best in the business and enjoys sharing the spotlight.
The public also is invited to a 6 p.m. gala that includes dinner and a silent auction at the University Club, 200 E. Brandeis Ave. 
Click http://bit.ly/UofLJazz4Sight to purchase tickets for the concert or gala. For questions or more information, contact the School of Music at 502-852-6907. 
#WeAreUofL