Big Robot to bring computer-acoustic sound to UofL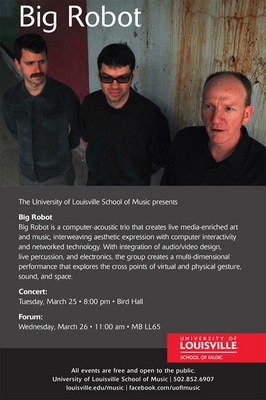 by Erica Walsh, communications and marketing — last modified Mar 14, 2014 02:08 PM
Big Robot is ready to break the barriers of sound and space at a guest artist appearance at the University of Louisville. Big Robot to bring computer-acoustic sound to UofL Big Robot
Big Robot, a computer-acoustic trio composed of classically trained musicians and sound artists Scott Deal, Michael Drews and Jordan Munson, will combine music, art and technology at its concert at 8 p.m. Tuesday, March 25, in Bird Recital Hall at the School of Music.
Reviews have labeled the trio "innovative, weird and wonderful" and called Big Robot's show "serious mind-bending art." Integrating live percussion, acoustic sampling, electronic music and real-time video, Big Robot presents music in a multisensory performance beyond that of a traditional concert.
The group, based in Indiana, has performed worldwide since 2009, but this will be the first performance at UofL. The show is free and open to the public.
Check out Big Robot's previous performances at www.bigrobot.org. For more information, call John Ritz at 502-852-4137.