Music & New Media
ABOUT THE MUSIC & NEW MEDIA PROGRAM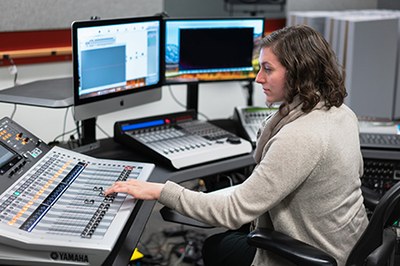 The 21st-century is one in which the overwhelming majority of cultural projects rely on digital media at all stages of production and presentation. Digital media facilitates immersive, multimedia experiences that inform, enrich, and transform our lives. The Music & New Media program provides training in digital media concepts and skills necessary for the creation and production of sound for public performance, music albums, digital video, internet applications, interactive media, cinema, commercials, video games, theater, dance, and software development.
Students have the flexibility in the curriculum to focus on their own goals and interests after completing the minimum requirements of the program in audio engineering, acoustics, sound design, electronic music, sound analysis, sound art, and creative new media projects. Students design and realize a Capstone project with direct faculty oversight. These projects reflect the student's own focus, interests, and goals.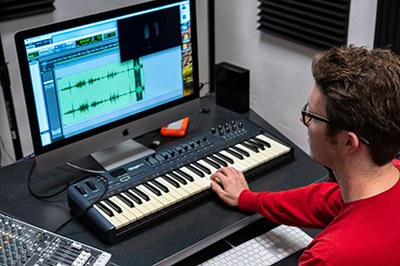 The program is designed to prepare students for careers in music and new media arts that emphasize presentation, performance, and research with technology, including audio and video production for multimedia communications, music recording, audio and video post-production, sound engineering, sound design for film and gaming, sound art, sound and image research, public performance, and computer music composition.
The New Media Lab supports research, production, and creative work in the fields of music production, multimedia production, electronic music performance, and sound art. The lab is modular, meaning that the space can be quickly transformed into an audio recording studio, a video production studio, or a space for experimental music performance. Two additional multichannel audio and video production studios are equipped with powerful Macintosh computers, various digital audio interfaces, auxiliary digital and analog hardware, and specialized software.