New Media
What is the New Media program?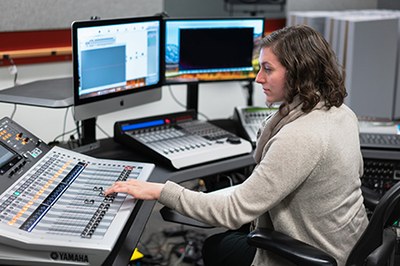 The Bachelor of Arts in Music with an emphasis in New Media is a four-year undergraduate degree designed to prepare you for a career creating music and sound for contemporary recording artists, film, television, and video games. Focusing on creativity and artistry through the use of music technology, the program provides training in digital media concepts and skills that are necessary for the creation and production of music and sound for a variety of cultural projects and products, from live performance and music albums to film and video games. If you are a musician with interests in composition, electronic music, music production, and recording, then this program can prepare you for a career in the music-making industry.
What will I learn in the New Media program?
You will learn to creatively expand your approach to composition and song writing while simultaneously learning music production and mixing techniques. You will learn about using a Digital Audio Workstation (DAW) as a tool for music creation, audio recording, MIDI sequencing, effects processing, synthesis, sample libraries, sound design, and immersive audio mixing. You will learn how to use music to create mood and elicit emotions, how to match music and sound to film and video games, and how to produce music in a variety of styles and genres.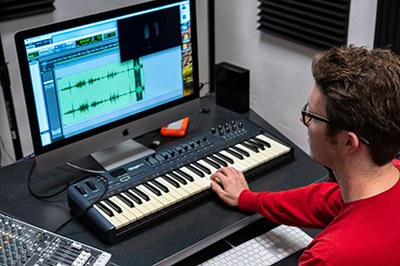 You will complete an internship in the industry during your junior year, and you will design and realize a capstone project during your senior year, with direct faculty mentorship and oversight. You will also complete a portfolio of creative work to share with potential employers and collaborators by the end of your senior year.
Because the Bachelor of Arts in Music with an emphasis in New Media degree program is housed within the School of Music, you will take classes in Music Theory and Music History alongside courses in Audio Engineering and Sound Design. You will have opportunities to collaborate with music students in other areas of the School on your creative music production projects, take instrument or voice lessons to hone your performance skills, and participate in performing ensembles.