African American Music Heritage Institute (AAMHI)
The University of Louisville School of Music will sponsor the twenty-ninth annual African American Music Heritage Institute (AAMHI) on February 4-5, 2024 on the Belknap campus of the University of Louisville. This celebration of the history of the music of African Americans will feature concerts, clinics, lectures, and workshops for Kentuckiana elementary and secondary school students, University of Louisville students, and the general public.  This year's theme is
BIG BAND JAZZ: AMERICA'S MID-CENTURY THEME SONG
The program celebrates the efforts of African American composers and performers. The guest artist for this year's event is the Legendary Count Basie Orchestra under the direction of Scotty Barnhart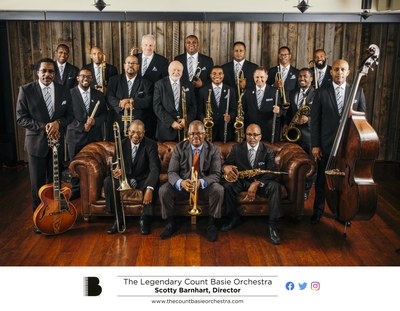 and featuring guest vocalist Janis Siegel.  In the mid-20th century, jazz was the popular music of the day, especially Big Band Swing. This is the music that carried America through the depression and World War II, becoming essentially a theme song for America's willpower and resolve.  In the history of Jazz music, there is only one bandleader that has the distinction of having his orchestra still performing sold out concerts all over the world, with members personally chosen by him, for over 30 years after his passing. Pianist and bandleader William James "Count" Basie was, and still is, an American institution that personifies the grandeur and excellence of Jazz. The Count Basie Orchestra, today directed by Scotty Barnhart, has won every respected jazz poll in the world at least once, won 18 Grammy Awards, performed for Kings, Queens, and other world Royalty, appeared in several movies, television shows, at every major jazz festival and major concert hall in the world. Recent honors include their 2022 Grammy Nomination for Live At Birdland, a 2019 Grammy Nomination for All About That Basie, which features special guests Stevie Wonder, Jon Faddis, and Take 6 among others, and the 2018 Downbeat Readers Poll Award as the #1 Jazz Orchestra in the world. Their critically acclaimed release in 2015 of A Very Swingin' Basie Christmas! is the very first holiday album in the 80-year history of the orchestra. Released on Concord Music, it went to #1 on the Jazz charts and sold out on Amazon! Special guests include vocalists Johnny Mathis, Ledisi, Carmen Bradford and pianist Ellis Marsalis. A BBC TV produced documentary on Mr. Basie and the orchestra entitled Count Basie: Through His Own Eyes premiered on PBS in the US and UK in 2019 coinciding with the orchestra's 85th Anniversary. It features interviews by Quincy Jones, Scotty Barnhart, Dee Askew, John Williams, and several other important members and associates of Mr. Basie and the orchestra.
Some of the greatest soloists, composers, arrangers, and vocalists in jazz history such as Lester Young, Billie Holiday, Frank Foster, Thad Jones, Sonny Payne, Freddie Green, Snooky Young, Frank Wess, and Joe Williams, became international stars once they began working with the legendary Count Basie Orchestra. This great 18-member orchestra is still continuing the excellent history started by Basie of stomping and shouting the blues, as well as refining those musical particulars that allow for the deepest and most moving of swing.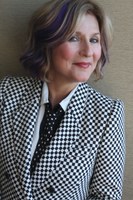 Over the past five decades, the voice of Janis Siegel, a nine-time Grammy winner and an eighteen-time Grammy nominee, has been an undeniable force in The Manhattan Transfer's diverse musical catalog. Alongside her career as a founding member of this musical institution, Siegel has also sustained a solo career that has spawned almost a dozen finely-crafted solo albums and numerous collaborative projects, amassed a large international fan base and garnered consistently high critical praise.
She launched her solo career in 1981 on Atlantic Records with the release of Experiment in White produced by Joel Dorn. Her followup solo effort, At Home, earned her a Grammy nomination in 1987 for Best Female Jazz Vocal.
Over the years, Janis' unmistakable voice has become one of the The Manhattan Transfer's most recognizable trademarks. She sang lead on some of the Transfer's biggest hits, such as "Operator," "Chanson D'Amour," "Twilight Zone," "Birdland," "The Boy from N.Y.C." "Spice of Life", "Ray's Rockhouse", "The Shaker Song", "Mystery", and co-wrote and sang lead on the Grammy winning "Sassy". She also gained a reputation as a vocal arranger by writing five of the charts for the group's acclaimed masterwork, VOCALESE, seven charts for the group's Grammy-winning album BRASIL, and won a Grammy herself in 1980 for her arrangement of "Birdland." In 1993, she and her Manhattan Transfer colleagues received their honorary doctorates from the Berklee School of Music, and in 1999 they were among the first class of inductees into the Vocal Group Hall of Fame.
Her 10th solo CD, released on Palmetto Records, is called "NIGHTSONGS" and her most recent solo collaborations are "HONEY & AIR" a Brazilian/jazz vocal adventure with her group REQUINTE TRIO, along with percussionist/singer Nanny Assis and pianist John di Martino, "SOME OTHER TIME " a tribute to Leonard Bernstein with trombonist/singer Nils Landgren and arranger Vince Mendoza, "MAZEL" a Yiddish songbook with Cantor Daniel Kramer, "VOX HUMANA" a brand new album of Big Band Latin jazz with Bobby Sanabria and The Multiverse Jazz Orchestra , a new Cy Coleman project, "THE COLORS OF MY LIFE " with pianist Yaron Gershovsky, and "CRYIN' IN MY WHISKEY" a collection of classic country with a jazz sensibility. She is also out on the road with her Manhattan Transfer partners celebrating their 50th anniversary, doing collaborative shows with Take 6 , and promoting a brand new Manhattan Transfer CD, "FIFTY" which was released September 2022.
The signature Institute event will be held on Monday, February 5th at 8 PM, which will be a performance by the Legendary Count Basie Orchestra, which is under the direction of Scotty Barnhart in Comstock Concert Hall at the U of L School of Music.  The concert will feature classic selections by the Basie Orchestra as well as new arrangements by former staff arranger Dennis Wilson, who now serves as the educational director for the band and as Associate Professor of Jazz and Contemporary Improvisation at the University of Michigan.  Also featured on the concert will be the premier of a new selection by Wilson featuring the Basie Orchestra, vocalist Janis Siegel, and string players from the U of L Symphony Orchestra.  General admission is $35.00 for adults, $20.00 for non-U of L students, and $10.00 for U of L students 12 and older. Students under 12 will be admitted free.  Tickets will be available starting January 3 and may be reserved by calling (502) 852-6907, or they may be purchased at the door.
Other Institute events include and open rehearsal by the orchestra on Sunday, February 4th at 3:00 PM, and lectures by Wilson and Freelon to various School of Music classes as well as area public school students
This event is a part of U of L's celebration of diversity and recognizes the contributions of African-Americans to American culture and history.  The African American Music Heritage Institute is being made possible through the generous support of numerous community and University organizations including the U of L School of Music, Owen and Eleanor Hardy, James and Teresa Reed, Susan Rostov, and an anonymous benefactor