Home
Get Healthy Now Wellness Center Members of the Month - June
Congratulations: Delbert!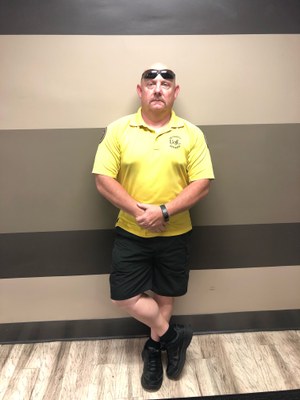 Delbert Mays, Security Officer, UofL Police Department
Meet Delbert Mays, a 15-year veteran employee at the University of Louisville. Delbert's hobbies include watching and playing several sports, such as, football, baseball, basketball, and professional wrestling.
In the last six months, Delbert has been able to achieve some of his fitness goals through consistent, daily usage of the GHN Wellness Center. "I have become stronger and improved my cardio," he said.  Moving forward, Delbert plans to continue improving both his strength and endurance, while trying to become healthier overall.
Improving his eating habits has also contributed to Delbert's progress. "I have limited the amount of take-out I food that I eat," he explained. "My desire to stay in shape, get stronger, and live longer is what keeps me motivated and coming back to the Wellness Center," he added.
 Delbert's Bucket List includes retiring and traveling to new places.