COVIDForum
The Envirome Institute is hosting a virtual COVID Forum called Why We Mask: Vaccines and Variants. The event, hosted on Microsoft Teams, will include leaders and trusted voices from UofL's Health Sciences Campus.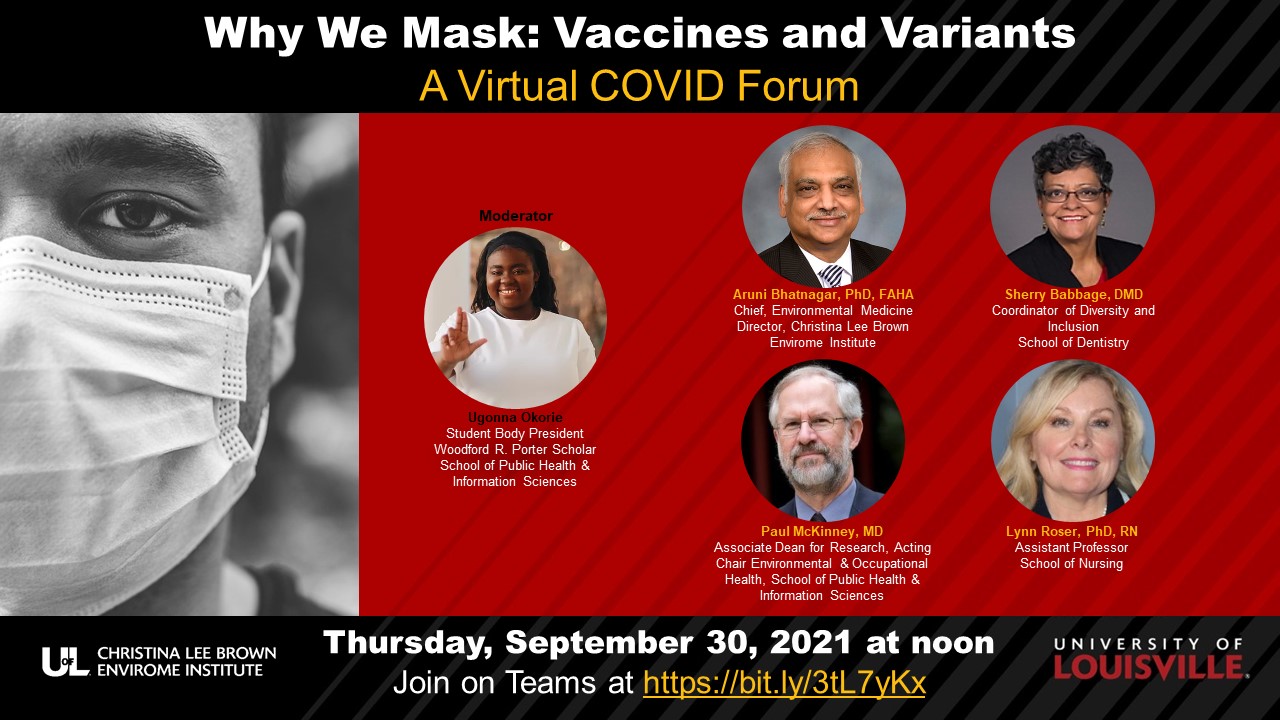 About
The Envirome Institute welcomes all UofL students, faculty, and staff, to a university-wide virtual COVID Forum called Why We Mask: Vaccines and Variants. The event, hosted on Microsoft Teams, will include leaders and trusted voices from across UofL's Health Sciences Campus. In order to gain a comprehensive perspective, we have invited representatives from the schools of Medicine, Dentistry, Public Health, and Nursing. The hour-long panel will be Q&A style with the moderator posing questions to four panelists for about 50 minutes followed by 10 minutes of audience questions.
As the Fall 2021 semester brought students, staff, and faculty back to UofL campus, researchers at the Envirome Institute wanted to make sure that all campus community members were equipped with the knowledge and skills to keep themselves and our community safe during the ongoing COVID pandemic. Seeing concerning levels of vaccine hesitancy among healthcare professionals and students made the need for this type of forum even more pressing. In this forum, we will learn about each panelist's specific expertise and how their work was impacted by COVID-19. We will then hear about why healthy, young individuals should get vaccinated against COVID and debunk a few often-heard myths
Watch
Watch this video of the forum to learn from our group of esteemed panelists.
Moderator
Ugonna Okorie, Student Body President

Ugonna Okorie is a senior studying Public Health and Healthcare Management. In addition to her role as President, Ugonna serves as a COVID-19 Contact Tracer for the university. She has been a part of the Student Activities Board, Society of Porter Scholars, and the President's Council Mentoring Program. She is passionate about the intersectionalities between public health and social justice with hopes to eliminate inequities within the healthcare system.
Welcoming Comments
Matt Stanley, Office of the President

Matt Stanley recently retired as a Lieutenant Colonel after twenty-one years on Active Duty in the United States Army.  As an Infantry Officer, Matt, served in various units with multiple deployments in support of Operation Iraqi Freedom and Operation Enduring Freedom.  Most recently, he served as the Director of the Army ROTC program at Eastern Michigan University.  He joined the University of Louisville in early September and serves as the Special Assistant to the President for COVID Response.   He holds a BS in Civil Engineering from the United States Military Academy and an MBA from Portland State University.
Presenters
Sherry Babbage, DMD, School of Dentistry

Dr. Babbage graduated from the University of Louisville with a Bachelors degree in Medical Technology in 1972.  She received a DMD degree from the University of Louisville School of Dentistry in 1981. Since graduation, she practiced dentistry continuously at the West Louisville Dental Center on West Broadway for 38 years Dr. Babbage is currently a full time faculty member at the University of Louisville, School of Dentistry and the Kentucky Dental Director for Molina Passpport. She earned a Certificate in Health Professions education in 2019. She is the past Board Chair for Louisville Metro Board of Health and Wellness. Since the beginning of 2021, Dr Babbage has participated in programs to help the African American community embrace understanding and getting the Covid 19 Vaccine. 
Aruni Bhatnagar, PhD, FAHA, School of Medicine

Dr. Bhatnagar is Professor of Medicine and Distinguished University Scholar at the University of Louisville. He is the Director of the Christina Lee Brown Envirome Institute and Co-Director of the American Heart Association Tobacco Regulation Center.  He is a leading expert on the mechanisms by which environmental exposures such as air pollution affect cardiovascular disease risk. Dr. Bhatnagar has published 381 peer-reviewed manuscripts, 25 book chapters and reviews and over 200 abstracts. 
Paul McKinney, MD, School of Public Health and Information Sciences

Dr. McKinney is Professor and Associate Dean for Research at the School of Public Health and Information Sciences, University of Louisville and Director of the Clinical Investigation Sciences graduate program. His was as an Epidemiology Intelligence Service officer with the Centers for Disease Control from 1981-83.  Dr. McKinney is a Fellow of the American College of Physicians and member of the Alpha Omega Alpha Honor Medical Society and the Delta Omega Honorary Society in Public Health.
Lynn Roser, PhD, RN, CIC, FAPIC School of Nursing

Lynn Roser, PhD, RN, CIC, FAPIC is currently Assistant Professor at the University of Louisville School of Nursing (SON).  She has over 25 years of teaching experience in undergraduate and graduate nursing education. Dr. Roser conducts research related to infectious disease and cardiac complications. She currently works with the Center of Excellence in Research in Infectious Disease (CERID) team as part of the Cardiovascular Study Group at the University of Louisville and is a Fellow in Association for Professionals in Infection Prevention and Epidemiology. She has coauthored numerous manuscripts on heart failure and infection prevention.  Previously, Dr. Roser was employed by the Kentucky Department of Public Health as the state's infection prevention nurse consultant and was also Nurse Epidemiologist at Baptist Health in Lexington, Kentucky.
Dr. Lynn Roser compiled this list of resources and frequently asked questions about COVID-19, vaccinations, and fertility.
Contact
This virtual forum was developed by the Envirome Institute's Communications Team, Natasha DeJarnett, Lauren Anderson, Jason Hellmann, and Alex Carll.
Please contact envirome@louisville.edu with questions or to learn more about our Co-Immunity Project.