Co-Immunity Community Study
Researchers at the Christina Lee Brown Envirome Institute are studying the spread and impact of COVID-19 across Louisville Metro-Jefferson County.
About the Community Study
Through the Community Study portion of the Co-Immunity Project, researchers at the Envirome Institute will test a large number of community participants every eight weeks to monitor active and healed COVID-19 infection rates. This continual testing of both ill and seemingly healthy participants is paramount to tracking the SARS-CoV-2 since many individuals do not display or recognize the symptoms of COVID-19.
Participation includes a short survey, a nasal swab PCR test, and finger stick antibody test. The nasal swab tests for active infection. The finger stick tests for past infection by looking for antibodies in blood. Results for both tests are shared with participants. Results from the nasal swab are available in 48-72 hours. Results from the antibody finger stick test are available in two to three weeks. 
Testing is done by appointment in drive-through settings in multiple locations across Louisville. Testing and results are provided for free to participants.
Co-Immunity Community Flyer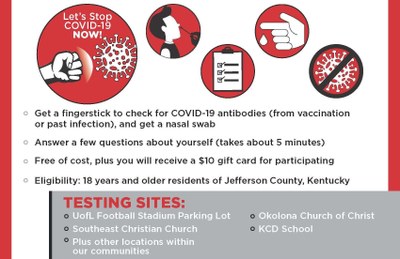 Frequently Asked Questions
Read frequently asked questions and answers here.
Community Gallery
At Co-Immunity Community sites, our team members prepare tests for participants and conduct nasal swab and antibody testing. The pictures below may help participants know what to expect when they arrive for their testing appointments.
| | |
| --- | --- |
| | Testing sites will have signs that indicate where to enter. Some sites have multiple drive-through lanes. Please approach the testing site slowly, staff members are present to direct traffic into lanes. |
| | You will be greeted by staff upon your arrival. Please keep your window rolled up or cracked open 2-3 inches and have your verification code ready. |
| | While you wait in the comfort of your car, staff will prepare your nasal swab and fingerstick tests. |
| | Once your tests have been put together, one of our staff members will place the tests under your windshield wiper and direct you toward the nurses who will administer your tests. |
| | When it is your turn to be tested, you will roll your window down all the way. The nurse will administer your nasal swab and finger prick tests. After that you are ready to leave, and you will soon be able to view your results online. |
Study Results
---
Contact
For more information please email covidsupport@louisville.edu or call 1-833-313-0502.
Donate
You can help us restart the economy, return to work and schools safely, and ease the burden of worry created by uncertainty. Please consider a donation and adding your voice to this cause by sharing our work. If you'd like to contribute to this project, donate here.