Christina Lee Brown Envirome Institute
The Christina Lee Brown Envirome Institute engages researchers and citizen scientists to learn how our natural, social, and personal environments impact health. We use a multidimensional model of health to explore and understand the relationships between the environment and human health. 
Read More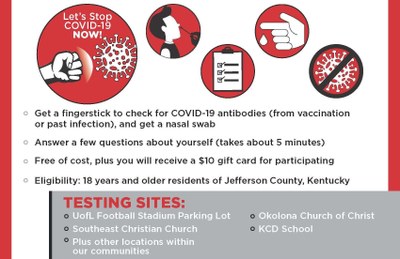 UofL Co-Immunity Project is Open for Registration
Co-Immunity Community testing for active COVID-19 and antibodies (from vaccination or past infection) is resuming from Monday, May 17 and will run until Sunday, May 23, 2021. Testing is done by appointment only at locations across Louisville. Click here to learn more about Co-Immunity testing or call 1-833-313-0502 or click on the button below to make your appointment.
---
Sustain Magazine is an educational resource that shares stories, strategies, and solutions from environmental health research about innovative and immerging development practices that mitigate and improve the human health consequences of unsustainable development. You can browse all the past issues here. 
The 40th issue focuses on the work of the Superfund Research Center at the Envirome Institute. Read it here! 
Envirome in the White House Chronicle
White House Chronicle host, Llewellyn King, interviews the director of the Envirome Institute, Aruni Bhatnagar, and director of the Center for Healthy Air, Water, and Soil, Theodore "Ted" Smith on the benefit of trees on human health and the Envirome Institute's response to COVID-19.
Support the Envirome's transdisciplinary team of researchers as they develop new approaches to promoting and preserving human health, increasing the understanding that healthy air, water and soil are keys to the health of all life. Make a donation online or schedule an appointment with our Development Director.