Mentoring for Success
About the Mentoring for Success program
UofL's Mentoring for Success program supports the university's vision to be a great place to work:
"The University of Louisville is a great place to work because it is a workforce dedicated to personal growth and professional development.  We accomplish this by fostering a culture where faculty, staff and administration live our institutional values." (UofL Strategic Plan, 2019)
The mentoring program is designed to create mentoring relationships that provide a sense of connection to the greater campus community, support employees in pursuing their personal and professional goals, and help employees align their work with UofL's values articulated through the Cardinal Principles.
What makes the program informal in nature?  The goals, direction, meeting frequency and length of participation are all determined by the mentor and mentee.  Rather than a prescribed format and set of requirements, the mentoring pair has the flexibility and freedom to do what works best for them. We will provide an orientation and closing celebration, at least one development workshop per semester, and guidance throughout the year to ensure you are successful.
What is mentoring?
"Mentoring is a supportive learning relationship between a caring individual who shares knowledge, experience and wisdom with another individual who is ready and willing to benefit from this exchange, to enrich their professional journey". - Suzanne Faure
Quite simply, mentoring is a relationship with a focus on growth and development.  We often think the mentee is the person who benefits from the relationship, but mentors reap great rewards as well.  People often create a mentoring experience organically without realizing it, but a program like this one can help establish intentional, meaningful relationships.
Why mentoring? Having a mentor can be transformational! Research shows that employees who have a mentor are more engaged, productive, and happier at work and they feel more connected to the organization's vision and mission.  Employees who hold marginalized identities (women, people of color, LGBTQ people, etc.) often find that mentoring relationships help them feel less isolated and more equipped to overcome workplace barriers to their success. 

Who can participate?
Mentors:
Potential mentors can be any UofL faculty, staff member, or retirees who have been an employee of the university for at least two years. Depending on their role, potential mentors may need to seek manager approval prior to participation. 
Mentors apply here!
Mentees:
Potential mentees can be any UofL faculty or staff member who has been an employee of the university for at least one year. We also strongly encourage employees who hold marginalized identities (women, people of color, LGBTQ, etc.) to apply in support of the university's focus on "celebrating diversity, fostering equity, and striving for inclusion."  Regardless of role, mentees will need to seek permission from their managers prior to participation. Please talk with your manager and reach out to employeesuccess@louisville.edu if there are any questions about your eligibility. We will do our best to match all applicants, but selection is not guaranteed.
Mentees apply here!
The deadline to apply is February 10, 2023.
How does it work?
After filling out the application, employees will be matched with a mentor and invited to an orientation session where more program details will be covered. Every effort will be made to match mentees with an appropriate mentor.  However, matches are dependent on identifying a willing potential mentor who has the appropriate expertise and otherwise meets the criteria stipulated by the employee.  We cannot guarantee a match in every case.
The mentoring pair will determine their goals and outcomes for the mentoring cycle. The program will extend through the end of 2020, and mentoring pairs are encouraged to meet at least once a month. But pairs can determine what works best for them and meetings can be in person, by phone, virtual, etc. 
In general, meetings of the mentoring pair should take place during the normal workday and should be counted as time worked. Non-exempt staff will not be paid overtime to participate but should not be required to use leave time. Please work with your manager to fit this in your normal work schedule. Sometimes, mentors may suggest additional activities to help their mentees reach goals like attending a conference, joining a professional organization, or pursuing networking opportunities.  While great things to do, please plan to use your personal time.
2023 Timeline and Important Dates 
Mentoring for Success Kickoff, February 24th from 10:00am-12:00pm
Q&A Check-in with the Employee Success Center (optional by appointment)
Mentoring with Strengths In Mind Workshop, April 4th from 1:00pm-2:30pm
Mentor/Mentee Networking Event (TBD over the summer)
Fall Mentoring for Success Workshop (TBD)
Mentoring for Success End of the Year Celebration Event, December 5th from 9:00am-11:00am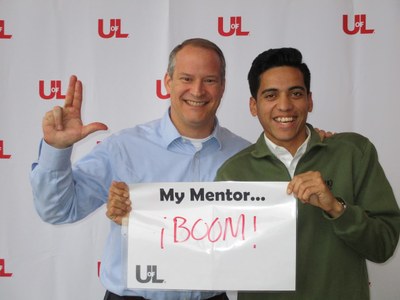 Resources:
Mentors: through research, in practice, and on reality TV | Dr. Kimberly Griffin | TEDxUMaryland
(From the perspective of someone in higher education, this is a look at the elements of a successful mentoring relationship through the light-hearted lens of reality television)
Mentoring Resources, Free Management Library
How to Be a Great Career Mentor in the Workplace
What the Best Mentors Do, Harvard Business Review