Early Arrival Program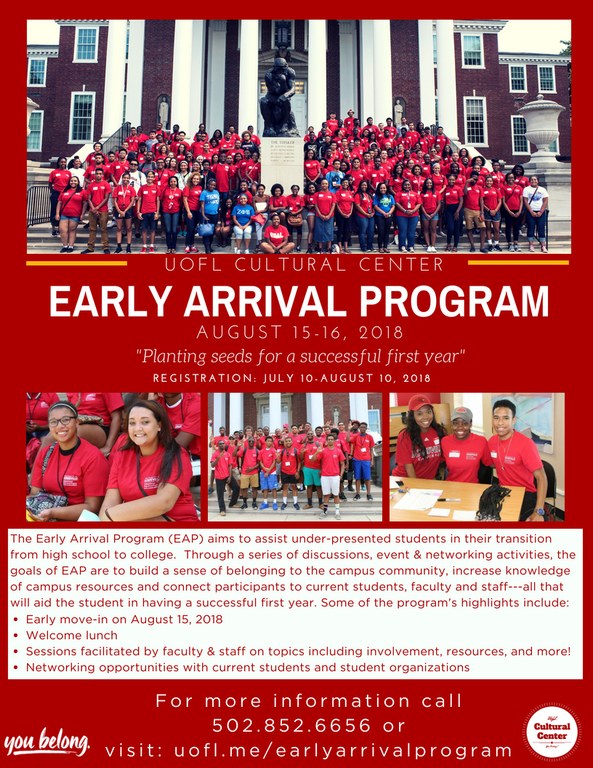 The Cultural Center Early Arrival Program (EAP) was created to help ease the high school to college transition for incoming African-American & Black students participating in the Cultural Center's retention programs. 
The two-day long annual orientation takes place August 15-16, 2018. The program includes a variety of an enriching series of discussions, events and networking activities about what it means to be an active and engaged student at the University of Louisville. The program is only open to students who register and there is no cost to the student. Meals, programming, and the early housing move-in component are provided by the program. At the conclusion, EAP participants will transition into the university's Welcome Week schedule of events. 
Eligible students will receive an invitation via their University of Louisville email address no later than July 12, 2018 with additional program and registration information. 
Program Goals
Build a sense of belonging to part of the campus community

Increase knowledge of resources available on campus that will aid in having a successful first year

Provide participants with an opportunity to network with peers and build relationships as part of their support system

Help students in making the transition from high school to college
 Programming Overview 
A panel with upperclass students to talk about the transition to college and best practices that upperclass students use to manage their academics and involvement

Networking dinner to connect with other first-year and upperclass students & predominantly African-American & Black serving recognizing student organizations (RSOs)
Presentations by faculty and staff from various campus departments and academic units
Welcome Week Student Success Check-In
Note: This list does not reflect the confirmed schedule of events and may be subject to change
Registration
Registration for the Early Arrival Program will be July 10, 2018- August 10, 2018 (form will close at 11:45pm). Please note: Students will need to log into Orgsync (platform where registration form is located) using their UofL Ulink user name and password). If this is their first time logging into Orgsync, the student will be prompted to enter some basic information into their profile. Please contact the Cultural Center 502-852-6656 or Leondra Gully at leondra.gully@louisville.edu if you encounter any issues while registering. 
REGISTER HERE:
https://orgsync.com/87983/forms/326121
PORTER SCHOLAR ATTENDANCE CONFLICT FORM:
https://orgsync.com/87983/forms/326123
Preparing for the Early Arrival Program & Early-Move In
Be sure to check out this list of things to do and reminders to help you prepare for the Early Arrival Program before classes start.  
Preparing for the Early Arrival Program
Frequently Asked Questions (FAQs)
SCHEDULE