Youth
Summer Environmental Health Program Report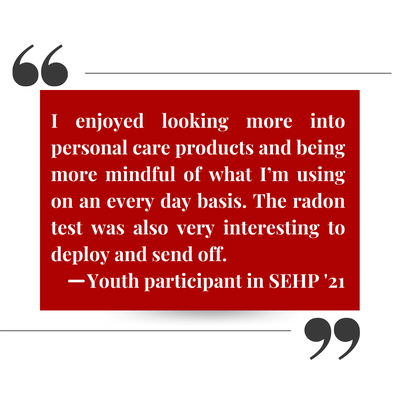 The Summer Environmental Health Program was developed as a partnership between the South Central AHEC and the Community Engagement Core of the Center for Integrative Environmental Health Sciences (CIEHS) at the University of Louisville. The program, which took place in June 2021, included seven sessions over a four week period with the goal of introducing high school and college-aged students to different aspects of environmental health that impact daily living. Dr. Huntington-Moskos, Director of the Community Engagement Core, engaged students in active discussion and action steps through distributing radon kits, taking inventory of environmental health concerns in the home, and providing a thorough explanation of how bees, water, and microplastics impact the environment that we inhabit. These actions, using environmental health apps and reviewing personal care and cleaning products commonly used in the home can help future healthcare providers understand how relevant environmental health issues are in our personal lives as well as how they can raise awareness in future patients and our communities in western Kentucky.
---
Beth Adams Interview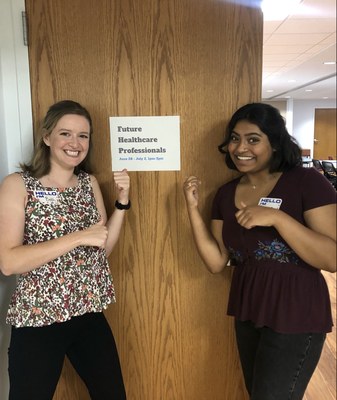 Ms. Beth Adams is the Health Careers and Education Specialist at South Central AHEC and an active community partner with the Center for Integrative Environmental Health Science (CIEHS) Community Engagement Center.

In this role, Ms. Adams plans and prepares programming for high school students in Hardin and Warren counties as well as college students interested in becoming healthcare professionals. She often emphasizes the importance of environmental health for future healthcare providers in her programming. 
---
Youth Exchange Session 5.26.21
Guest speaker, Dr. Natasha DeJarnett from the Christina Lee Brown Envirome Institute at the University of Louisville, joined CEC on May 26th, 2021 to engage youth in environmental health with her presentation titled "Climate Changes Youth Health". Dr. DeJarnett spoke about the importance of youth voicing their concerns on climate change and environmental health. She emphasized how climate change impacts physical/mental health and that sensitive groups are more susceptible to the effects of climate change
---
Youth Exchange Session 11.10.20
Guest speaker Dr. Kimberly Hartley joined CEC on November 10th, 2020 to engage youth in environmental health with her presentation titled "Growing Up Green: How Nature Can Help You be Healthier." We are working hard to provide online content that is accessible when in-person meetings are limited and look forward to facilitating more Youth Exchange Sessions in the future.
To view more CIEHS Youth Exchange Sessions, visit our YouTube Channel.