What Is Resilience Justice?
Tony Arnold
University of Louisville Resilience Justice Project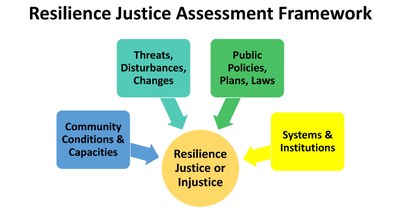 Resilience justice (RJ) is about the reality that marginalized communities – especially low-income communities and communities of color (African American, Latino/a, Native American, immigrant) – have more/worse vulnerabilities and less resilience than the average community. This makes people in these communities more likely to be harmed by sudden shocks or changes, such as disasters, climate change, economic crises, health crises, and political and social instability.
RJ builds on environmental justice and climate justice – ways of thinking about the unequal environmental conditions that low-income communities and communities of color have. But RJ goes further. RJ addresses the relationships between environmental conditions, systemic inequalities, and other factors, such as poverty, racism, land use patterns, and housing insecurity. RJ has been developed by synthesizing over 400 studies of community resilience and unequal vulnerabilities.
Low-income communities of color have worse vulnerabilities because of cross-system dynamics: the effects of deep inequalities in many systems that are interconnected with one another. For example, the effects of a major heat wave are likely to be vastly worse for those who live in neighborhoods with more air pollution, higher rates of asthma, less access to affordable health care, fewer trees and parks, inabilities to pay for all-day air conditioning, and less flexibility about their work conditions and hours. All those conditions reinforce one another, creating crises for the neighborhood residents.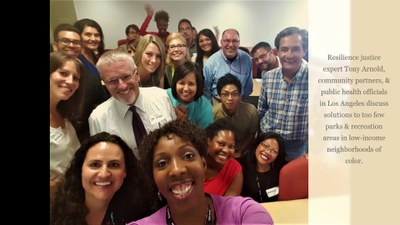 RJ research shows that green and blue infrastructure (e.g., parks, trees, restored streams) are essential to community resilience, but there has been under-investment and disinvestment in infrastructure in low-income communities of color. Research also shows that those communities can become too unaffordable for their residents whenever investments are made in new or improved infrastructure, which is called green gentrification and displacement. Top-down policy-making by the government doesn't work if the decision making isn't inclusive; RJ requires building the grassroots power of communities and their residents.
The Resilience Justice Project at the University of Louisville Brandeis School of Law is the nation's leading center for the study and application of RJ in and with marginalized communities. The Resilience Justice Project, led by Professor Tony Arnold and several student Resilience Justice Fellows, brings together research and partnerships with communities to:
Promote both the resilience of neighborhoods and environmental justice for all, in partnership with community residents, governments, and groups.
Seek the views, ideas, and experiences of all community members, especially those who are often under-represented, such as low-income people and people of color.
Work to actively include all community residents in decision making that affects their neighborhoods and to build the grassroots power of communities.
Understand the conditions that will help communities to prevent or deal with crises and to thrive in changing environments and a changing world.
Recognize that some people are more at risk from crises or change due to things like poverty, racism, health conditions, and lack of political influence.
Improve the environments of communities, such as streams, parks, and trees, but in ways that don't make it too costly to live in those neighborhoods.
Propose changes to policies and systems of governance that will make them fairer.
The Resilience Justice Project has worked in: Los Angeles, Fresno, and Sacramento, CA; Washington, DC; and several neighborhoods in West, South, and Southwest Louisville, KY.
The Resilience Justice Project also produces new knowledge about community resilience, governance, and environmental justice. Two recent articles are:
"Resilience Justice and Community-Based Green and Blue Infrastructure" published in the William & Mary Environmental Law & Policy Review and downloadable for free from the Social Science Research Network (SSRN) at: https://ssrn.com/abstract=3799314
"Resilience Justice and Urban Water Planning," published in Seton Hall Law Review available at: https://scholarship.shu.edu/shlr/.
For more information about the Resilience Justice Project, please see: https://louisville.edu/law/resiliencejustice.
About the Author
Craig Anthony (Tony) Arnold is the Boehl Chair in Property and Land Use, Professor of Law, Affiliated Professor of Urban and Public Affairs, and Director of the interdisciplinary Resilience Justice Project at the University of Louisville.