Cardinal Cash Locations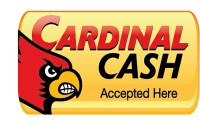 Cardinal Cash is accepted as payment at many off-campus locations.   This program is in addition to the Cardinal Cash on-campus program available for bookstore and dining purchases, printing and copying, vending, etc.
The locations listed below have already joined our off-campus program.  We are working to add many other businesses to provide students and staff with greater flexibility and opportunities.
Participating Locations:
Logo
Name
Type
Phone                    
Location
4th & Cardinal Food Mart
Convenience Store
(502) 635-7740
1927 S 4th St
Louisville, KY  40208

 

Jimmy John's
Restaurant
(502) 634-3334
Cardinal Towne Apartments
341 W Cardinal Blvd, Louisville, KY 40208
 

Open 24 hours

Restaurant
(502) 909-0490

301 E Warnock St.
Louisville, KY 40208

Noodles and Company
Restaurant
(502) 632-2846
319 W. Cardinal Blvd.
Louisville, KY 40208
Speedway
Gas/Convenience Store
(502) 636-0438
2210 Arthur Street
Louisville, KY 40208
Denny's 
Restaurant / Diner
(502) 636-2538

434 Eastern Parkway
Louisville, KY 40217

The Granville Pub
Bar / Grill
(502) 636-2748

1601 S Third Street
Louisville, KY 40208

Green District Salads - Highlands

Restaurant

(502) 

792-9011

1449 Bardstown Road
Louisville, KY 40204

Qdoba


Restaurant



(502) 442-0201

 1832 S 3rd St
Louisville, KY 40208

insomnia cookies

Restaurant

(502) 385-5143

1913 S 4th Street
Louisville, KY 40208

Grubhub+ Student

Restaurant

300k restaurants in over 4k U.S. cities