Cardinal Cash
Cardinal Cash is a voluntary account linked to your Cardinal Card that can be used for purchases at various locations on and off campus. Cardinal Cash is required for printing/copying services on campus. You may also use Cardinal Cash on-campus at select vending machines, campus bookstores, postal services, and many other locations. Cardinal Cash is also accepted at off-campus retail locations and restaurants, including many of the Cardinal Towne businesses. Funds in your Cardinal Cash account never expire.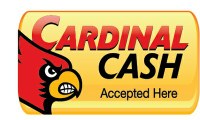 Funds can be added to your Cardinal Cash account by any of the following methods:
Value Ports
Value ports are located throughout campus to conveniently allow patrons to add cash to their Cardinal Cash account. At a value port a customer can also check their Cardinal Cash balance and purchase a visitor card**. Please follow machine instructions before adding funds at a value port. Value ports do not give change.
Value Port Locations
Ekstrom Library - main floor (2 locations)

HSC Kornhauser Library

Music School Library
Cardinal Cash Refund Policy
Employees and students may request a refund of their Cardinal Cash balance upon separation from the university (graduation, withdrawal, termination, retirement, etc.). Refunds may only be requested for balances greater than $20.00. If the balance is $20.00 or less, you may spend the remaining balance at participating locations on-campus or off-campus.
Your status must be inactive at the time of the request or a refund will not be issued. For example, if you are a graduating student, the request should be submitted after graduation. If you are an employee leaving the university, the refund request should be submitted after you are out of pay status.
Student refunds will be applied to his/her tuition account to cover any outstanding balances. The remaining amount will be refunded through NelNet. Refunds for employees will be issued in the form of a check to the address on file.
Refunds must be requested through the Cardinal Cash Refund Request Form.
Refunds for self-service print/copy machines can be requested by emailing UL Print and Mail or calling (502) 852-6661..