Community Resources
As a civil rights and social justice icon, Muhammad Ali was a fierce advocate for the civil rights of Black people in the U.S. and his religious freedom rights. Muhammad Ali understood that racial justice in the U.S. was connected to the self-determination of people of color in the Global South. He demanded respect as a member of the Nation of Islam and by his conscientious objection to military service in the Vietnam War.
Muhammad Ali was a humanitarian and peace advocate whose generosity and advocacy began at the inception of his professional boxing career.
Muhammad Ali was celebrated as the world's most famous Muslim. His Islamic faith led him to transcend any group and connect with people of all religions.
Muhammad Ali was the Greatest Boxer of All Time - the GOAT. He "shook up the world" with his boxing excellence and his social justice advocacy.
Muhammad Ali's connections to Louisville are memorialized in a storymap of public art, monuments, and murals in Muhammad Ali: An Extraordinary Life in Louisville and Beyond. Storymaps are powerful tools for engaging with public art since they document the location, appearance, and important information about impermanent public murals that can be vandalized or removed without notice. For example, the "Kentucky Rushmore" mural in Louisville, KY has been vandalized several times in the past few years. The third time occurred in January 2020 when orange paint and the words featuring the words "racist," "anti-Semitic," and "homophobe" covered Muhammad Ali's face. This storymap comes from a collaboration of the UofL's Muhammad Ali Institute for Peace and Justice, the Bridwell Art Library, and the Center for Geographic Information Sciences.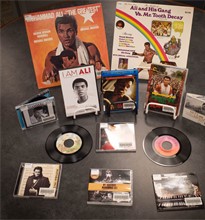 Muhammad Ali was an eclectic artist and has been called the "Spiritual Father of Rap." UofL's Dwight Anderson Memorial Music Library featured original music and other recordings by and about Muhammad Ali, including an audio recording of him singing.  
UofL's Dwight Anderson Memorial Music Library exhibit (left) featured original music and other recordings by and about Muhammad Ali, an eclectic artist who acted on Broadway and released several recordings, both music and spoken word.
In addition to mounting the exhibit, James Procell, Director of the Music Library, compiled an Ali playlist on Youtube.
How does Muhammad Ali inspire you to stand up for peace today? Contribute your thoughts to our tribute to him – an audio/video collection of community contributions here: Standing Up For Peace web submission form.
Additional Resources:
A Transdisciplinary Collaboration Developing Resources About Muhammad Ali-Inspiring Social Justice Action
Celebrating International Day of Peace
Religious Freedom Icon Peace Advocate
Black Is...Interview with Muhammad Ali U of L Archives Catalog