Our Staff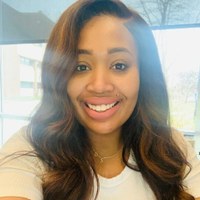 Sherry Durham, Assistant Director 
Sherry is a native of West Louisville and a graduate of Central High School. She received a B.S. in Organizational Communication and an M.S. in Human Development and Leadership with a concentration in College Student Personnel from Murray State University and is currently pursuing her PhD in College Student Personnel at the University of Louisville.
Sherry has over six years of higher education experience. Prior to beginning her career in higher education, Sherry worked in Sales and Marketing for three and a half years at the St. Louis Post-Dispatch in St. Louis, MO . She started her career at UofL in 2015 as an Academic Counselor for Health and Sport Sciences in the College of Education and Human Development (CEHD) and transitioned in 2017 as the Multicultural Teacher Recruitment Program (MTRP) Coordinator. After serving in the CEHD for six years, Sherry is now the Assistant Director of the Muhammad Ali Institute in the Cultural and Equity Center. Sherry is passionate about working with college students and working in higher education.  
Fun fact: Sherry loves binge watching shows, playing video games, and all things Beyonce!