Our Staff
Professor Enid Trucios-Haynes, Director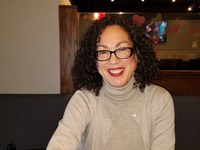 Professor Trucios-Haynes has served as the Director of UofL's Muhammad Ali Institute for Peace and Justice, a diversity unit within the Office of the Senior Associate Vice President for Diversity and Equity since 2014. As Director, she supervises the Muhammad Ali Scholars Program, several research initiatives, and collaborations with the Muhammad Ali Center. Professor Enid Trucios-Haynes, a Professor of Law at the Louis D. Brandeis School of Law, is a nationally recognized scholar in immigration law and she has been in the field for over 30 years. Professor Trucios-Haynes teaches constitutional law, immigration law, international law, and race and the law, and her research focuses on immigration law, constitutional law and race and the law with an emphasis on issues affecting the Latinx community. She is the Co-Principal Investigator for a 21st Century Research Innovation Grant creating the Cooperative Consortium for Transdisciplinary Social Justice Research, which she has co-directed since January 2017.  Professor Trucios-Haynes is the co-founder and co-director of the Brandeis Human Rights Advocacy Program, (HRAP), established in Spring 2014, to advance community engaged scholarship focused on immigrant rights. She is the co-recipient of the 2017 Exemplary DesignationAward from the W.K. Kellogg Foundation Community Engagement Scholarship Awards for HRAP's scholarship responding to the urgent need for legal outreach in the undocumented immigrant community.  From 2016-2018, Professor Trucios-Haynes served as the Chair of the Faculty Senate, the elected representative of UofL's faculty, and as a UofL Board Trustee. Professor Trucios-Haynes graduated from Stanford Law School in 1986 where she served as Associate Editor of the Stanford Law Review. She has received numerous awards during her career at Brandeis School of Law. Most recently, the 2018 Inaugural Daniel M. Alvarez Champion for Justice Award for "demonstrating a strong devotion to serving underrepresented individuals or groups by giving a legal voice to those who would otherwise be voiceless."
Email Professor Trucios-Haynes
Ashleigh Hazley, Assistant Director
A twice alumna of the University of Louisville, Ashleigh possesses a Bachelors of Arts in Psychology and a Masters of Education in College Student Personnel. She makes her way back to the Cardinal family from Bellarmine University's Career Development Center where she was a member of the Career Education team as a Career Advisor. Prior to her time at Bellarmine, Ashleigh worked at the National Collegiate Athletic Association (NCAA) in the Education and Community Engagement Department. There she supported the Accelerating Academic Success Program, as well as coordinated and facilitated an inaugural Student-Athlete Engagement Program. In addition to work-related activities, Ashleigh also co-teaches a graduate-level course on Multicultural Issues at the University of Louisville and sits on both the UofL Pride (LGBTQ+) Alumni Council and the Alumni Association's Board of Directors. She also is a coach for the Cities United Roadmap Young Fellows Program. 
LaJa Hurt, Program Assistant Sr.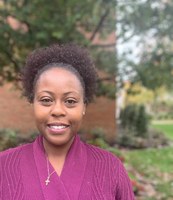 LaJa (Lay-Juh) Hurt is the new Program Assistant Senior, for the Muhammad Ali Institute for Peace and Justice.  LaJa has lived in Louisville her entire life; and she is a proud mother of five beautiful children.  She has taken time off from school to work full time but with this new position she will be able to purse furthering her education to obtain her Bachelor's Degree. She previously worked as a temp alongside the Chief of Staff for the Dean at the School of Medicine. After her role as Program Coordinator at the School of Medicine; she worked as Administrative Assistant at the Office of Community Engagement at the School of Medicine. That is when she realized that she wanted to become an official part of this University.  She is eager to learn all about the Muhammad Ali Institute and what it has to offer, while doing her part to ensure that the Institute thrives.  When she is not working, LaJa loves spending ALL her time with her kids.  We love sports and traveling, most of her weekends are spent attending games.