Suzuki Faculty
Durbin, Dr. Terry - Suzuki Violin
email
office: room 336

Dr. Timothy (Terry) Durbin's unique brand of teaching excellence makes him one of the most sought-after clinicians/conductors in the country. With infectious enthusiasm and inspired musicianship, he brings smiles and laughter to students throughout the United States and around the world.  His dynamic teaching career includes over 800 workshops and institutes! His performance and teaching career stretches across the United States and Canada into Bermuda, Germany, Italy, China, Hong Kong, Malaysia, Indonesia and Singapore, and he has recorded two CDs, including the complete chamber music of Marcel Dupre for the Naxos label. He has directed the South Dakota and Montana All State Orchestras. He is the holder of the American Suzuki Institute Suzuki Chair Award for 2013. Terry Durbin is also an accomplished composer and notable arranger.
Dr. Durbin holds a DMA in orchestral conducting from Claremont Graduate University in Los Angeles, California, a Masters in violin performance from the University of Illinois, an undergraduate degree in violin performance from the University of Alabama, and is currently the director of the Suzuki String Program at the University of Louisville. He is a registered teacher trainer with the Suzuki Association of the Americas.
Terry lives with his wife, Sandy, on 140 acres north of Lexington, Kentucky. They have three children and two grandchildren. He believes in the magic of music's power to enrich our lives.


Griffin, Karen - Suzuki Piano 
email
office: 852-5877  room 316
Mrs. Griffin currently teaches collegiate piano and class piano at the University of Louisville, as well as Suzuki and traditional piano in the U. of L. Community Music Program.
Mrs. Griffin was the chairman of the Louisville Piano Guild for 25 years, from 1982 until 2007. She continues to remain active as a guild judge. Guild tours have included Evansville, Indiana; Cincinnati, Ohio; as well as Ashland, Lexington, and Radcliff, Kentucky. Other judging engagements have included KMTA, GLMTA, K.E.Y.S., and the Louisville Area Federation of Music Clubs in Bardstown, Kentucky.
Karen has a deep interest in and dedication to Early Music. She has performed as a singer, on recorder and on harpsichord with the U. of L. Early Music Ensemble. She has studied the harpsichord with Dr. Doris Lora, Dr. George Lucktenburg, and Dr. Jack Ashworth.

Hill, Michael - Suzuki Viola & Violin
email
office: 502 852 1859 room 335




Michael Hill teaches all levels of viola students while maintaining an active performance career. The Suzuki viola studio will include a Viola Choir in addition to private instruction. With attention to ear training and technique from the very beginning, Mr. Hill's students hold principal positions in school orchestras, performing arts schools, youth orchestras, and all- county/state orchestras. Several have continued to BM and MM degrees in music.

Upholding Dr. Suzuki's belief that Every Child Can, Mr. Hill seeks to find a way for every student of every age to find joy in making music and in their personal efforts and goals. Lessons and coaching are fun and interactive, challenging students to think critically and apply their knowledge in solving problems and developing new skills. He also serves as Director of the Suzuki Studies Program and the Louisville Suzuki Summer String Institute.

He has performed as an orchestral and chamber musician at the Aspen Musical Festival and School and as principal violist with the Opera and Music Festival of Lucca, Italy.  He regularly performs as Baroque violist with Bourbon Baroque and has performed with The Bloomington Bach Cantata Project, and the Indianapolis Baroque Orchestra and has recently performed with a young artists program through Tafelmusik Baroque Orchestra. He is currently a member of the viola section of the Paducah Symphony Orchestra and principal violist for the Lexington Chamber Orchestra and the Carmel Symphony Orchestra.

In performing and teaching Mr. Hill seeks to share music with others through education and efforts making classical music more accessible to the public. His experience includes work with new beginners through college students and he is eager to contribute to the viola community in Louisville.

Learn more on Michael Hill's website. (http://www.michael-david-hill.com)




Irons, Carmen - Suzuki Cello
email
office: Room 336




Carmen Irons, a native of Miami Florida, pursued a double major in Performance and Education at the University of North Texas, where she received her Bachelor of Music Education degree and her Teacher Certification. Her cello teachers were Adolfo Odnoposoff and Carter Enyeart. She was a member of the Dallas Independent School District String Faculty for five years. Ms. Irons was an active freelance cellist in the North Texas area performing in various orchestras including the East Texas Symphony Orchestra, Waco Symphony Orchestra, Wichita Falls Symphony Orchestra and as a substitute with the Fort Worth Symphony. She also began her Suzuki training in Texas with Carol Tarr at the Fort Worth Suzuki Institute.
After moving to Connecticut, Ms. Irons received the Master in Music Performance with Suzuki Pedagogy Emphasis from the Hartt School where she studied cello with David Wells and completed Long Term Teaching Training with Nancy Hair. She also has had additional Suzuki training with Teri Einfeldt and Sally Gross.
Ms. Irons was a member of the Hartt Community Division String Faculty for twenty one years. During that time she taught Suzuki and Traditional private cello lessons, Suzuki group classes, and coached chamber music. Her students have performed and held titled positions in the Connecticut Youth Symphony, All Region Middle and High School Orchestras, Connecticut All State Orchestra, and several have been finalists in regional/national competitions. They have also participated in various summer music workshops including the David Einfeldt Chamber Music Institute (CT) New England Music Camp, Luzerne Music Festival (NY) Music Adventure (Italy) and the National Symphony Summer Music Institute at the Kennedy Center in Washinton DC.
Ms. Irons has had students that were selected to perform in the Suzuki Youth Orchestra of the Americas at the SAA National Conference in Minneapolis, along with having had chamber groups selected to perform in the Chamber Music Master Class at the SAA Conference. Along with her work at the Hartt School, Ms. Irons has also been a guest cello clinician at the Ogontz Suzuki Insitute in New Hampshire and the Louisville Suzuki Institute at the University of Louisville.
Ms. Irons has performed as a freelance cellist in the Southern New England area, having played in the Hartford Symphony, Springfield Symphony, Connecticut Opera Orchestra, and the Eastern Connecticut Symphony among others. She has also performed chamber music and in orchestras at various summer music festivals including the Waterloo Music Festival, Music at Penn's Woods, and five summers with the AIMS Festival Orchestra in Graz, Austria.
Currently, she has a private studio in Louisville, teaches for the University of Louisville Suzuki Program, the Suzuki in the Schools Outreach Program, and is a freelance cellist in the Northern/Central Kentucky/Southern Indiana area.
Ms. Irons is a member of the Suzuki Association of the Americas, American String Teachers Association, and the American Federation of Musicians.

Krigger, Wayne - Suzuki Cello 
email
office: room 178


Sharp, Franzeli (Celi) - Suzuki Violin
email
office: room 377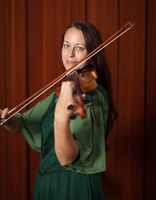 Franzeli (Celi) Sharp's love for the violin began at age six when she started Suzuki Violin lessons at the University of Louisville, School of Music, Preparatory Department, which is now called the Community Music Program. She was granted a scholarship to the University of Louisville to study violin in 1996. She holds a BA in Music from the University of Louisville. Her teaching career began in Elizabethtown, Kentucky in 1996 with individualized lessons for children ages three through fourteen. In 2001 she started teaching in Louisville and decided that teaching the Suzuki Method was her choice as a career. Franzeli has held positions in Louisville at Wheeler Elementary, Golden Tree Middle School and the Waldorf School of Louisville. She currently teaches Suzuki violin at The Arts Institute at Indiana University Southeast, at the Louisville Classical Academy and at the University of Louisville, School of Music, Community Music Program where she has taught since 2001. Franzeli has completed and registered Suzuki Teacher Training courses from the "Every Child Can" and "1A/1B" introductory courses through the "Book Ten" advanced level with the Suzuki Association of the Americas and has observed Suzuki teachers and classes to review training every year. Franzeli has been a Suzuki Mom since her daughter started to play the violin in 2003.


Watson, Tony - Flute
Office:


Bio: Coming Soon!