Women's Empowerment Luncheon 2015

2015 Women's Empowerment Luncheon
"Silence is Deadly"
November 10th, 2015
11:30am - 1pm
University Club,
UofL Belknap Campus
Speaker Sadiqa N. Reynolds,JD, is the President and CEO of Louisville Urban League.
She has been and continues to be a dedicated public servant and trail blazer.  She has served as District Judge for the 30th Judicial Court.  She was also the first African American woman to clerk for the Kentucky Supreme Court when she served as chief  law clerk for Chief Justice Robert F. Stephens.  Her life as a public servant has also included being the first African American to serve as the Inspector General for the Kentucky Cabinet for Health and Family Services.  There she worked to ensure regulatory compliance and integrity in programs and facilities responsible for providing quality health care, child care and related services.
Sadiqa earned her Bachelor's degree in Psychology from the University of Louisville and her law degree from the University of Kentucky.  She is a member of Delta Sigma Theta Sorority, Inc. and Bates Memorial Baptist Church.
2015 Women's Empowerment Award Recipient
Kathleen McDaniel Smith, chief of staff for President James Ramsey
2015 Mary K. Bonsteel Tachau Gender Equity Award Recipient
Dr. Mary P. Sheridan, UofL English Department
2015 Dr. M. Celeste Nichols Professional Development Award Recipients
Lauren L. Evanovich, Ph.D. Curriculum & Instruction; Nadia T. Nelson, Ph.D., Criminal Justice; Heidi M. Williams, Ph.D., Sociology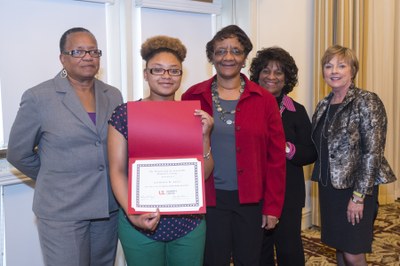 2015 Ann T. Allen Endowed Scholarship for the Women's Center Recipient
Caywanta Mechelle Artis
Past Award Recipients & Women's Empowerment Luncheons
Pictures of 2015 Women's Empowerment Luncheon