Meet the Staff

Jabani Bennett, EdD, MAT 
(She/They)  What's this?
Email: jabani.bennett@louisville.edu 
Phone: 502-852-0229
Dr. Jabani Bennett (she/they) will serve as the first Black woman director of the Women's Center at the University of Louisville with the aim to co-create affirming spaces committed to gender equity from an intersectional feminist framework.
 Prior to joining the center, Dr. Bennett has shaped and provided oversight over numerous creative and inclusive learning and engagement programs for diverse learners across their lifespans. Her career as an award-winning arts educator in New York City and Louisville public schools informs her current projects in social justice, cultural equity planning, and empowering self-identified femmes and feminine-presenting women through the arts. 
In 2007, Dr. Bennett was the student events coordinator at the center and led one of the few community-wide celebrations for LGBTQIA women on campus. In her return to the center as the director, she is excited to share her expertise in equity-centered leadership to nurture innovative solutions with student leaders as well as the wider Louisville community. 
Dr. Bennett received both a BA degree in fine arts with a concentration in painting and a minor in the Spanish language, and a Masters in Teaching in art education with an English as a Second language endorsement (PreK-12th grade) from the University of Louisville. They received their Doctor of Education in leadership from Spalding University.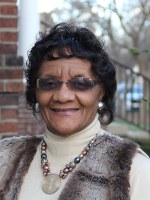 Phyllis Webb, Program Coordinator
(She/Her/Hers)  What's this?
Email: pmwebb01@louisville.edu
Phone: (502) 852-7715
Phyllis joined the U of L family in 1975 as a Public Information Officer after working one year as a reporter for a local newspaper. She received her undergraduate degree from Western Kentucky University in 1974 and a Masters in Education, College Student Personnel from U of L in 2000. She has worked in various areas of public relations for the MAEP office and as a Student Development Specialist.
Her work in the Women's Center includes coordinating the newsletter, spearheading the Women's Empowerment Luncheon, Women's History Month Calendar, Kentucky Women's Book Festival, various other programs and she serves as Advisor to the Student-Parent Association & Women Veterans Support Group. 
Jamieca Jones, Program Coordinator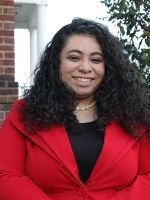 (She/Her/Hers)  What's this?
Email: jajone19@louisville.edu
Phone: (502) 852-8891
Jamieca Jones is a 2013 UofL graduate with a Bachelor of Arts in Sociology and Psychology and a minor in Women and Gender Studies. She is currently working on a Masters of Science in Social Work and a Masters of Art in Women and Gender Studies.
Her work in the Women's Center includes social media, managing the Women's Center website, coordinating Campus Talks, programs for women on the Health Sciences Campus, assisting with the planning of the student group events such as the International Women's Day program, Human Trafficking Awareness Conference, and various other programs. She says it was these events that made her eager to continue work at the center. "The Women's Center helped me find that power within myself and I want others on campus to have that experience as well."
She serves as Advisor to the  Association of University Women (AAUW) at UofL,  UNA-Women at UofL,  Women 4 Women Student Board and the Feminist Social Justice Leadership LLC. 
In her position, her goals are to "bring more awareness on campus of the Women's many programs,  help create programs that the students want, strengthen the connections with the university's other awesome departments, and ultimately empower women (and men, too, of course)." She also is very involved with the community.
Jamieca loves to listen and dance to music, have fun adventures with friends, travel, try cultural foods and "cheer on my Cards!"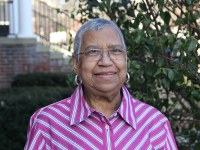 Patsy Russel, Administrative Assistant
(She/Her/Hers)  What's this?
Email: paruss01@louisville.edu
Phone: (502) 852-8976
Patsy has been a fixture on the U of L campus since 1970 having worked under five male directors and one Assistant VP as Secretary and most recently, Administrative Assistant in the former Office of Black Affairs, Minority Services, Minority Affairs and MAEP. She joined the Women's Center in 2008 where she works as Administrative Assistant where she handles the day-to-day operations and assisting with programs sponsored by the Women's Center.