Department of Sociology's Jon H. Rieger Speaker Series
The Jon H. Rieger Speaker Series began in 2018 and has included Dr. Matthew Hughey (2018), Dr. Jeff Ferrell (2019), and Dr. Angela García (2020).  In 2021, the Series hosted two virtual presentations, one by Dr. David Pellow and the other by Dr. Cathy Kuhn.  Both of the 2021 presentations are available on video and can be accessed via the links below.  (Information about the 2022 speakers will be available in early 2022.)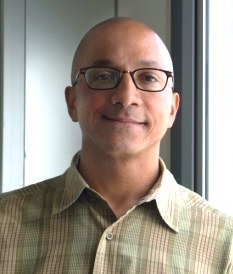 Dr. David Pellow presented "Struggles for Racial and Environmental Justice in America's Prisons and Jails" on February 10, 2021, and the video of his presentation can be found here.   
Dr. Pellow is the Dehlsen Chair and Professor of Environmental Studies and Director of the Global Environmental Justice Project at the University of California, Santa Barbara where he teaches courses on social change movements, environmental justice, human-animal conflicts, sustainability, and social inequality. His teaching and research focus on ecological justice issues in the U.S. and globally. His books include: What is Critical Environmental Justice?; Total Liberation: The Power and Promise of Animal Rights and the Radical Earth Movement; The Slums of Aspen: Immigrants vs. the Environment in America's Eden (with Lisa Sun-Hee Park); Resisting Global Toxics: Transnational Movements for Environmental Justice; The Silicon Valley of Dreams: Environmental Injustice, Immigrant Workers, and the High-Tech Global Economy (with Lisa Sun-Hee Park); and Garbage Wars: The Struggle for Environmental Justice in Chicago. He has served on the Boards of Directors for the Community Environmental Council, the Global Action Research Center, Greenpeace USA, International Rivers, and the Fund for Santa Barbara. 
Two of Dr. Pellow's articles relevant to his presentation include:  "Toward a Critical Environmental Justice Studies:  Black Lives Matter as an Environmental Justice Challenge" and "Struggles for Environmental Justice in US Prisons and Jails."
---
Dr. Cathy Kuhn, Executive Director of the Metropolitan Housing Coalition, presented "The Critical Connection Between Housing Security and Environmental Justice" on April 8, 2021, and the video of her presentation can be found here.
Dr. Cathy Kuhn joined the Metropolitan Housing Coalition as its Executive Director in the fall of 2020. Dr. Kuhn has been working in the homeless and housing field for over 20 years, serving as the Chief Strategy Officer at Families in Transition, a large homeless and housing provider in New Hampshire, as well as serving as the Director of the New Hampshire Coalition to End Homelessness, a nonprofit organization dedicated to finding effective solutions to homelessness through research, education and advocacy.  Dr. Kuhn holds a PhD in sociology/urban studies from Michigan State University and a master's degree in resource development.  Both her master's thesis and dissertation were applied research projects aimed at enhancing delivery and outcomes of key federal housing programs.  From 1997-1999, Dr. Kuhn lived in Panama where she served as a Peace Corps Volunteer teaching environmental education in primary schools. Currently, Dr. Kuhn is also an Adjunct Professor of Sociology, with experience teaching at numerous colleges and universities.