Tom Diener, Rotary, Peace Studies, and UofL
by Russell Vandenbroucke
Like other teachers, I yearn to impact students beyond the final reading, assignment, and class as they stride, ineluctably, towards their futures.  Perhaps this is an aging teacher's dodge of mortality. I allow myself to imagine the impact a class should have despite contrary evidence as students rush forth constructing who they will be. My impulse, possibly delusional, leads me to create a handout on the final day of class.  "Selected Future Resources and Readings" always includes a list of films, names and websites of relevant organizations, and a roster of favorite books on the topic we've explored together. I list the books last so students don't immediately spot it and, for the many who hate to read, immediately discard my counsel and  attempt at continuing impact.  Most students are polite enough to take my hand-out with them when they leave though a few stray sheets always remain behind.
Preparing such a roster in April of 2006 at the end of "War and Conscience," a cross-disciplinary seminar co-taught with historian Ben Harrison, I learned on-line that the Rotary International Foundation had just created  a Peace and Conflict Studies program for mid-career professionals that would begin that summer. My undergraduates were certainly not "mid-career," but I might be if Rotary's definition were generous.  Moreover, since I would soon qualify for my first University of Louisville sabbatical and would have to submit a proposal for it in the months ahead, I read the website information carefully, subsequently secured support for my plan from Dean J. Blaine Hudson, and pursued the Rotary application. 
To complete it, I needed support of a Rotary club, which led me directly to Dr. Tom Diener, a Past District Governor and member of the East Louisville Sunrise club.  I recall all this because of Tom's recent passing.  I was, I am, deeply indebted to him and Rotary.  Without his direct, enthusiastic, and continuing support, no Peace Studies program would now exist at UofL.  His fundamental role deserves explanation. And praise.
I was referred to Tom by Bernie Strenecky of UofL's College of Education and Human Development.  Himself a Rotary member, Strenecky advised me that my application should highlight my international experience and the fact that I was Chair of Theatre Arts.  He told me that Tom "can do some politicking with Rotary."  Following Strencky's introduction, Tom invited me to lunch where I learned about his career in higher education, the many leadership positions he had held in Rotary, and about his past history with its overseas programs. He had sponsored others to study in Northern Ireland and Japan, including Daniel Sturgeon, a UofL graduate who had been a Peace Fellow in Japan, part of Rotary's M.A. program in Peace Studies that predated the new one I was pursuing.   
Revisiting that application for the first time in over a decade, I am startled to find assertions so deep-seated that I immediately spot trace elements of the Peace Studies program that followed a few years later.  For instance, I quoted one of my favorite authors, Robert Coles, in The Call of Service: A Witness to Idealism: "All service is directly or indirectly ethical activity, a reply to a moral call within, one that answers a moral need in the world."  Coles's book would become required for the program's capstone course "Service Learning in Peacebuilding." I also wrote in my application: "We are acculturated to think that war is inevitable, conflict unavoidable, peace unattainable.  If unchallenged, such false assumptions become self-fulfilling prophecies. . . . As a teacher, too, I hope to influence the next generation's comprehension of the world that is ours. I strive to empower students to understand that they can make it better. . . .  I hope to convey specific problem-solving tools to others thereby giving them reason to hope that problems created by men and women can also be solved by women and men."  These bedrock beliefs, hardly unique to me, lie at the core of the program that would be subsequently proposed.
First, however, my Rotary application required support of a club, and this led Tom to arrange a formal interview at his home with two or three members, all white, male, and apparently privileged like me. The only question I recall so many years later was about my being a Vietnam-era conscientious objector (C.O.).  I explained how a specific talk by the drill sergeant of my ROTC unit at Ft. Benning, Georgia, in the summer of 1968 had made an indelible impression. His focus on the effects of chemical and biological weapons--and the fact that the U.S. possessed them--made me realize I did not belong in the Army.  This eventually led to two years of alternative service when my low number from the first draft lottery was called. (For more details see "From ROTC to Peace Studies" and "From Pacifism to Service Learning.") The Rotary members seemed to grasp my explanation, if not endorse it. One of them said my views on the military might raise doubts among fellow members, especially veterans, but they thought they could address the issue adequately on my behalf. 
Tom was clearly the group's leader, and only after his passing have I come to understand more thoroughly why this Army veteran, who had enlisted after college and served in Korea and Okinawa, remained so supportive despite my own unwillingness to join the military. Tom's father, raised Amish, married a Mennonite woman and then became Mennonite himself.  Tom graduated from Goshen College, affiliated with the Mennonite Church, which, along with the Amish and Quakers, are America's three traditional peace churches. Their members have routinely been granted C.O. status whenever they sought it. While I do not belong to these or any other church, I encountered members of each in the late 1960s and early '70s through the extended process of securing C.O. status and then identifying an alternative service job "in the national health, safety, and interest" that my draft board would accept. Tom did not dwell on his family background, but I feel certain it predisposed him to understand my beliefs about war and refusing to participate in it.  Nine of Tom's first cousins, the men wearing traditional beards, traveled to Tom's memorial service from their Midwest farms in a large van: Their religion did not permit them to drive, but they could ride.
After my November, 2006, interview with Tom and his colleagues, his club endorsed my application and forwarded it to the next level for consideration.  In February, I was accepted into the third cohort of the Rotary Center for Peace and Conflict Studies at Chulalongkorn University in Bangkok, Thailand.  Dean Hudson's support continued as the university contributed to my airfare and more.
Before departing, I vividly recall phoning Rotary International headquarters and hearing the greeting, "This is Jan Weidman of the Peace Department."   I had never before heard anyone identify themselves as working for a Peace Department. (Cleveland Congressman Dennis Kucinich's proposal to create a Peace Department within the federal government was stalled at the time and has never become reality since.) The very existence of Rotary programs affirmed my hopes. They still do.  Sometimes when returning a call to Jan, I secretly hoped she was away from her desk so I could hear her voicemail message again.
Louisville to Bangkok
There are many stories I could tell about the 11-week program, including the night that banging on my door by a colleague roused me from sleep: Our hotel was on fire! What mattered most to me was instinctively revealed when I grabbed family photos, my passport, and my laptop before heading down the fire escape from the sixth floor.  I recovered my belongings the next day, safe from the fire although saturated with the smell of smoke.  A cohort from Tajikistan whose room was directly above the kitchen where the fire began lost everything, including an adorable dress for his infant daughter.  Local Rotary clubs generously replaced all that he and other participants had lost.
Separation from family for three months was difficult, but the program at Chulalongkorn was exhilarating, intense, and nearly nonstop.  Our group of twenty included men and women from thirteen countries on four continents.  I was not (quite) the oldest. Our first assignment was to present an analysis of a conflict familiar to us and our work.  Participants offered startling examples around the world. I learned about the struggle for autonomy between the Casamance region of Senegal and its central government; about riots fomented by Hindu nationalists in the Indian state of Gujarat; about land theft in rural Cambodia and persistent challenges in recovering from the Khmer Rouge more than thirty years after its demise; about the struggles of Canada's First Nation peoples; about environmental disputes in Thailand, policing in Nigeria, and United Nations support for refugees in Kuwait and Iraq. My topic, "Warism and the American World," focused on the pervasive support back home of warism, the term coined by Duane Cady for "the view that war is both morally justifiable in principle and often morally justified in fact."
Seminars were led by experts brought to us from around the world: England, Sweden, Canada, Malaysian, Italy, Colombia, Indonesia, the Philippines, the United States.  Presentations from Thai professors and practitioners included Colonel Songwit Noonpakdi who explained the army's application of non-violent principles in anti-terrorism efforts on its southern border. The pace of reading mimicked graduate school.  Field trips to remote parts of Thailand and Cambodia expanded theory of the classroom to praxis in specific places.  Armed soldiers accompanied us on a trip to a remote village up the Salween River.  Was it mere display to hidden figures on the opposite shore engaged in Myanmar's civil strife?   Our group was so visibly diverse that when we reached a United National High Commissioner for Refugees settlement for 49,000 exiles from Myanmar, we were told, "We can think the world does not know or care about us and our problems, but when we saw you, we realized that was not true."  I had never before encountered this variation on the importance of diversity.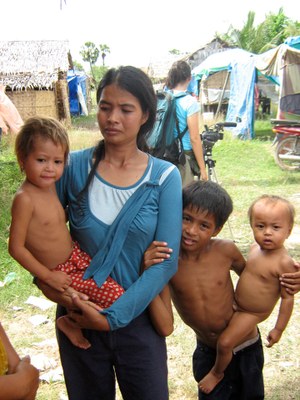 We visited killing fields of Cambodia where I learned that teachers were the first victims; their high school was converted into a central prison.  In Phnom Penh we visited the Extraordinary Chambers in the Courts of Cambodia, then being readied for trials for war crimes that would finally begin four years later, thirty-six years after the Khmer Rouge were driven from power. Outside Phnom Penh, we toured Andong Village where families were forcibly resettled outside the city--and without transportation back to it--as part of urban "renewal." That encounter led me to write "Another Global Village" (pp. 54-55), the first poem I published in decades.  Some of our translators were physicians.  The $100/day they received was much more than they could earn ministering to the health of fellow Cambodians.  One asked how he might get a fellowship in the United States to improve his knowledge in treating pulmonary diseases and tuberculosis. 
Thailand to Laos and Vietnam to Louisville
Before returning home, I spent two weeks in Laos and Vietnam to research a play I was planning to write on the war of my generation.  (Soldiers Circle,the play that ultimately emerged, focused instead on the American war of my students' generation in Afghanistan and Iraq.)  The American War, as Vietnamese call it, had led me: to volunteer for ROTC; to experience 28 days of basic training at Fort Benning; to begin realizing at age nineteen, somewhat belatedly, my unwillingness to contribute to war; to my draft board's classification of me as a C.O. and two years of alternative service that followed; to teaching "War and Conscience," which led to learning about a new Rotary International program focused on Peace and Conflict Studies; to applying for it; and to the support of Tom Diener and the East Louisville Sunrise club. 
My Rotary application acknowledged the overlap between the program's objective and my responsibilities as a teacher to disseminate knowledge and transfer wisdom borne of experience.  I imagined this would be accomplished by revising and strengthening classes I taught.  In my application I also expressed eagerness "to apply everything I learn.  I want to put theory into practice more regularly."  I imagined accomplishing this in my private life as an engaged citizen.  I did not imagine--I could not have imagined--proposing, helping to create with many others, and leading the Peace, Justice & Conflict Transformation program that now exists at the University of Louisville.
That process began almost flippantly when I returned to campus after my sabbatical and asked a group of students in September, 2008, how many knew that the United States was at war in Afghanistan and Iraq.  All 150 raised a hand.  I then asked how many knew that the United Nations' would commemorate the International Day of Peace the following week.  No one raised a hand.  Noting how lopsided our common knowledge appeared to be, I suggested the university join more than 300 others by creating a Peace Studies program.
 I would not have possessed sufficient knowledge or confidence to suggest this without the Rotary Center for Peace and Conflict Studies. And I would not have been there without Tom Diener.  My casual suggestion was affirmed immediately after I expressed it by a colleague, Barb Burns, and we soon initiated the many meetings and steps that moved us incrementally forward. The college curriculum committee approved our plan for an undergraduate certificate in 2011. The university's trustees provided final approval a year later, October of 2012, and our first graduate followed in May of 2013 as he completed our required capstone, "Service Learning in Peacebuilding." I might never have conceived this form of praxis without Chulalongkorn, Rotary, or Tom. By May of 2019, eighty more graduates have followed.  All are indebted to Tom. Over the years, he graciously asked how the program was developing, invited me to speak to his club, and joined with others to donate money to Rotary in my name as a Paul Harris Fellow "in appreciation of tangible and significant assistance given for the furtherance of better understanding and friendly relations among peoples of the world."
Throughout the years I became eligible for a sabbatical, applied to Rotary, traveled to Bangkok, and imagined then proposed a Peace Studies program, I commuted weekly to Louisville from Evanston, Illinois, just outside Chicago.  It happens to be home to Rotary International.  Still, I knew little about the organization beyond the local clubs that sometimes invited me to speak while I was artistic director of a Chicago theatre. I knew they met weekly.  Most members appeared to be professional, prosperous, civic-minded, and fond of teasing each another. At weekly breakfast or lunch meetings they wore buttons to identify themselves and their category of membership. American and Rotary flags were always on display as were small banners of the local club. 
I grasped the international dimension of Rotary before travelling to Bangkok and meeting fellow participants from around the world.  But Rotary's deep, sustained, and generous commitment to Peace Studies seemed startling to me, even radical. It still does: Some people equate "peace" with "unpatriotic." The pursuit and practice of peace implicitly recognizes that this ideal must be nurtured because so often it is not, including in the very countries Rotary members call home.  Through time, I have come to conceive of Rotary's various peace programs as natural extensions of its motto, "Service Above Self," a concept I deeply admire and endorse.  Enhancing peace among nations, groups, individuals--and within individuals too--is surely a profound way to serve the people of the world we share.
Tom Diener embodied this spirit.  So does his surname: one who serves.  His family, community, and University of Louisville students all share in the good fortunate that he did.