Student Opportunities and Employment
Scholarships, Grants, Travel opportunities, undergraduate research, employment.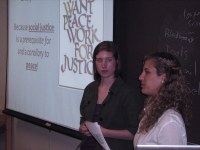 A core principle of Peace Studies recognizes that every individual has agency, the power and ability to make changes in ourselves, the societies we inherit, and the world we inhabit. PEAC 325 includes a final project that encourages students to act this way, and the program offers many other opportunities for students to become engaged. These include:
helping to organize the annual commemoration of PeaceDay, the United Nations' International Day of Peace (on or about Sept. 21)


seizing opportunities like the Service Fair, Take Back the Night, Majors Fair, and Sustainability Day to inform other students how Peace Studies might enhance their studies—and their lives


attending the annual Student Peace Conference at Notre Dame University's Kroc Institute for International Peace Studies (late March or early April every year)


serving as a Peace Studies intern, which can include a stipend of $750/semester


engaging with the many allied programs and activities across campus. (See UofL Allies)


combining international travel and service learning: PEAC 550 is the capstone course for the program. It requires 80 hours of service learning with a local, national, or international organization that contributes to peacebuilding. Selected students may fulfill this in Northern Ireland in conjunction with PSYC 408 offered most years in May. (See attachment) Students must have completed PSYC201 and a research methods course within their discipline. Interested students may learn application and interview details by contacting Dr. Melinda Leonard .