Dashboard
Wastewater monitoring results for the current week in Louisville-Jefferson County
Wastewater Monitoring Results
Since June 2020 Louisville's Metropolitan Sewer District (MSD) and Louisville Metro Public Health and Wellness (LMPHW) have partnered with researchers from the University of Louisville's Envirome Institute to learn how sewage may indicate community health risk. We have collected thousands of samples from sewers from across Louisville looking for SARS-CoV-2, the virus that causes COVID-19. Together with county level clinical data, our sewers are helping us to understand how infection rates are related to important clinical indicators like new hospitalizations and ICU bed capacity.
Comparison of Wastewater Levels and Clinical Cases, Hospital Admissions, and Occupied ICU Beds (5/16/22)
In the charts below, we compare wastewater levels to indicators of health, clinical cases of COVID-19, new hospital admissions, and occupied ICU beds. The orange, yellow, and green bars in the last two charts show CDC designated risk thresholds.




---
Variants of Concern
These charts show the proportion of each variant of concern for Louisville's 5 water quality treatment centers. The left side, the Y axis shows the proportion of the variant from 0.1 (10%) to 1.0 (100%). The "factor" list shows what color represents each variant.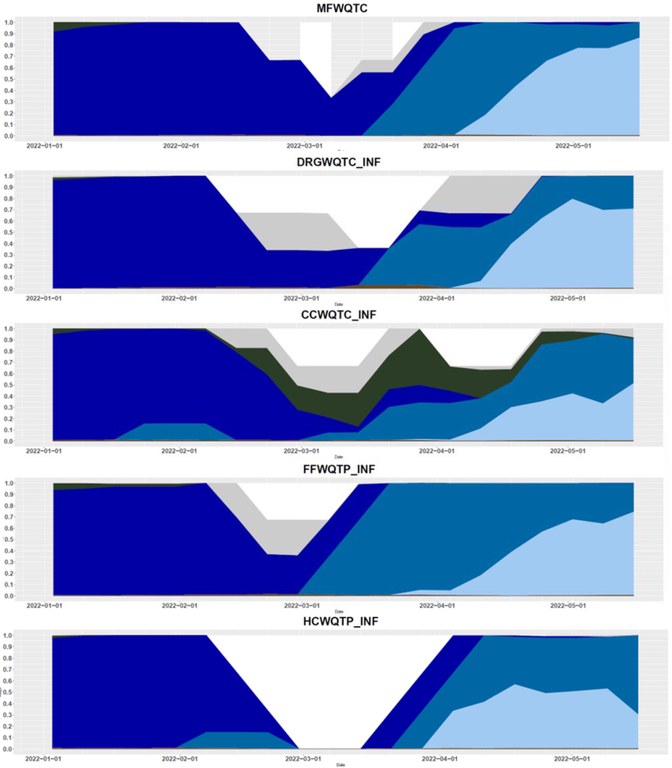 ---
Louisville Sewersheds
We sample from 8 sites weekly, 5 water quality treatment plants (left panel) and 3 local sewersheds (right panel). The three graphs on this page that compare wastewater results to clinical cases, new hospitalizations for COVID-19, and ICU bed occupancy are based on all 8 sewersheds. The graphs on this page that show the variant proportions are bases on the 5 water quality treatment centers in the left panel. 
You can view additional wastewater data at the CDC's COVID Data Tracker.
---
Contact
For more information, send us an email at envirome@louisville.edu