FAQs
Frequently Asked Questions
How do I become a patient in the dental student practice?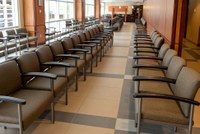 Call 502-852-5096 to schedule a 90 minute evaluation appointment. During this time, the school will assess your dental needs, address health concerns and make a determination about whether your dental needs can be met by dental students. If your needs are too complex for dental students, the school offers care within our postgraduate (specialty clinics) and our faculty practice, UofL Dental Associates.
Can I receive specialty care?
Yes, the following postgraduates (specialty clinics) are staffed by residents who have received a dental degree and are seeking certification as a specialist. These residents are under the supervision of specialized faculty. Our postgraduate clinics include:
Can I receive dental treatment from a faculty member?
Yes, our faculty are top specialists in their field, as they prepare the next generation of dentists for entry into private practice. The UofL Dental Associates practice is located at 501 S. Preston Street. Visiting a general dentist or specialist at this practice is equivalent to being seen by private practice dentists, and requires less time of a time commitment than going to a student doctor at the dental school. Schedule an appointment at 502-852-5401.
How much time should I allow for my appointments?
If you are receiving care in the students clinics (DMD or Dental Hygiene) please understand as part of the educational process and level of faculty supervision required, appointments may be lengthier than in a private dental practice and may require multiple visits. Faculty practice, now UofL Dental Associates operates like a private dental practice and may better suit your needs.
Do you provide free or sliding-scale fees at the dental school?
The University of Louisville School of Dentistry does not offer free dental care. We are a fee for service clinic.
How do I pay for my dental care?
ULSD will file commercial insurance claims as a courtesy for covered patients; however, most plans do not pay for all costs connected with treatment. Any difference between the insurance coverage and actual charges remain the responsibility of the patient. Read more about our fees and insurance policies.
Where do I park?
If you are in need of wheel chair assistance, translation services, or other special accommodations, please call (502) 852-5096 prior to your appointment.Find out more about available parking for the School of Dentistry.
What if I can't keep my appointment?
Please call 24 hours in advance to cancel an appointment at 502-852-5096. Please note that no shows, late arrivals, and/or cancellations with less than a 24-hour notice may result in dismissal from the program.