UofL School of Dentistry continues to move up on NIH research funding rankings
Research leader credits investment in faculty and collaboration across the university
According to the latest data from the Blue Ridge Institute for Medical Research, the University of Louisville School of Dentistry is among the top dental schools in the nation for National Institutes of Health research funding. ULSD is now ranked 13th in the United States, with total NIH awards of $5.9 million in 2021. The data on the 2021 BRIMR rankings comes from the Research Portfolio Online Reporting Tool (RePORT) from the NIH.
David Scott, PhD, Associate Dean for Research and Enterprise at ULSD, says continued growth of the school's research program stems in part from the Research Challenge Trust Fund, which is also known as Bucks for Brains. This program, which was first enacted by the Kentucky legislature in 1997, committed additional funds for research at universities. "Bucks for Brains allowed ULSD to invest in clinical and PhD scientists and to steadily improve our research capabilities and successes," he says.
This research has an impact far beyond Kentucky, Scott says. "ULSD's research helps to identify problems related to dentistry. By seeking insight into these problems, we can ultimately find ways and means to improve and prevent dental diseases, conditions and their systemic consequences around the world." Scott says the research at ULSD focuses on three areas in particular: craniofacial developmental biology, oral microbiology and oral immunology. However, he notes that the school's research presence is growing in other areas due to recent investments in tenure-track faculty. Those areas are oral imaging, clinical periodontics, behavioral sciences and dental materials.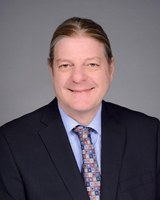 Scott says collaboration with others at the University of Louisville has also contributed to the dental school's research success. "Within UofL, our collaborations include, but are not limited to, projects developed alongside individuals in the Speed School of Engineering, the Department of Microbiology and Immunology, and the Department of Pharmacology and Toxicology," Scott says. "Such bridge-building has facilitated success in federal research training grants designed to maximize opportunities for the next generation of dental scientists."
Photo: Dr. David Scott
Ultimately, preparing the next generation of dental scientists for success is the ultimate payoff. "Our research faculty contribute to the curricula and provide expert mentoring for students and residents, continuously highlighting the importance of evidence-based dentistry," Scott says. "As a result, ULSD graduates enter the profession prepared to be lifelong learners."
Learn more about research at ULSD
March 3, 2022