From rarity to majority: Exploring the growth of women in dentistry
In line with national trends, today's University of Louisville dental students are more likely to be female than male. In this article, we explore the history of female students at ULSD and key moments in this demographic shift.
Aimee L. Jones, the first female graduate of the Louisville College of Dentistry, in the 1901 class composite picture
Last spring, as dental schools across the United States granted diplomas to the class of 2022, an important turning point was marked.
In the fall of 2018, statistics from the American Dental Education Association (ADEA) showed that first-time, first-year dental school enrollees were 50.5% female and 49.5% male. As a result, 2022 was the first year that dental school graduates were more likely to be female than male.
For women in dentistry, the path from rarity to majority took many twists and turns.
The first female DDS
When Lucy Hobbs Taylor first applied to study dentistry under a Cincinnati dentist in the late 1850s, she was denied admission and advised that "her place was at home taking care of the house." She tried again in 1861, applying at the Ohio College of Dental Surgery, and was once again denied. Rather than give up, Taylor apprenticed under a licensed dentist and then began practicing without a degree in 1861.
Four years later, the Iowa State Dental Society accepted her into membership through a resolution that stated, "The profession of dentistry, involving, as it does, the vital interest of humanity, in the relief of human suffering, and the perpetuation of the comforts and enjoyments of life in civilized and refined society, has nothing in its pursuits foreign to the instincts of women, and, on the other hand, presents in almost every applicant for operations, a subject requiring a kind and benevolent consideration of the most refined and womanly nature."
Later that year, she was admitted to the Ohio College of Dental Surgery. Because of her experience, she attended only one session before being granted a Doctor of Dental Surgery degree in 1886 — becoming the first female DDS and opening the door for other women in dentistry.
Louisville's first female DDS
Just 15 years after Lucy Hobbs Taylor received her degree, the Louisville College of Dentistry – which is now the University of Louisville School of Dentistry – granted a dental degree to a female for the first time. Aimee L. Jones of Kentucky received her degree on May 8, 1901.
The class composite photo gives just one clue to the historical significance of this event: the male graduates wore a white bow tie and she wore a black bow tie.
Photo: The lone female in this picture of Louisville College of Dentistry students from the class of 1901 is presumably Aimee L. Jones,  the first female graduate of what is now ULSD. Photo from University of Louisville Digital Collections. 
Jones' graduation was not the start of a trend. In fact, females were specifically excluded from enrollment at the school shortly after. The 1904 and 1907 Louisville College of Dentistry Bulletins stated, "Only white male students are admitted to the classes."
Although that policy was short-lived, female students remained outliers for the next 50 years – save for a brief uptick during World War II. Many dental students at the time were part of the U.S. Navy's V-12 program, which was designed to speed the training of much-needed officers.
Photos: During World War II, women outnumbered men on the UofL campus two to one. However, the dental school remained mostly male. Female dental school graduates during the war include — from left to right — Adela Menendez Pfeiffer (class of 1942), Bertha Drake Beazley (class of 1943) and Elly Meissner Wodak (class of 1943). Photos from University of Louisville School of Dentistry archives
Title IX marks a turning point
The turning point was 1972. That year, Congress approved the legislation known as Title IX. Written by Senator Birch Bayh of Indiana, the statute read: "No person in the United States shall, on the basis of sex, be excluded from participation in, be denied the benefits of, or be subjected to discrimination under any education program or activity receiving Federal financial assistance." These 37 words opened new opportunities for women in all aspects of education and, ultimately, their career paths.
Within 10 years, nearly 1 in 5 ULSD graduates was female. Within 20 years, the ratio was 1 in 3.
Other factors in the demographic shift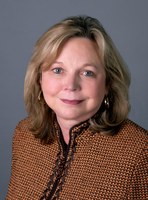 However, Title IX is just one part of the equation. Dr. Karen Pierce West, a 1982 ULSD DMD graduate who now serves as President and CEO of ADEA (pictured at right), says other factors have contributed to the growing number of women in dentistry. First, she says, more women are joining the workforce overall. "It's common to have two working parents just to increase their livelihood. Women are also more open to different types of childcare arrangements, which makes it easier to leave home and go into the workforce."  
In addition, West points out that women are discovering how dentistry can be a great fit for them. "There are a lot of options. You can be a researcher, practitioner, so many other roles. I think it's also an appealing career because a lot of times you don't have the type of stress outside of work that you have in other professions. That provides time and opportunity to be involved with your family and your community." 
Finally, West notes that each generation has helped the next. "There are a lot more role models – women in all areas of science. Without these role models and mentors, students and potential students might not feel like they can be successful. When you see these role models in practice, in faculty positions, in dean positions, you see it is possible because others have done it."
West say mentorship is the key to increasing interest in dentistry not just among women, but among all young people. "Exposing potential students to the workings of a dental practice is a good way to give back to the profession and to the school. Alumni need to reach out to them in a community setting, church environment, wherever you can reach them, and invite them into your office."
She also points out that mentorship needs to start in middle school or even before, since students are making career decisions earlier than they used to. "When students get into high school, they have to make a decision about which track they are going into," she says. "If we wait until students get into high school, we have missed an opportunity. They might have other interests and dentistry might not even be on their radar."
Meeting the needs of today's dental students
While creating a pipeline is the first step, West says dental schools also need to cater to the needs of today's students – who are very different from those in the past.
As the leader of ADEA, West is advocating for more counseling services. "Our students are under so much stress right now," she says. "They need a place to go and a person to go to whenever they need it. Because dental schools are often external from main campus and they're working 8-5 or longer in clinics and labs, we need to work a lot more to make sure our students think their well-being is being considered."
Heeding this advice, the University of Louisville School of Dentistry added a new resource for students in 2022: an embedded mental health counselor on site.
Photo: With 40 males and 40 females, the class of 2010 was the first DMD class at the University of Louisville comprised of at least 50% females. For the classes of 2012 and 2013, the percentage increased to 53% female. Photo from University of Louisville School of Dentistry archives
West says another need is childcare. "I used to have students tell me they came in really early in the morning to study so they could be with their family in the evening. We need to have childcare because students spend so much time in the clinic and lab."
While much has changed in the past 40 years, West says the class of 2022 has one thing in common with the class of 1982: "I remember when I was in school we talked about the females being there for each other, but it was more than that. The whole class was there for each other. We didn't pay attention to genders. We just worked together as a group and we supported each other. It is the same today."
Edwards RW (1951). The first woman dentist: Lucy Hobbs Taylor, D.D.S. (1833-1910). Bulletin of the History of Medicine, 25(3), 277–283. http://www.jstor.org/stable/44443642

American Dental Education Association Data, Analysis & Research: Applicants, Enrollees and Graduates https://www.adea. org/publications-and-data/data-analysisand-research/applicants-enrollees-andgraduates.aspx

Kelso, A (2020). UofL takes a look back at campus milestones to celebrate Women's History Month https://www.uoflnews.com/ post/uofltoday/uofl-takes-a-look-back-atcampus-milestones-to-celebrate-womenshistory-month/

University of Louisville School of Dentistry student records, composite photos, yearbooks, and other historical documents.
Published January 27, 2023