Parkland Community Garden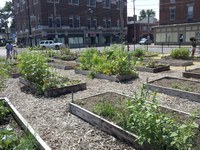 The Safe Urban Garden Development Program includes one to two sites per year to be chosen as demonstration projects on garden design and implementation. These will be demonstration projects from which others wishing to develop community gardens can learn.  The first such site is at the corner of 28th and Dumesnil Streets in the Parkland neighborhood.  The project staff has developed two draft concept plans for the site which can be viewed below.  The final decision was to accept Draft Concept #2 as for the garden at 28th and Dumesnil.  This garden is now called the Parkland Community Garden and the first phase of construction took place on Saturday, April 13, 2013.
The first gardener orientation meeting took place on Tuesday, April 23. Planting took place immediately afterward!
Events at the Parkland Community Garden
One Year Anniversary of the Parkland Community Garden!  Friday, April 25, 2014 at 3 pm.  Learn about all that has taken place in the last year and what the coming year will bring!  The P.A.I.N.T. artist who is designing a sculpture for the garden will be hand as well as the consultant master gardener.  Light refreshments will be served.
Educational Series with Master Gardener Julia Murcia.  Meetings take place every third Saturday of the month from 12 to 1 pm at Metro Housing Resource Center, just across the street from the garden.
Build Day 3
Gardeners and residents came out on Saturday, November 16, to help build new beds for an herb garden as well as cedar boxes for the soon-to-come fruit trees.
"You Do the Math: Healthy Minds + Healthy Bodies = Successful Students!"
Friday, August 30, 2 pm to 6 pm
Parkland Neighborhood Improvement Association in partnership with UK Cooperative Extension Program, Network Center for Community Change, UofL Center for Environmental Policy & Management, Louisville Metro Public Health and Wellness and the Mayor's Healthy Hometown Movement hosted this event to celebrate the beginning of this new school year!

Volunteers from numerous groups built children's raised beds in the Garden on Friday. As part of the event, several food trucks wereon hand and the Root Cellar was there with its Root Mobile. A DJ played family-friendly music and the Louisville Free Public Library brought its bookmobile.

The Parkland Community Garden Build Day 2 took place Saturday, July 27th from 10am to 2pm.
PCG Meeting Notes
Parkland Community Garden Meeting Notes, April 1, 2013
Parkland Community Garden Meeting Notes, March 19, 2013
Parkland Community Garden Meeting Notes, February 25, 2013