The Brownfield Area Benefit Estimator (BABE)
The Center for Environmental Policy and Management at The University of Louisville received a five-year, $1,000,000 research grant from the EPA's Brownfields Training, Research, and Technical Assistance Grants program in 2016.  Together with partners from the E.P. Systems Group, Inc., Symbiont, the Urban Institute and Lazarus Group LLC, we have developed the Brownfields Area Benefits Estimator (BABE) toolkit. This benefits calculation toolkit is designed to be used by communities to better project and track a wider variety of community benefits associated with brownfields redevelopment than has previously been possible.
The toolkit consists of a mobile app for collecting and managing baseline property condition data, the Brownfields Tracker Template, that can be used in concert with a web-based desktop analysis portal, the Benefits Analysis Tool (BAT).  The system uses accessible national, state, local and hyper-local data as the foundation for community centered benefit and change projection formulas. In addition, there is a guidebook that describes our data, research based formulas and assumptions, and ways to use each component of the toolkit.
 Links to the BAT, the Brownfields Tracker, and guidance documents are located HERE.
This project is unique in that it re-examines and augments traditional economic benefit models for redevelopment and in-fill development to include a broader set of indicators that have until recently been difficult to systematically measure.  It also explores the efficacy and value of including hyper-local community collected data in these models now that technological advances open the door to systematic and consistent collection of that level of information. Importantly, the user will be able to define any area of interest and receive a report with estimates based on geo-interpolated data at the appropriate unit of analysis. This toolkit will help users ask and answer questions about 'to whom' the benefits of redevelopment accrue. The changes that result from redeveloping brownfields can benefit existing residents in their proximity. This tool contributes to discussions about how to specify those benefits.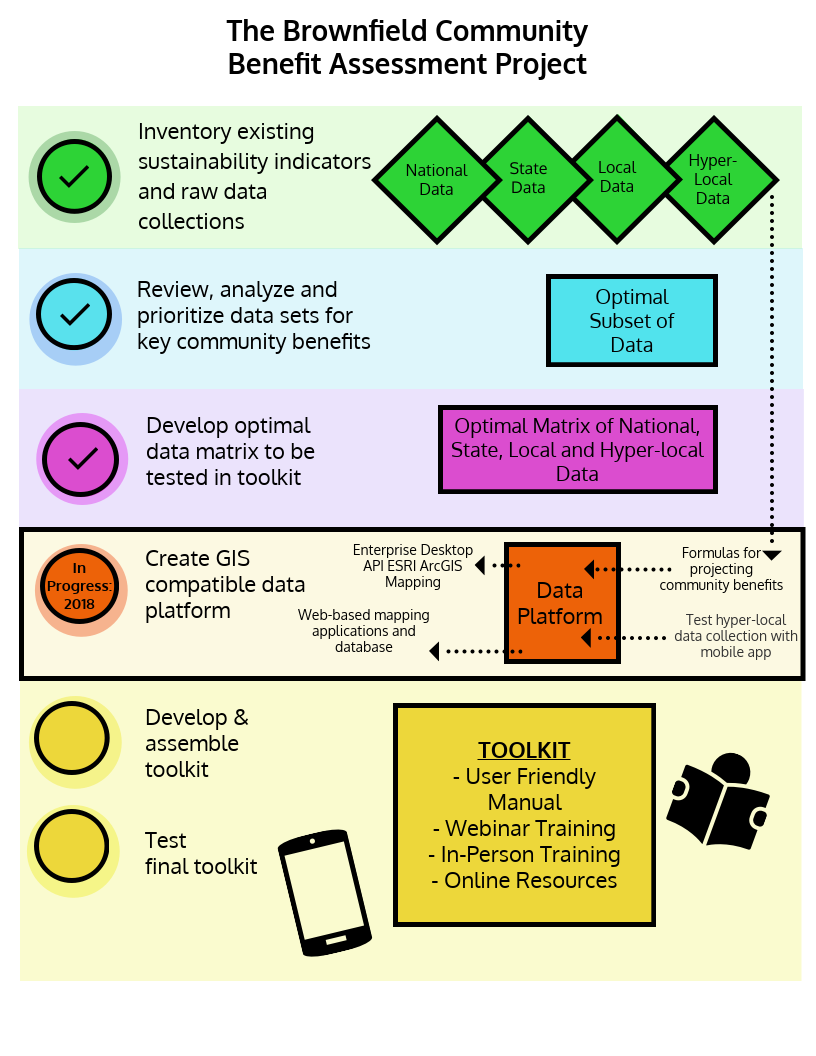 ---
Team Leaders
Key Staff and Partners
---