Spring 2020 BFA Thesis Exhibition
April 16 - May 22, 2020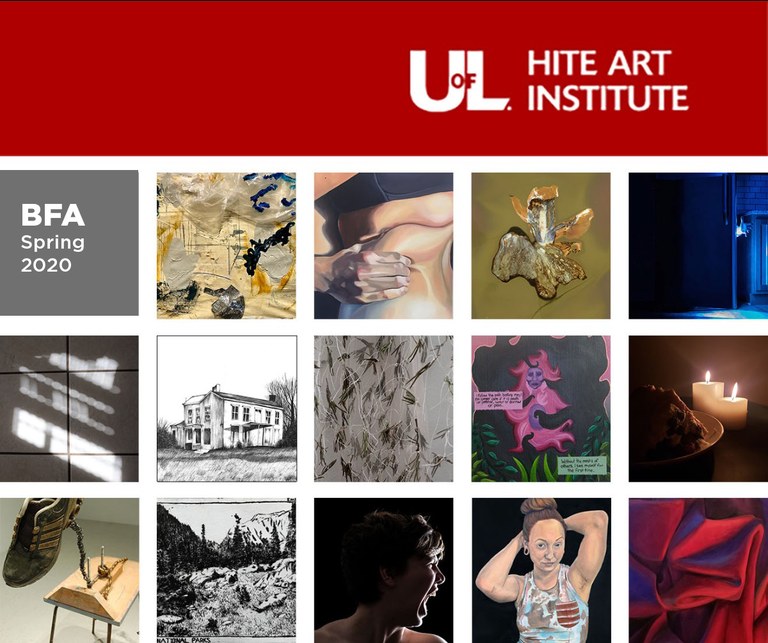 After initially presenting their work digitally due to COVID-19, we are pleased to announce that a selection of BFA students now have their artwork live and ready to be viewed in our Schneider Hall Galleries! Reservations are required to view the exhibition. Please view our updated gallery visitation policies and make a reservation Here.
You can also scroll below to see the digital exhibition, or select one of our candidates to jump to their work!
Candidates: Sara Coleman, David Conrad, Mackenzie Dennison, Michael Gorman, Maree Grosser, Catherine Hale, L.P. Hewitt, Samantha Ingram, Sarah McArter, Bailey O'Leary, Jillian M. Simpson, Terion Thomas, Lucas Wells, and Rachel Wiley. 
---
Sara Coleman
I work in the quiet and contemplative space of my home to capture ephemeral light, which is present for a certain amount of time and then is gone. My goal, in part, is to immerse myself in the act of looking and to reconsider (even my own) expectations of perspective. I want to make my viewers aware of their own interest in looking, instead of losing their attention to thoughts about what it is that they are looking at. I am surrounded by light in my home. Light moves through every room of the house throughout the day and night. I move away from photographic narratives and consider perspective both physically and metaphorically. I engage the notion of photographic environment rather than photographic subject. The grid format of my home's tiled floor provides a way for me to invite viewers to examine each segment of my composition for detail. In this way, even grains of dirt have the potential to hold visual significance. I would like for my audience to consider their personal gaze by looking at my work from an experiential distance as well from a more logical and detailed point of view.
Images: Sara Coleman, Untitled, digital photographs, 2020 
---
David Conrad
Mixed-media abstract assemblages address the tension of adapted temporary shelters and marginalized struggle by exploring an exodus from a negative, violent situation to a place of hope and growth. As the vulnerability of those experiencing homelessness intensify during a pandemic, so does a greater divide in housing insecurity, the availability of proper mental health services, and financial resources. This body of work questions the extent of an artist's moral obligation to those seen as excluded or disposable. Personal experience with estrangement, homelessness, and homeless encampments lead this intuitively improvised practice to show contingent markers of raw urgency and mistakes. Formal concerns of materiality of paint and surface expand the field of painting beyond the second dimension, thus addressing the limited support structures available to the lesser advantaged. Quickly applied splashed paint onto temporary flimsy barriers display a provisional protective layer. Discarded construction materials and tarpaulin are covered with viscous neutral house paint, interlocking perspective lines, along with blue and orange pigment, each with their own set of associations. Remaining palimpsests of scraped-off, wiped-away layers explore entropy, self-sabotage, and disintegration.
See more from David at his website davidbconrad.com or on Instagram @dvdc
Images from left to right: 
Untitled 2207, 2019, acrylic and mixed media on tarpaulin, 30" x 48"
Untitled 2214, 2019, acrylic and mixed media on tarpaulin, 48" x 60"
Untitled 2401, 2020, acrylic on tarpaulin, 28" x 36"
Untitled 2411, 2020, acrylic on canvas and tarpaulin with gypsum board, 24" x 32"
Untitled 2501, acrylic on canvases, 60" x 64"
Untitled 2198, acrylic and mixed media on canvas, 48" x 58" 
---
Mackenzie Dennison
Skin Studies focuses on the elasticity and resiliency of different skin types and body builds. I am drawn to the subject of skin because it is a protector of internal systems and is a part of each persons' identity. I find inspiration in people and their bodies because each is unique. My oil paintings are presented in the order that I created them, which allows the viewer to see the work's progression as I study and become more familiar with each figure. I use a warm yellow and cool blue light to illuminate my subjects and to create an interesting effect that assists in showing the curve and three dimensionality of the skin. I want my paintings to provoke viewers to look at skin in a new way.
See more of Mackenzie's work on her Instagram @kenzinkartist
Images 1-6:Skin Study 1-6, 2020,  Oil on canvas
Image 7: Skin Study Tryptic, 2020, Oil on canvas
Image 8: Detail of Skin Study Tryptic 
Image 9: Skin Study 7, 2020, Oil on canvas 
---
Michael Gorman
My work concerns human interactions with animal life. Human actions have damaged the environment and increased the rate of extinction to more than a thousand times the natural rate. However, this change has happened so gradually that we have become blind to it, or we choose to believe that our individual actions mean little considering the scale of the challenges. 
Our alleyways are filled with materials that are imbued with our lived lives, and this makes them open to interpretation. My work creates pathways of dialogue into issues that are not always seen as problems. I draw in the viewer by creating playful and intimate pieces representative of animal life by utilizing post-consumer materials. The viewer becomes an investigator solving various puzzles, such as "what is this creature?" What is it made out of?" "How did it come to be?" And "what does it mean?" Through their curiosity I want viewers to understand the absurdity of mass extinction, and to grasp the tragic fact that animals that once populated our world are being replaced by our waste. 
For more from Michael check out his website: www.michaelagorman.com or follow him on Instagram @michael_gorman
Images
1-3: Michael Gorman, A Horse of Course?, 2018, Counter Top, Stool legs, shoe, wire, rope and screws.  45"x14"x36"
4-6: Scorched 2020. burlap, wire, steel rod. (Base) steel sheet metal.  6"x29"x15" (base) 22.5"x29.5"
7-9: Stampede 2019, Chrome chair frame, lawn mower handle, electrical cord, wire and glue. 38"x18"x26"


---
Maree Grosser
This work investigates loss and mourning by exploring the temporality and fragility of memories and relationships with people no longer on earth. I address the paradox of mourning: the impossibility of and pressure to move on. My experience is used as a framework for my audience to reflect on their personal encounters with loss. Through this environment the audience is invited to consider and talk about their experiences of death, and to reflect on how time changes these experiences. My work intends to provide an outlet to explore the social norm of avoiding such subjects.
The cloak is a visual representation of my ongoing relationship with my mother. As the memory of her fades, it takes continuous work, intentional thought, and physical reminders for me to hold to on her.  In Victorian society flowers and herbs were used symbolically to convey things society deemed unacceptable to express. Rosemary in particular had a symbolic meaning of remembrance. By hand cutting and knotting sprigs of rosemary to the cloak, I am materializing the memories I still have of my mother. The labor and constant maintenance required to repair the cloak as it is worn is symbolic of the effort of holding on to a memory. This cyclical ritual of wearing and mending is futile, but I persist.
This work relates to the cycles of life and death we experience throughout our lives. Grief is not a singular solitary occurrence; it is something we experience as we lose people throughout our lives. We then must learn to rebuild ourselves and move forward while simultaneously accepting that this is also our own fate. Like a spider rebuilds its web, we too must work to understand our elusory relationship with life and death. The creation of handmade spider webs in the gallery is another way of rebuilding after loss. Like most, my relationship with life and death is delicate and intricate. Its beauty is hard to see due to the difficulty of looking past the fear. The objects I have made, however, will always be there.
See more of Maree's work on her website: https://mareegrosser.squarespace.com or follow her on Instagram @mareegrosser
Maree Grosser, To Remember You (Rosemary), 03/03/2020, fiber/mixed media installation
---
Catherine Hale
The world is burning. It is an undeniable fact that the climate is changing and with it the environment is disappearing. The vacations we took as children and the landscapes our predecessors saw as their playground will soon cease to exist. It is not possible for us to sit in silence while entire ecosystems are wiped out. Now is the time for us to take action. My goal is to encourage my viewers to examine their habits and the greater impact that they have on the world around them, and more importantly, to motivate them to call their state representatives and demand that they put policies in place that can stop corporations from doing more damage. 
Drypoint is a historical method of printing that is short lived. I make small scratches in copper plates that produce elevated burrs. Each time the plate is printed it is re-inked and the process is repeated in an identical fashion. The more times the image is printed, the less clearly the copper will transfer the image onto the paper. This is because the pressure from the press smooths out the burrs. In this work I want to show the deterioration of this copper matrix to tell the story of our dying planet and to call my viewers to action. 
Due to the 2020 pandemic, I lost access to a printing press mid-way through my thesis. I was determined, however, to finish the work by hand. There is more variation in the quality of each print produced. It altered the rate at which the plate deteriorated, but this alteration serves to mirror the economic and manufacturing pause that was caused by the virus—a pause that has given the earth a much-needed break. It is no longer debatable whether or not humans are hurting the environment. Let us use this as more incentive to protect our planet. We can fix this and we must.
See more from Catherine on Instagram @catheronie
Image: Catherine Hale, Wasteland, Baby!, 2020, drypoint etching on cotton 12' x 3'
Images two and three: Print #1 and #60 
---
L.P. Hewitt
My work uses fantastic imagery in conjunction with narrative poetry in order to tell stories about our relationship to the monstrous, and to probe the various truths of our human condition that these relationships reveal. I use the compositional structure of comic books and graphic novels for their form of visual storytelling, and how conducive they are to the written word. In Western literature and film, monsters have been used to confront the intricacies of our fear and pain and examine how we perceive reality. They facilitate stories that are used to explore larger questions of life, the welfare of humanity, or aspects of the occult and the unknown. Within my own work I aim to impose similar questions, using monsters and instances of experience to generate meaning. My paintings contain an original set of reoccurring characters that signify pieces of my identity. In this way, my work produces a narrative surrounding experiences of mental health, disability, and gender identity. The image of the monster is used to act out conflicts of the subconscious and dissect instances of discrimination.
Fore more from L.P. visit her Instagram @lphewittart 
Images: L.P. Hewitt, Portal Series, Panels 1-23, 2019-2020, acrylic on panel
---
Samantha Ingram
In this series of photos I portrayed myself through the five stages of grief, recreating certain moments of my life. I chose the stages of grief because we as humans all experience grieving and the emotions that come along with it at some point. By using my personal experiences and allowing myself be vulnerable I connect to the audience on an emotional level—perhaps even connecting to emotions that audience members hide from themselves. I use digital photography because it allows for more vibrancy and contrast in the final edit. It also allows for more photos to be taken to capture the visual representation of the emotion that I recreate. 
The portraits are larger than life and floating off the wall to force the viewer to experience the emotion they are seeing portrayed and to bring a sense of confrontation along with it. Emotion here is front and center, which the viewer encounters face to face in these large photos. There is no border because I did not want to take away from the confrontational aspect of these portraits. The reflectiveness of the prints gives somewhat of a similar feel to what we experience from the screens on our phones and laptops, which people use to hide their emotions behind pictures and posts of their seemingly perfect life. 
See more from Samantha on Instagram @samingramphotos
Samantha Ingram, Stages of Grief, 2020, Digital Photographs
---
Sarah McArter
Sisters challenges historical portraiture by employing traditional techniques in nontraditional representations. Inspired by the models' responses, each portrait is paralleled with an abstracted emotive depiction. Sisters reveals raw, awkward realities and layered naturalism through referencing candid photography and historic techniques such as glazing and scumbling. Using gestures and facial expressions, each subject sends a non-verbal signal for how she wants to be perceived. Each movement can be explored as an archetypal construct and fulfilling a specific role. Through the use of proximity and visual cues, Sisterschallenges the audience to draw connections between each pictorial portrayal and its abstract counterpart.
Sarah McArter, Sisters Series, 2020, oil on canvas, 24" x 20" each
---
Bailey O'Leary
Vulnerability is an integral part of the human condition, yet it is often stigmatized and deemed a weakness. People who allow themselves to be vulnerable are often those who are most content or happy with their lives because these people are often the most confident and at ease. The stigmatization of vulnerability is thus due to fear of isolation, rejection, and judgement. Overall, humans want to belong and are therefore willing to attempt to numb socially unacceptable emotions.
My work provides a vacillation between voluntary and involuntary vulnerability. Each installation is a reference to sixteenth-century Dutch vanitas paintings, which symbolize the transience of life and inevitability of death. Likewise, my work represents the inevitability and necessity of vulnerability. However, rather than utilizing decadent décor in my installations, I include everyday objects more likely to be found in a modern-day home so that my work is familiar to the contemporary viewer.
Each piece is dimly lit in order to provide a comforting, idyllic atmosphere, allowing the viewer a sense of privacy and peace. As the viewer sits down, they notice the food on the table is rotting, which provides a moment of quiet disruption. However, the majority of the decaying food smells pungent and sweet, offering a reconciliation to the previous state of unease in the work. Each space is seated for one person, rather than multiple, in order to further reconcile the work with a quiet intimacy. As the viewer fluctuates between comfort and unease, my work provides a space that is exclusive to them in that moment. Rather than to further isolate the act of vulnerability, my work expands the experience to public grounds (the exhibition space), which provides an acknowledgment and acceptance of the experience.
For more from Bailey you can visit her website: www.baileyoleary.weebly.com or check her out on Instagram: @baileyoleary97
 Images: Bailey O'Leary, Euphoric Dissonance, Installation. 
---
Jillian M. Simpson
My subject has revolved around the realistic representation of fabric while creating drama through lighting.  Since I was a kid I have found fabric to be enchanting because of the complexity and mystery in the folds of the cloth. The blankets on my bed were the landscape for my toys, from rolling hills and sandy dunes, to dark ominous caverns. As an adult I am fascinated by the magical potential of the transformation of something mundane into something more. The shadows express the depth and volume of the folds, while the light applied dramatizes the peaks and angles. There is movement and mood and drama.
I use oil paint medium on traditional stretched canvas as well as wood panels cut with a laser to achieve a combination of right angle edges and the organic curves of the fabric. I arrange the material by both letting it drape naturally as well as manipulating it to create purposeful shapes that I find intriguing. Once the fabric is in place I place direct lights in various colors, usually red and blue, on the still life to create dramatic effect. 
Images from left to right: 
Row 1: Jillian M. Simpson, Purple on Leather 2019; Girly Vomit, 2020; Geode on Burgundy, 2019; Fabric Study in Blue, 2019, Oil on canvas, 10" x 10" each and Blue on White Velvet, 2019, Oil on canvas, 4" x 4"
Row 2: Fabric Study in Red and Blue, 2020, Oil on Masonite, 46" x 22" and Purple on Velvet, 2019, Oil on canvas.
---
Terion Thomas
The term Ephemerality is rooted in the Greek word ephemeros, which translates to "lasting one day". It is the concept of something that briefly exists; usually things that are in nature. Ephemerality presents a series of solar photograms known as "Lumen Prints," and each print has a Rose Mallow Hibiscus flower as the subject. A photogram is a photographic process that involves placing an object between light sensitive paper and a light source, and in this case the artist uses the sun as her source of light. 
Hibiscus flowers were initially used as an experimental subject for this process, but they ended up becoming an essential muse after the artist discovered how they reacted to the paper and the sun. It was found that the more they decomposed on the paper the more abstract the image became, so much so that the bacteria began to eat away at the emulsion of the paper and turns it white. Ephemerality captures the beauty and grace of the hibiscus flower in a moment of its decomposition. In the process, these works immortalize the flowers as they literally die on the paper.
For more from Terion check out her Instagram: @iamterion
Images: From left to right:
Row 1: Rose Mallow Dance, 11" x 14", Untitled 8" x 10", Chrysalis Hibisceae, 11" x 14", Rose Mallow Dance II, 8" x 10" and Hibisceae Drift, 11" x 14",  Lumen prints on expired paper,  2019    
Row 2: Untitled, Icarus, Untitled, Untitled, Untitled, Untitled, Lumen Prints on expired paper, 11" x 14" each, 2019              
---
Lucas Wells
Abandoned structures can provoke a broad range of emotions. We look up at these towering, desolate buildings and experience fear, nostalgia, excitement, and occasionally a compulsive desire to explore their decaying interiors. Amid these inescapable, visceral feelings, a question forms in the back of our minds: at what point do humans draw the line of disposability? From empty cans and old ink pens to entire shopping malls and sanatoriums, there seems no limit to dispensability.
Executed with notoriously disposable ballpoint pens, this body of work functions as a means to travel to some of these once-maintained locations. Ultimately, by exploring these vacant settings, my work seeks to arouse the same emotions associated with structural disposability and to search for an answer as to why—in a world being obliterated by waste—humans can so hastily relinquish what used to be loved.
 Images from left to right: Lucas Wells, Abandonment I, Abandonment II, Abandonment III, Abandonment V and Abandonment IV, 2020, ballpoint pen on paper. 
---
Rachel Wiley
In my series, "Love, Grandma," staged self-portraiture serves as a way to explore mental illness. I put myself in the shoes of my late grandmother, recreating scenes that she described or did while having schizophrenic episodes. I focus primarily on gesture, symbols, and lighting as methods to convey ambiguous narratives. My attempts to explore her perspective has allowed me to consider notions of personal space, identity, and the connection, or lack thereof, between an individual to their surrounding world in a way that is both honest and theatrical.
By creating scenes in low light I aim to tackle the darkness that mental illness can create in an individual; clarity appears doubtful while obscurity reigns as certain. My grandmother possessed a completely different perception of reality, hence I display my photographs in an unconventional manner. By suspending and angling my photographs, versus securing them flat against the wall, I present an uncomfortable yet accessible viewing platform in a"suspended reality." Through the use of writing I have been able to better understand her perspective. In my work this appears in handwriting on the back of my photographs, a convention one might observe on any personal keepsake photo. The words are written in the first-person from a seemingly rational point of view, as I have become the subject who is trying to demonstrate an empathetic viewpoint. The peculiarity of the scene combined with the written phrases are intended to be simultaneously acceptable and upsetting. I want my narratives to remain open-ended, therefore, it is important for me to pay close attention to the recognizable and universal.