Careers in Sociology
Careers in Sociology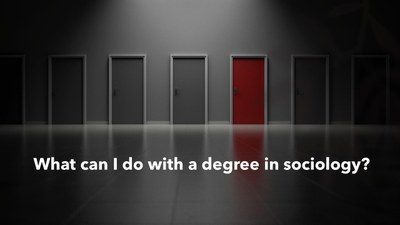 A recent survey revealed that employers are looking for problem-solving skills, as well as analytical/quantitative skills Further, the tech industry needs employees with soft skills (e.g., creativity, communication, etc.).  A degree in sociology can help students develop these - and other - skills!
---

Understanding our social world is critical as we move through the 21st century.  The bachelor's degrees and minors in sociology prepare students to examine our constantly changing world by encouraging critical thinking, communication, and research skills, allowing for the scientific study of social issues and problems.
At a minimum, sociology students are intrigued by the the influence of our social environment on our personal lives, our society, and the world.  Some students are particularly interested in the challenging social issues pervading our society or the world and want to encourage change.  Sociology values diversity and recognizes inequality, and some students are drawn to the discipline because they want to "make a difference" and promote social justice.  They learn how to address these issues through scientific research and application, and, as our world continuously evolves, sociology majors are well prepared to offer insight into these changes and how best to accommodate them.  
Further, there is an increased need for students from the social sciences and humanities to work in the world of technology (according to the Career Center).  Specifically, as artificial intelligence (AI) increases, there will be needs beyond technological/technical skills to "soft" skills that include communication and creativity.   Read this article on the need for sociologists in technology.
Given the basis in research and focus on diversity and inequality, sociology students develop skills and knowledge employers are seeking:  critical thinking and effective communication skills, and the knowledge and ability to conduct ethical research, as well as offer evidence-based analyses and innovative solutions in an increasingly diverse world.  As such, students find employment in a wide variety of fields:  business, child welfare, community services, computer industry, criminal justice, education, gerontology, health care, human resources, international relations, law, leisure/recreation/sport, marketing, military, public health, public/ social policy, social work, urban planning or management…and so much more
To learn more about career opportunities for sociology students:
*The Career Center offers tips on applying to graduate school, specifically three steps:  clarifying goals and school selection, the application process, and paying for graduate school.  Additionally. Dr. Weber has provided a list of considerations she discusses with students as they prepare for graduate school. 
Also, if you would like to talk with Dr. Jonetta Weber, the Director of Academic Services and Undergraduate and Graduate Advisor in the Department of Sociology about careers in sociology or post-graduation strategies, please email her at jonettaweber@louisville.edu.