Completed Theses and Dissertations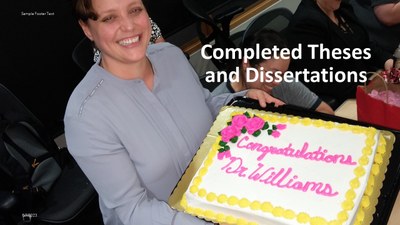 Following are the theses and dissertations sociology students have completed in recent years. 







(Theses and dissertations submitted prior to 2014 can be located at ThinkIR (the University's Institutional Repository), and ThinkIR links to 2023 theses and dissertations will be posted when available.)
Theses
Dissertations
Nancy Steinmetz (2023): "Fear of Becoming a Victim of Crime on a College Campus:  A Visual and Factorial Experimental Design Survey Analysis of Location and Demographic Factors."
Jack "Trey" Allen (2021): "A Study of Arab and South Asian American Men with Immigrant-Family Origins in Two New Immigrant Destinations."
Nathan Jones (2020): "In Need of a Hero?  The Creation and Use of the Legend of General George S. Patton, Jr." 
Jonathon Holland (2020): "The Norms Are More Guidelines Than Actual Rules:  Applying Isomorphism to Disability Accommodations in the Catholic Church."
Jennifer Hall (2020): "The Sidewalk Less Traveled: Evaluating Change in Community and Police Perception."
Eric Jordan (2020): "Exploring Black "Saviors": A Content Analysis of Black Characters, and Racial Discourses, in Obama Era Films."
Theo Malone (2020): "Getting Up: An Ethnography of Hip Hop Graffiti Writers, their Art, and Perceptions of Society's Reactions."
Jamar Wheeler (2020): "Black Middle-Class Neighborhoods in Louisville through Multiple Lenses."
Tonya Lanphier (2019): "Evaluation of a Learning Community Program for Developmental Reading Students at a Two-year College."
Telesphore Kagaba (2018): "Gender boundary negotiation within the U.S. immigrant/refugee resettlement : how transnational bridge-building matters."
Jennifer Sinski (2018): "Gender and leadership in animal sheltering organizations."
Adam Sizemore (2018): "Killing Martin county : resiliency in a central Appalachian community."
Kathryn Adamchik (2018): "'Why am I in school?':  a mixed methods investigation into stopping out of college."
Heidi Williams (2017): "Embeddedness and commitment : tracing patterns of family instability and child wellbeing over time."
Jelisa Clark (2017): "This is a black-white conversation : navigating race, class, and gender at an urban school."
Brandon McReynolds (2017): "The knowledge economy : increasing human capital on the U.S. I-65 corridor."
Kent Pugh (2017): "Moving mountains : a study examining long-term impacts of mountaintop removal coal mining on mortality in the Appalachian region using geographic information sciences techniques."
Rob Shelby (2016): "Modern megachurch organization in the United States (2005-2013) : an exploratory organizational study of the American megachurch phenomenon."
Christa Moore (2016): "Care, constraint, and collaboration : situating gender and power among multidisciplinary human service organizations."
Cheryl Crane (2016): "'We weren't created to do it by ourselves' : good mothering and maternal support across race, class, and family structure.
Mike Littrell (2015): "The citizen police academy : rational myths, legitimization, and emotion work : the effects of emotion on acceptance of rational myths."