Dr. Charles H. Parrish, Jr.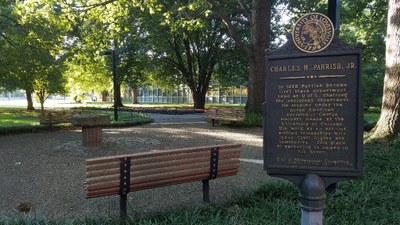 Charles H. Parrish, Jr. (1899-1989) was the chair of the Department of Sociology from 1959-1964 and was UofL's first Black educator.  He was inducted into the College of Arts & Sciences Hall of Honor in 2007, and Freedom Park, located on Cardinal Boulevard on UofL's campus, was named after him.
The University of Louisville Ekstrom Library's African American Oral History Collection includes an interview with Dr. Parrish from 1976 and 1977 in which "Dr. Parrish discusses his father, Charles H. Parrish, Sr., who was a Baptist minister and president of Simmons University, a black Baptist college in Louisville.
Parrish also discusses his own life and work in the interview, including his time teaching at Simmons, at Louisville Municipal College (University of Louisville's college for African Americans under segregation), and finally at the University of Louisville after the Municipal College closed and UofL integrated. Dr. Parrish was the only member of Municipal's faculty who was offered an appointment at UofL following LMC's closure of LMC, becoming UofL's first African American faculty member. He describes this experience as well as his ongoing research interests."
In 1977, Parrish Court on Belknap Campus was dedicated to Dr. Parrish, and in the spring of 2019, the Louisville Historical League dedicated a historic marker at the former residence for Dr. Charles Parrish, Sr., who served as President of Simmons University from 1899-1989 and became the first African American professor at the University of Louisville, joining the Department of Sociology in 1951.  
To read about Dr. Parrish's contributions not only to UofL, but to the city of Louisville, visit here and and for instructions to and information about the Charles H. Parrish, Jr. Freedom Park, visit here.