Alumni
Alumni of Sociology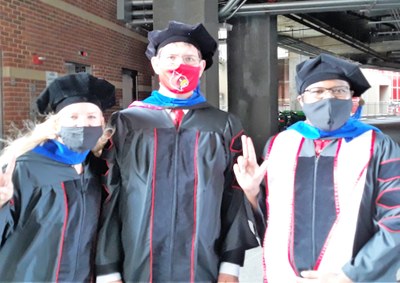 The Department of Sociology is proud of its undergraduate and graduate alum, and we invite you to meet some of them by reading about their experiences in our program and how they are using their degrees.
To the left are three of our recent PhD graduates:  Jennifer Hall (2020), Jonathon Holland (2020), and Eric Jordan (2020).
---
Trey Allen, PhD
Trey earned his MA in sociology from the University of Louisville in 2017 and his PhD in applied sociology in 2021. He is currently an epidemiologist in the Center for Health Equity [CHE], which is housed in the Department of Public Health and Wellness in Louisville Metro Government [LMPH].  When asked how our program applied to his current job, Trey said, "I use the training in research methods and topical content knowledge that I gained in the Department of Sociology...every day at work. I bring unique sociological perspectives to analyzing and addressing the root causes to the many health inequalities in Louisville. I work on projects related to analyzing and addressing the COVID19 epidemic, housing insecurity and evictions, and food systems in Louisville. I will also have a significant hand in the production of the 2021 Louisville Metro Health Equity Report. *Be on the lookout for that!* The coursework at the University of Louisville granted me the opportunity to engage with and develop research competencies in a wide range of methodologies, and I have already used many of these in my early tenure with CHE.
---
Tiffany Allgeier, MA
Tiffany earned both her bachelor's (2005) and master's (2007) degrees in sociology from UofL and has been working at the Ronald McDonald House in Louisville since 2007 and now serves as the House Manager.  In her role, Tiffany says, "I do a little bit of everything - I help provide a "home away from home" for our families who are far from home and have a sick child; oversee the daily operations of the House; hire, train and supervise our relief managers and volunteer coordinator; ensure 24/7 coverage; communicate with hospital staff; help families with Medicaid assistance, and lots of other fun stuff!"
Tiffany advises students to "[t]ake the time to get involved in the campus community – study groups, extracurricular activities, etc. You never know where the connections you make can lead to. I first volunteered at Ronald McDonald House with an honor society I was part of and fell in love with the place – I've now been a part of the organization for ten years."  What she enjoyed about the graduate program was "...being able to take a large variety of classes and having professors that enjoyed what they were teaching and cared about their students. As a graduate student I was able to take courses in non-profit management, which has supported my career...I work with diverse groups of people every day (families, volunteers, board members, staff) and my degree in sociology equipped me with the skills necessary to do that. I also use creativity, innovation, critical thinking, analytic problem solving and communication skills on a daily basis – all skills a degree in sociology supports."
---
Brittany Buttry-Watson, MA
Brittany earned her MA in sociology from UofL in 2014 and has since been working as a researcher at HPW Associates, an applied evaluation firm, in Pittsburgh, PA.  Brittany says, "I regularly use the training I received while at the University of Louisville. As a part of the evaluation team for offender re-entry programs, I help design evaluation plans, coordinate data collection, and create reports and factsheets to communicate the program's accomplishments and challenges. I am also helping conduct a region-wide community needs assessment on tobacco control programs in the Northwest region of Pennsylvania, which involves conducting interviews and focus groups, and developing survey protocol and instruments."
Brittany enjoyed her social theory courses, and says, "Though I am not applying theoretical frameworks directly in my current position, I frequently realize the importance of the theory-driven education I received. For instance, an understanding of how both larger societal factors and daily interpersonal interactions shape our human experience and impact decision making greatly influences the way I approach program design and the interpretation of outcomes."  She "would encourage students to take advantage of U of L's focus on applied research and work hard to discover the intersection between their research interests and the world around them, and to think about how they can creatively share their research with those in other departments and the community."
---
Emilie Dyer, MA
Emilie earned her MA in sociology in 2009 and now works at the American Community Center as a family coach.  Emilie tells us, "...I assist family leaders in Family Education to complete life goals that they have identified and remove barriers to complete those goals. Their goals can include any tasks that promotes the stability, self sufficiency and education of the entire family including becoming financially stable, buying a home, applying for a job, completing an education or supporting the education of children. I work to keep myself informed about local community resources that contribute to family success in order to collaborate with potential partners that can help our families achieve their goals. I also help families remove barriers preventing them from achieving goals by connecting parents with these resources, providing education on how to access these resources, and advocating on behalf of the family when and if they are unable to do so for themselves. We serve all residents of Louisville but our population primarily consists of refugees and immigrants."
---
Eric Jordan, PhD
Eric earned his MA in sociology (2016) and PhD in applied sociology (2020) from our program and now works as the Diversity, Equity, and Inclusion Strategies Manager for Greater Louisville which works with businesses across 15 counties in Kentucky and Indiana to provide them with connections, investor opportunities, etc.  In Eric's role, he works with these businesses to see how they can help address systemic racism across the state, creates related programming for Greater Louisville designed to address racism, and works on other diversity-related projects and initiatives meant to bring awareness to racism in the corporate world and in the city to find solutions to "eliminate" them.  HIs projects, then, reflect the needs of the community are usually involve helping others understand why certain minority and women-owned business (MWBE's) are not succeeding as much in the region and then designing programs and strategies around addressing some of those issues from a business perspective.
According to Eric, "The classes that continue to help me in my position are: Policy, Organizational Theory, Stratification, and Race in the U.S. The success of some of the work I do is often determined by community reception, and corporate buy-in, but also how far some or any of it might go in our local government! So, understanding various social and public policies is very helpful here. Because I work in an organization that works with other organizations, knowing some theories about organizations is very useful here especially in terms of business-to-business (B2B) interactions between the C-suite, politicians, and managers like myself. Stratification and Race in the U.S. inform my understanding of local inequalities. Because I got my PhD through specializing in Race, Racism, and Intersectionality, being able to bring my understanding to the creation of programs and projects is vital to the success of GLI's future in the DE&I space....[T]he work requires a lot of nuanced understanding of KY and IN businesses, business relations, and the politics around all of that. I don't think I would have gotten this job if it weren't for my past studies or my time as a Teaching and Research Assistant."
---
Patrick Kelly, PhD
Patrick earned his master's degree in sociology from UofL in 1995 and his PhD in Urban and Public Affairs from UofL in 2010.  He currently works at the National Center for Higher Education Management Systems in Boulder, Colorado.  You can read more about Patrick and his work at NCHEMS at http://www.nchems.org/about/staff.php?name=patrick
---
Michael Littrell, PhD
Mike earned his PhD in applied sociology in 2015 and is now working with the Kentucky Office of the Attorney General's Department of Criminal Investigations Cyber Crimes Branch and teaching for Sullivan University in their Justice & Public Safety Administration Department.
---
Theodore Malone, PhD
Theo earned his PhD in applied sociology in 2020 and is now working as a research specialist position with the State of West Virginia.  Theo states that, specifically, he will be "...working with the Wildlife Resources section of the WV Division of Natural Resources to serve its mission in designing and implementing policy for state wildlife management and conservation. This mission generally includes regulating fished and hunted native fauna and the protection and management of endangered and non-endangered species, as well as the management of hunting and angling practices. My role is semi-specific to overseeing statewide research to gather and manage data about wildlife populations and sportsmen practices, to support database management, and perform non-statistical and statistical data analysis. I will source from my education and knowledge of policy analysis, data analysis, conducting quantitative and qualitative research, including survey research methods, and in preparing and presenting professional reports to decision makers, and potentially in publication format. The other arm of my office deals with wildlife conservation law enforcement, but it is unknown at this time whether I will assist or support their activities. I will also be able to engage in some levels of field work with biologists and others and outreach to the public."
---
Maggie McCandless, PhD
Maggie earned her PhD in 2014 and has the distinction of being the first to graduate from our doctoral applied sociology program.  Upon graduating, Maggie took a faculty position at Marshall University in West Virginia in the Department of Sociology and Anthropology, and she now works at the Home of Innocence here in Louisville.
---
Thomas Mowen, PhD
Tom earned his bachelor's (2010) and master's (2011) degrees in sociology from UofL and his PhD in sociology from the University of Delaware.  He currently works as an assistant professor in the Department of Criminal Justice at Bowling Green State University.
According to Tom, "Using my training in sociology, I study the impact of criminal justice policies and punishment on family and youth, and how family dynamics contribute to delinquency and crime.  Currently, how school safety strategies and policing impact families and youth, and how other forms of punishment—like incarceration—contribute to changes within the family, and what type of consequences that leads to across the life course."
Tom says, "Overall, the entire program at UofL was fantastic.  In particular, I enjoyed sociology of sport, and deviance.  It was really the deviance course that lead me to become interested in issues of crime and inequality in the U.S.  I also really enjoyed the Sociology Student Association (SSA) and the opportunities that becoming involved with the SSA presented, like interacting with faculty members, other students, and members of the Louisville community."  He recommends that students "...take advantage of the open atmosphere within the department of sociology at UofL.  The department is unique in that each and every faculty member has an open door policy with students.  It was my experience that faculty members enjoyed working closely with students, participating in events outside of the classroom with students (like SSA or conferences), and were always happy serving as mentors.  This makes the Sociology Department at UofL a very special place!  I would strongly encourage current and prospective students to take advantage of such a great opportunity."
---
Elizabeth Roberts, MA
Elizabeth graduated from our MA program in 2017 and works as the Assistant Director of Strategic Admissions and Merit Scholar Recruitment with the Honors College at the College of Charleston. 
---
Srijita Sarkar, PhD
Srijita, who earned her MA in sociology from UofL in 2012, has a forthcoming article, "Women-Centric Films in India," with Dr. Patricia Gagné, professor of sociology at UofL, to be published in theContemporary Journal of Anthropology and Sociology. Srijita's work looks at women's resistance in independent Hindi language Indian film and argues that such representations of women, particularly in a male-dominated society, encourage social change by fostering open discussion of taboo subjects such as domestic violence and rape. The article is currently in press and will be available in March at http://ask.anthroniche.com/journal/
---
Rob Shelby, PhD
Rob earned his PhD in applied sociology from the University of Louisville in 2016. Before attending the University of Louisville, Rob earned degrees in sociology (MA 2011) and communication and culture (MA 2006), and youth ministry and biblical studies (BA 2001). Currently, Rob serves as an assistant professor of sociology at the University of Evansville in Evansville, Indiana. Rob teaches introduction to sociology, research methods, social theory, statistics, race and ethnic relations, and community organization. He specializes in organizational sociology with a specific interest in Protestant Christian organizational structures. Dr. Shelby conducted an outcome program evaluation for The Crossing Church in Quincy, Illinois (59th largest Protestant church in the U.S. – 2016) and a process program evaluation for Southeast Christian Church in Louisville, Kentucky (9th Largest Protestant Church in the U.S. – 2016).  Regarding his experience at UofL, Rob says, ""I am indebted to the professors in the University of Louisville's sociology department because they entrusted me with a variety of teaching and research experiences while I was a graduate fellow. The lessons I learned through my graduate experiences have given me the confidence to guide my students through a sociological exploration of the world and pursue my research."
---
Lisa Stapleton, MA
Lisa earned her master of arts degree in sociology from UofL in 2013 and currently works at Mercer, a global HR consulting firm, in their "Talent" department.  According to Lisa, "We run compensation surveys that thousands of companies use in order to set budgeting for the next year and track promotions/benefits for their employees...Because my team works with compensation surveys, we help a lot with data cleaning on the submission level and aggregate level. Taking statistics helped me so much in being comfortable with a lot of the terminology and concepts (data masking and data culling criteria, probablitity, outliers, etc.)."
Lisa tells us her "favorite course was also [her] hardest, Research Methods. I still use some of the skills I learned in there when helping to research and develop the survey questions or help analyze the responses...I would recommend taking classes that interest you, even if they don't directly relate to your thesis, since you never really know what will be useful later. Also, pay attention in stats! I never thought I would be using so much of what I learned in there now and I wish I had taken better notes."
---
Nancy Steinmetz, ABD
Nancy Steinmetz earned her MA in sociology in 2012 and returned to Fall, 2017 to earn her PhD in applied sociology here at UofL.  Nancy tell us, "As a "non-traditional" student, I returned to U of L to complete my undergraduate degree after 30 years (U of L and I were on a break), and it was one of the best decisions I have ever made. I completed my undergraduate degree [in sociology] in 2009 then went into the graduate program for my master's...My master's thesis focus was crime and victimization and an abbreviated version of my research was published inThe Journal of Criminal Justiceshortly after I [graduated]."  Nancy is now an ABD in the doctoral program in applied sociology, hoping to graduate in 2021.
According to Nancy, "Sociology in general helped me see society/societies in a more organized and thoughtful way.  One may ask, "What can I do with a sociology degree?"…to which I would answer, there isn't a field of work where a sociology degree isn't relevant, applicable, or even needed.  The ideas, concepts, and foundations that students of sociology acquire, can be used in every type of employment opportunity."
---
LaToya Whitlock, BS
LaToya Whitlock earned her BS in sociology in 2014 and is now the co-founder and executive director of Decode Project, a Louisville nonprofit with a mission to eliminating barriers and fostering reading among children.  Read more about her work and impact on the Louisville area in "Decoding Disparity." 
---
Heidi Williams, PhD
Heidi earned her PhD in applied sociology from UofL in 2017. In Fall 2017, she began serving as an instructor for the Department of Sociology at Virginia Polytechnic Institute and State University, where she teaches a variety of courses, including Sociology of Family, Family and Crime, and Systems of Justice. Heidi credits her experience as a graduate teaching assistant with helping to prepare her to teach a diversity of courses, as well as how to approach larger (70+ students) classes. She says, "as a doctoral student, the department allowed me to teach several courses, including Stratification and Social Problems. Because of this experience, I had a much easier transition into my teaching role at Virginia Tech. I was able to explore different teaching materials and methods as a graduate student—a period when I could excuse my teaching mishaps because I, too, was a student."
In terms of research, she says, "I really appreciated the applied aspect of the program. I was fortunate to be able to conduct both qualitative and quantitative studies as a student. My internship was designed to collect and analyze participation observation and interview data on low-income, single parent families pursing educational opportunities; while my dissertation research relied on advanced statistical modeling to estimate associations between family processes /extended kin relationships and child wellbeing outcomes. Having been trained in both research approaches also prepared me to meet the needs and interests of the students at Virginia Tech. Currently, I am mentoring three undergraduate students on a qualitative study examining how single parents conceptualize their own housing insecurity."
What advice would she give current students? She says, "Try to enjoy the program. Take advantage of the fact that this is a period of time when you can completely immerse yourself in an area of study that interests you. Reflecting on my own experience as a doctoral student, I realize that I fretted more than I appreciated each step of the program—don't do that."