LGBTQ+ Affirming Healthcare Series
The LGBTQ+ Affirming Healthcare Series, presented by the University of Louisville LGBT Center, includes training sessions and interactive modules that provide affirming education, applicable skills, and best practices needed to advocate and improve health outcomes for LGBTQ+ patients.The series is specifically designed for healthcare students, professionals and anyone else interested in LGBTQ+ advocacy to address the significant health disparities faced by the LGBTQ+ community. The LGBTQ+ Affirming Healthcare Series is recommended by 99% of its participants. Read testimonials here. 
---
2022-2023 LGBTQ+ Affirming Healthcare Series
Registration
You can register here for the 2022-2023 LGBTQ+ Affirming Healthcare Series. The deadline to complete all four Content Modules and online Patient Simulation Session is March 31, 2023. 
The LGBTQ+ Affirming Healthcare Series is free to students, faculty, staff, healthcare providers and community members. 
Participants will earn a certificate of completion for completing the series. 
When possible, continuing education credits will be offered for MDs, DOs, Nursing, Social Work, and Psychology. 
Requirements
1.      Complete at least 4 Content Modules 
Each content module is approximately 1 hour each and can be completed by:
Attending a live module either in person or via Zoom (Note: There will be five live sessions offered in the 2022-2023 academic year.)
2.     Complete the online Patient Simulation Session, located here: https://bit.ly/AHS22onlineps
The Online Patient Simulation is 3 modules that facilitate an interactive learning environment. Completion of all three modules is required in order to complete the series and for this to count as the Patient Simulation. It will take approximately 30 minutes to complete the three modules. Each module will have the same set of reflection questions at the end with instructions on how to complete them. When you finish please submit them to LGBT@louisville.edu.
---
2022-2023 Events
Live Virtual Content Modules
LGBTQ+ Affirming Healthcare Series Session One
Presented by the University of Louisville LGBT Center
Queering Healthcare: Creating a more inclusive patient experience
Facilitated by Bridget Pitcock, APRN, FNP-C, AAHIVS (They/She)
Date: Wednesday, September 21, 2022
Time: Noon – 1:00 pm
Location: In-person or Virtual - complete details will be emailed to registrants
Registration: https://forms.office.com/r/qZjH142btR

Learning Objectives


Understand WHY affirming care is important;
Identify and use appropriate pronouns for patients;
Apply inclusive language in the healthcare setting;
Execute taking inclusive histories
Identify strategies and opportunities to decrease health disparities through inclusive medical screenings 

Bridget Pitcock, APRN, FNP-C, AAHIVS has more than a decade of experience as an APRN and RN. They trained with a predominantly LGBTQ+ federally qualified community health center, where they refined their skills as a medical provider in exceptional, empowering, and affirming primary care. Bridget's areas of expertise include working with LGBTQ+ patients, HIV, hormone therapy, PrEP/PEP, gender affirming care, and health promotion in a  primary care setting. Bridget has presented gender affirming care and sessions on improving LGBTQ+ care for local and regional healthcare education programs and medical practices. She has served as a board member for the ACLU of Kentucky and was a member of the the University of Louisville Equality Advisory Board that was integral to the integration of LGBTQ+ curriculum in the School of Medicine at the University of Louisville (2015-2017). She earned a Daisy Award while working at Norton Healthcare. Bridget also received the "Caring with Dignity" Award from Spalding University in 2020. When not working as a nurse practitioner and educator, they enjoy mountain biking, running, and hiking with her pitbulls and wife. 

LGBTQ+ Affirming Healthcare Series Session Two & HSC Pride Keynote
Presented by the University of Louisville LGBT Center
Social Safety and Human Thriving Across the Spectrum of Sexual and Gender Diversity
Facilitated by Dr. Lisa Diamond, PhD(she/her)
Date: Thursday, October 20, 2022 
Time: Noon - 1:00p
Location: In-person or Virtual - complete details will be emailed to registrants 
Registration: https://forms.office.com/r/iX20vvE4wq

Description: For over two decades, the minority stress model has guided research on the health of sexually-diverse individuals (those who are not exclusively heterosexual) and gender-diverse individuals (those whose gender identity/expression differs from their birth-assigned sex/gender).  According to this model, the cumulative stress caused by stigma and social marginalization fosters stress-related health problems.  Yet studies linking minority stress to physical health outcomes have yielded mixed results, suggesting that something is missing from our understanding of stigma and health.  Social safety may be the missing piece. Social safety refers to reliable social connection, inclusion, and protection, which are core human needs that are imperiled by stigma.  The absence of social safety is just as health-consequential for stigmatized individuals as the presence of minority stress, because the chronic threat-vigilance fostered by insufficient safety has negative long-term effects on cognitive, emotional, and immunological functioning, even when exposure to minority stress is low.  We argue that insufficient social safety is a primary cause of stigma-related health disparities and a key target for intervention.

Learning Objectives


Understand limitations of the traditional "minority stress" explanation of the unique mental health challenges facing sexually-diverse and gender-diverse populations.

Understand the new insights offered by "social safety theory," which emphasizes

insufficient social safety

(rather than "minority stress") as a primary contributor to mental

and

physical health problems in marginalized populations, through the pathway of

sustained threat-vigilance

and its impact on the mind and the body.
Understand the diversity of manifestations of social safety (and, correspondingly, manifestations of social safety deficits) across a diverse range of environments, including family, workplace, the healthcare system, and the community at large

Biographical Sketch: Lisa M. Diamond, PhD, (she/her), is Distinguished Professor of Psychology and Gender Studies at the University of Utah, and president-elect of the International Academy for Sex Research.  For nearly 3 decades, she has studied the development and expression of gender and sexuality across the life course.  Her current work focuses on the biobehavioral mechanisms through which social stigma, social stress, and social safety shape the health and well-being of sexually-diverse and gender-diverse individuals at different stages of development.  Dr. Diamond is best known for her research on sexual fluidity, which describes the capacity for individuals to experience unexpected shifts in sexual identity and expression over time.  Her 2008 book, Sexual Fluidity, published by Harvard University Press, has been awarded the Distinguished Book Award from the American Psychological Association's Society for the Study of LGBTQ Issues. Dr. Diamond is also co-editor of the first-ever APAHandbook of Sexuality and Psychology, published in 2014, and is a fellow of two divisions of the APA.  She has published over 140 articles and book chapters, and has been invited to present her research at over 150 national and international Universities and conferences. Dr. Diamond has received awards for her work from the Developmental Psychology and LGBT Psychology Divisions of the APA, the Society for Personality and Social Psychology, the International Association for Relationship Research, the Society for the Scientific Study of Sexuality, and the Society for the Psychological Study of Social Issues

TBD
Facilitated by TBD
Date: TBD
Time: TBD


TBD
Facilitated by TBD
Date: TBD
Time: TBD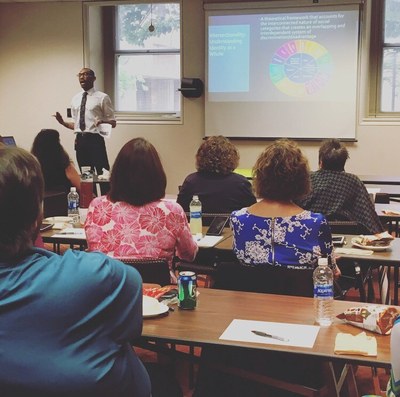 Aaron Weathers, LGBT Center Assistant Director, leading a LGBTQ+ Affirming Healthcare Series session in spring 2018
---
Previously Recorded Modules
---
 For more information about the 2022-2023 LGBTQ+ Affirming Healthcare Series, please email lgbt@louisville.edu.