Ally Campaign at the Health Sciences Center Campus
The Ally Campaign has officially concluded, but you can still request rainbow pins and other materials through our office! Below is information about how to request these materials and the outcomes of the campaign. 

Pictured (left to right): Dean Hern, School of Nursing; Dean Bradley, School of Dentistry;
Dean Ganzel, School of Medicine; Dean Blakely, School of Public Health and Information Sciences
About the Spring 2017 Ally Campaign:
During the Spring 2017 semester, the LGBT Center's HSC office launched a new initiative celebrating the importance of allies on our campus. Whether educating themselves on the issues or posting a selfie like the deans below, there are many ways that those in our HSC community were showing up as allies to our LGBT students, staff, faculty, and patients!
Based on data derived from our Institutional Climate survey in 2016, the campaign was designed to show our support for an HSC campus that is vibrant and welcoming for all to work and learn.
 
Being a part of the campaign was simple, with various options for getting involved. Below are the five things we encouraged individuals to do to participate. You can still participate in all of these things!
Show support with an ally symbol. Participants placed an ally symbol to communicate their commitment to creating a safe, welcoming HSC. These participants also received a small pocket-size ally guide and self-guided training packet to help them grow further as an ally. Available stickers included:
- Ally sticker for your office or educational spaces (pictured at the bottom of this page)
- Rainbow sticker for clinical spaces 
- Rainbow pin to wear on your lapel or lab coat wherever you go
- Print the self-guided training packet
- Print the pocket guide


Attend Safe Zone Training. The LGBT Center's Safe Zone program is all about creating safe and welcoming experiences in your office, classroom, or clinical space. Workshops included LGBT-specific health issues relevant to research, academic medicine, and practice.


Sign up as an LGBT-friendly healthcare provider. 

Add your name to the OutCare or ULP provider websites, and send a powerful message of inclusion to patients who are actively seeking LGBT-friendly providers. Sign up on ULP's website by emailing ULPMarketing@ULP.org and join the state-wide OutCare website at

www.outcarehealth.org/join. It only takes a minute! 


Join the LGBT Center's Ally List

: Ongoing! Let your colleagues, students and potential applicants to your program know you are an ally by adding your name to the

LGBT Center's website here. 


Take a Selfie and Share it!

- During the campaign participants were encouraged to snap a selfie of themselves being an ally and share it. Want to see some of the results? Search Instagram or Facebook using #HSCAlly

We thank all of those who participated with us this Spring for the work you do to make the University of Louisville the most LGBT-welcoming school in the South and one of the very best in the country. It was great to see all the energy and excitement we collectively created over the course of the four month Ally Campaign! Here are the outcomes of the 2017 Ally Campaign:
Materials requests and distributed:
228 Rainbow Lapel Pins
150 Ally Stickers
48 Rainbow Stickers
150 Providers Pocket Guides 
Education requested and delivered: 
69 Ally Self-Guided Training Packets
42 Safe Zone Training Packets
Ally actions taken:
42 new OutCare providers signed up
73 new Ally List names added
22 Ally images uploaded to #HSCAlly hashtag

To request materials contact the LGBT Center on the HSC here: lgbthsc@louisville.edu 

Ally sticker for offices or educational spaces.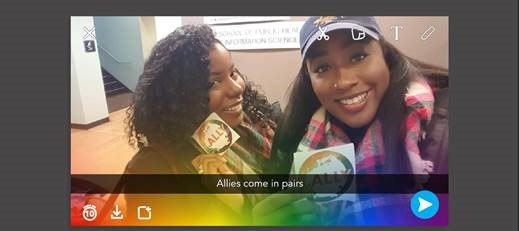 Rainbow sticker for clinical spaces.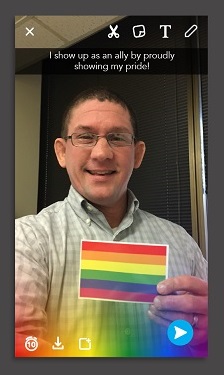 Rainbow pin to wear on your lapel or lab coat wherever you go.