Prospective Students
The Public History program at the University of Louisville offers two credentials in the field: a Master of Arts (MA) in History and a Graduate Certificate in Public History. All students in the MA program, regardless of major field, take coursework in public history methods and theory, but those who are explicitly seeking a career should undertake a major field in Public History. This will allow them to take additional Public History courses, gain more practical experience, network in the field, and even incorporate a public history project into their thesis if they desire. Additionally, we offer a Certificate in Public History. This credential allows students in other MA and PhD programs to gain public history experience and training. The
certificate is also suitable as a stand-alone credential for working professionals and those wanting to commit to less coursework.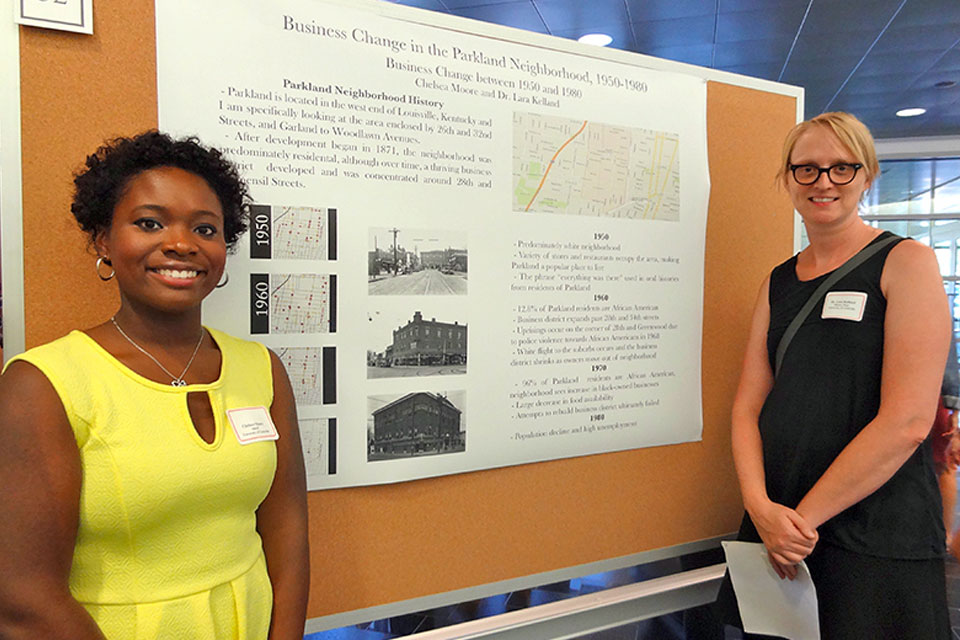 History major Chelsea Moore presents on her history of the Parkland Neighborhood Business District, research supported by Dr. Lara Kelland
To obtain a Master of Arts (MA) in History with a concentration in Public History, students must complete the core courses required of all history graduate students (15 credit hours). These courses provide a foundation in historical research methods and in public history methods and theory. For more information about the history program course requirements, visit the graduate studies page.
Prospective students can major in public history, gaining practical experience in the field through our network of cultural institutions. The additional coursework includes 15 (thesis option) to 18-credit hours (exam option):
2 Method Courses
2 Content Courses (thesis option) or 3 Content Courses (exam option),
and, 1 additional Public History Practicum course, HIST 618.
To obtain a Graduate Certificate in Public History, prospective students must complete an 18-credit hour program. This program provides an overview of public history methods and theory as well as practical experience. It is suitable for MA and PhD students in other fields or working professionals seeking a stand-alone credential. For more information, visit the graduate certificate page.
Community members engage with arts project on the history of the Parkland neighborhood. Program partners from Breckenridge Elementary worked collaboratively with public history students to develop interpretive pieces engaging neighborhood history.