We do our work in three spaces:
123A Porter Education Building
Our office space in the Porter Education Building is a multi-purpose learning environment for adults who are working to understand how to best support the learning of children.
We are building a model "Makerspace" where pre-service and in-service teachers as well as parents can come explore, play, and experience how to support the development of young children.
This is the work space where a variety of researchers – undergraduate, graduate, teachers-in residence, and an interdisciplinary group of faculty come together to conceptualize research studies, gather data, analyze that data, and make plans to disseminate that data through our website, publication, and presentation.
This space also is home to a small library of professional literature and culturally responsive children's literature. We are also working to build a library of research methodology books related to early childhood education.
---
Early Learning Campus: 409 Reg Smith Circle, Louisville KY 40208
We work closely with the Early Learning Campus (ELC) to create a state of the art research and teaching and teacher learning facility where children, parents, teachers, and researchers contribute to the research process and dissemination of research findings. The ELC is a state-of-the-art urban early childhood learning center that uses an emergent curriculum based on the Reggio-Emilia model.
---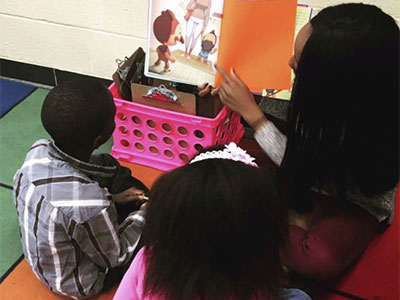 In the Community
We work with a variety of school and community partners to build a network of research practice partnerships. This work happens in schools, centers, play spaces, community centers, museums, playgrounds, family homes, professional learning spaces, and other locations where we can best understand how children learn and how the adults in their world can best support their learning and development.