Periodontics Residency
Goal
The goal of the Graduate Program in Periodontics at the University of Louisville is to develop skillful clinicians and researchers for careers in academics and/or periodontal practice. Excellent training in clinical, research and teaching skills is essential to equip tomorrow's specialists with the proper scientific background to deal with the changes and challenges inherent in a profession undergoing rapid scientific advancement.
Students are exposed to a wide variety of clinical techniques by a group of highly qualified faculty with diverse training and varied backgrounds. The philosophy of the program is that clinical excellence is based on technical proficiency, expert diagnostic skills and broad based knowledge of the periodontal literature.
The didactic portion of the curriculum explores in depth the biomedical sciences upon which modern periodontics and periodontology are based. Instruction in anatomy, biochemistry, oral biology, microbiology and immunology are integral parts of the basic science curriculum offered.
Clinical and Research Facilities
Clinic and research facilities are housed primarily in the School of Dentistry which is located in the Health Sciences Center of the University of Louisville. The Kornhauser Health Sciences Library is a common facility shared by all components of the Center. It houses a collection of more than 128,000 volumes and 1200 current periodicals, as well as offering a wide variety of library support services. Hospital training is accomplished at the University of Louisville Hospital, which is adjacent to the dental school and part of the Health Sciences Center.
Educational Program
The Graduate Program in Periodontics is accredited by The Commission on Dental Accreditation of the American Dental Association, a specialized accrediting body recognized by the Council on Postsecondary Accreditation and by the United States Department of Education. View all School of Dentistry accreditation information.
The program begins on July 1, and continues through 36 calendar months. The program is designed to fulfill the requirements of the American Board of Peridontology for a certificate in periodontics, along with the requirements of the University of Louisville Graduate School for a Master of Science in Dentistry (MSD). The curriculum is integrated so that both the certificate, and the Master of Science in Dentistry will be awarded simultaneously upon completion of requirements. Didactic, clinical, teaching and research experience are spread throughout the program.
The University
The University of Louisville has a total enrollment of more than 23,000 students of whom approximately 3,500 are in Graduate School. Founded in 1798 as Jefferson Seminary and later known as Louisville College, it became the University of Louisville, in 1846 and joined the state university system in 1970. The Graduate School was established in 1907. The Health Sciences Center — composed of the School of Dentistry, School of Medicine, School of Nursing, Kornhauser Library, UofL Health University Hospital, UofL Health Jackson Street Outpatient Center, and UofL Health Brown Cancer Center — shares a twelve block area with several other health care facilities.
The Community
Louisville is Kentucky's largest city, with a population of over 1,000,000 in the greater Louisville area. Louisville has long been known for traditional landmarks such as Churchill Downs, the site of the Kentucky Derby, and the Belle of Louisville, the city's historical sternwell riverboat.
Cultural activities are plentiful, including Actor's Theater, the Louisville Orchestra, the Louisville Ballet, the Kentucky Opera Association, the J.B. Speed Art Museum, the Museum of Natural History, and the Museum of Science and Technology. Sporting events include horse racing at Churchill Downs, minor league baseball with the Louisville Bats, and collegiate sports, featuring one of the nation's finest basketball teams. Families will also enjoy touring the Louisville Zoo.
Take a virtual tour of the School of Dentistry by clicking here.
Application and Admission Procedures
Applicants must hold the DMD/DDS degree or the equivalent.  To apply to the Graduate Periodontics Program, you must complete an application via the Postdoctoral Application Service (PASS) through the American Dental Association, which allows you to apply to more than one program at a time. 
The Graduate Periodontics application must be submitted by August 15 for admission the following July 1.
All Applicants must submit via PASS:
Unofficial undergraduate transcripts and official dental school transcripts
Official report of National Board Scores.
3 official recommendations from persons who are well acquainted with your professional work.  One reference should be from an administrative officer (dean) of the dental school from which you graduated and MUST include your class rank and grade-point average. 
International Applicants (Submit Via PASS)
The application and all supporting documents should be submitted by September 1 prior to the year you wish to enter.
Official Course-by-Course Evaluation Report from ECE (Educational Credential Evaluators, Inc.), P. O. Box 514070, Milwaukee, Wisconsin  53203-3470-USA - http://www.ece.org.
National Board scores are required.
Official report of TOEFL examination results. (Minimum score is 100)
All applicants for whom English is a second language must take the iBT TOEFL examination to provide evidence of proficiency in written and spoken English.  Applications for the examination may be obtained from:
Test of English as a Foreign Language
Education Testing Service
Princeton, NJ  08540
Quinn Smith - Administrative Assistant, Graduate Periodontics
University of Louisville School of Dentistry
501 S. Preston St.
Louisville, KY 40202
502-852-1239
periosa@louisville.edu
Tuition and fees
There is a fee assessed each semester of enrollment, based on the full-time graduate student tuition at the University of Louisville. This fee is determined each year and therefore subject to change. For 2023-2024, the fee structure (per program year) is:
In-state tuition/fees (2023-2024): $24,757 per year*
Out-of-state tuition/fees (2023-2024): $39,441 per year*
*These figures include $3,234 for health insurance premiums, which can be waived with proof of similar coverage.
A $100 non-refundable fee is required upon acceptance into the program. This fee will be applied to tuition upon matriculation.
For more information about total cost of attendance, visit the University of Louisville Student Financial Aid Office Cost of Attendance (COA) page. 
Financial Aid
More information on financial aid on the School of Dentistry's Financial Aid site. 
Housing Costs
Unlike many urban areas, Louisville offers a variety of both pleasant and affordable housing. Moderately priced student dormitories and apartments are available on the Health Sciences Campus renting for $600-800 per month. Rental properties are available in nearby neighborhoods for $600 per month and higher.
Dukka Awarded Nevins Teaching and Research Fellowship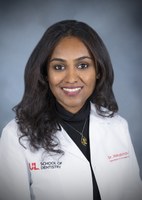 The American Academy of Periodontology Foundation recently selected UofL School of Dentistry faculty member HimaBindu Dukka for the 2021 Nevins Teaching and Clinical Research Fellowship. The fellowship is awarded to a full-time periodontal educator who has been teaching one to five full-time academic years at a program in the United States. It is named in honor of Myron Nevins, DDS, a leader in periodontal clinical research.   
---
Frequently asked questions for applicants:

 
Periodontics
PASS does not accept NBDE results.  Also, The ADA no longer sends a hard copy of NBDE scores, only an electronic copy via email. You must submit your NBDE results electronically to ohrgrad@louisville.edu
NBDE scores are required for all U.S. students only.  You can enter this in PASS.  If you find you don't know how, email your NBDE scores to ohrgrad@louisville.edu.  NBDE scores are not required for international students. 
All  
If English is your second language, you are required to take the TOEFL exam.

You must register for MATCH as we are a participating program with PASS.