Facilities
UofL Health - University Hospital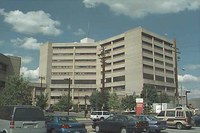 The University of Louisville (UofL) Hospital is a unique regional health care resource. As the leading academic medical center in the area, UofL Hospital offers patients the benefits of latest research, equipment and expertise.
University Hospital has received national recognition as a leader in several areas of care, including:
Trauma Center
Stroke Center
High Risk Obstetrics
Radiology/Diagnostic Imaging
Cancer Care
For more  information, please visit the University of Louisville Hospital's website.
The General Dental and outpatient Oral Surgery Clinics are located in the University Hospital's Ambulatory Care Building.
UofL Health - Jackson Street Outpatient Center (Ambulatory Care Building)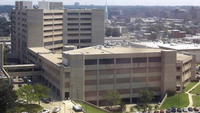 The UofL Health Jackson Street Outpatient Center is physically connected to University of Louisville Hospital and is adjacent to the School of Dentistry Clinics. These clinics serve as the primary care providers for a large patient population to provide comprehensive health care. General practice residents coordinate medical and dental care for their patients through these primary care clinics.
Oral Surgery and General Dentistry Clinic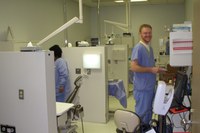 The general practice residency program utilizes six operatories in the 13-chair dental clinic in the Jackson Street Outpatient Center. All general dental operatories are fully equipped and designed for four-handed sit-down dentistry and expanded types of general practice. The Oral Surgery & General Dentistry clinic is staffed by a clinic supervisor, six dental assistants, three receptionists and one dental hygienist. The facility also contains a fully equipped dental lab, patient waiting area, business area, and resident offices.
 Take a virtual tour of the School of Dentistry by clicking here.