Careers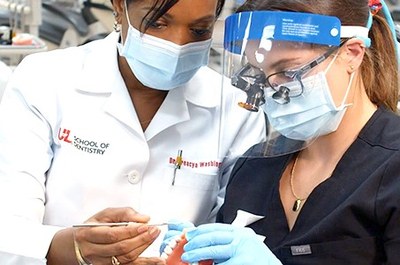 The University of Louisville School of Dentistry (ULSD) is comprised of talented and dedicated people who truly provide a community of care for patients and students.
Why work at UofL School of Dentistry?
Working at UofL is more than just a paycheck. It is a Cardinal Family encompassing many diverse perspectives that are devoted to teaching, learning and developing leaders. ULSD also offers competitive wages, exceptional benefits packages, including a generous tuition remission program for employees and their dependents, and a commitment to work/life balance.  More about working at UofL
---
Open positions
Positions listed on this page are updated weekly. For the latest information, visit the University of Louisville Careers page, powered by Workday, and type "dentistry" in the search box.  
---
The University of Louisville is an equal opportunity, affirmative action employer, and is committed to providing employment opportunities to all qualified applicants without regard to race, sex, age, color, national origin, ethnicity, creed, religion, disability, genetic information, sexual orientation, gender, gender identity and expression, marital status, pregnancy, or veteran status. If you are unable to use our online application process due to an impairment or disability, please contact the Employment team at employment@louisville.edu or 502.852.6258.