Spring 2022 MFA Thesis Exhibitions
Every Summer, The Hite Institute of Art and Design highlights our graduating MFA Candidates in our annual MFA Graduates Exhibition at the Cressman Center for Visual Arts. The exhibition is an opportunity to share the accomplishments of our most recent MFA Graduates with the community and offer the public a chance to see work from their Thesis Exhibitions together in one place!

This year's exhibition features the work of: Jingshuo Yang, EVPL, and Xin Chen. 
For an appointment to view the exhibition please email: Jessica.Oberdick@louisville.edu
First Row Images: MFA Installation at Cressman Center; Second Row: Images 1-3 work by Xin Chen, Images 4-5 work by EVPL, Image 6, work by Jingshuo Yang
---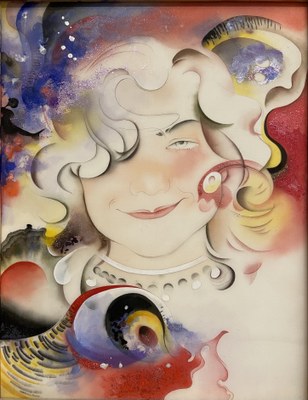 Jingshuo Yang: Transformation: Finding the Inner World
Jingshuo Yang Artist Statement:
My paintings are like a diary, recording my growth and perception of life. Many times our habits and ways of thinking become subtle customs that control our behavior without being noticed. We become numb, insensitive, habitually living, working, playing, even our joys and sorrows are secretly controlled. Sometimes I know I feel bad, but I do not know why, and I do not want to dig deeper emotionally. Why is there such a moral code, why are there such customs? Are they right? If not, how can we change them?
I am constantly trying to abandon my own inherited concepts and observe society and people's lives without myself, seeking to face real life instead of what the media, the government or books want me to see. Of course, in this process, I once lost myself. Many social phenomena and the stories and emotions of the people I observed had a great impact on my emotions and my life. So, I began to rebuild myself. My art reflects my observations of real life, and based on my understanding of reality, I ask myself what I want to be the real me, not the controlled me and the me expected by others. Maybe life makes me helpless. It is out of control. But, my inner world which I create through my art is the only one I can completely control. It is free, safe, peaceful and beautiful. It allows me to be awake and independent, without the pain of losing myself.
---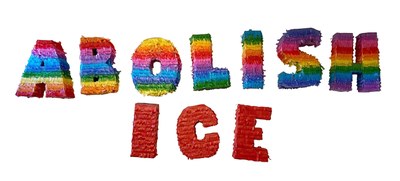 Betty Álvarez
di•as•po•ra: 
displaced not erased
Artist Statement: I work within multiple mediums to create works that aim to resurrect pieces of my culture that are slowly being forgotten or left behind due to assimilation. I accomplish this through revisiting and reinterpreting these traditions. My goal is to bring awareness of the Latin experience in a racially divided United States through artistic expression and my own personal experiences. I want people who feel kept out of these predominantly white spaces to feel seen and heard in my works, to see a piece of themselves reflected in a space we are largely unwelcome in. My works are made to feel whimsical and playful, but carry a deep, meaningful message. The colors envelop each artwork to create a lighthearted approach in conveying the heavy burden of passing down cultures while fighting to be seen. There is a call for change that demands attention. Every piece of art working together to create an environment that viewers can feel encompassed in. Each work calls upon a certain part of my culture & heritage, leading to my own personal awakening with both concepts. 
---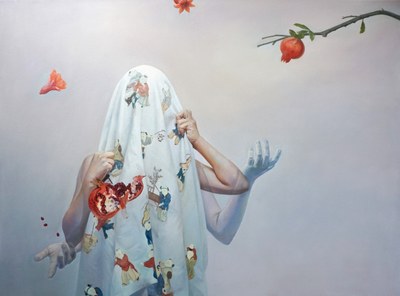 Xuanyi Wang: BETWIXT & BETWEEN
Artist Statement: As a transnational artist, my imagery is motivated by how womanhood is defined here in the United States versus China. I grew up in a Chinese family, formed by a strict, traditional Chinese culture. Since I have come to the United States, I have experienced a more liberal society. The cultures of the East and West have now become intertwined in my persona.
My work utilizes ornamentation and my own body to bridge intangible consciousness and tangible beauty. In my paintings, my form is altered through the addition ornamental patterns, becoming a visual manifestation of my inner being and spirit. These works reveal an individual's ability to adapt to their surroundings. Throughout the process of fusing of my physical form with various patterns, I am relating European culture to Chinese culture and examining the impact of this environmental change on my identity. The changing patterns are tangible, and they also represent the attendant cultural philosophies. Multi-national patterns and my figure are intertwined in my work, as if I existed in both Eastern and Western cultures. I am not truly part of American culture and am slowly disconnecting from the current Chinese culture. I have become an independent, in-between being.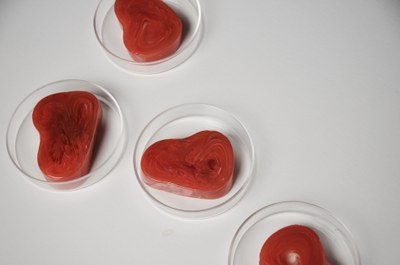 Xin Chen: Meat the Future

Artist Statement: My research focuses on the subtle relationship between human life, the environment, and other animals that we live among everyday. Under the mainstream social background of capitalism and a commodity economy, animals are the victims of constant consumption and exploitation. However, meat is a basic substance for human nourishment, especially in certain cultures. As a result, meat becomes an important part of the commodity economy in capitalist societies, wherein the supply must be filled to accommodate society's demand. My exhibition uses glass and ceramic satirical artwork using a playful tone to offer a crucial alternative: how to help build a sustainable society that is more friendly to animals and the environment by enhancing awareness of human impact on both, thus, promoting the protection of those with whom we share the Earth.
Bio: Xin Chen, originally from China, earned her Bachelor of Fine Arts in glass and ceramics in 2017 from Shanghai Institute of Visual Arts. Xin then moved to the United States to work before attending the University of Louisville in 2019 in pursuit of her Master of Fine Arts in Studio Art & Design, which she will earn this spring. Xin uses glass and ceramics as her main creative materials, while incorporating others to open further possibilities and avenues of exploration with the medium. Among other awards, Xin has won the Gold Award and was selected for the China Hejian 2018 Lampwork Glass Art Exhibition.
---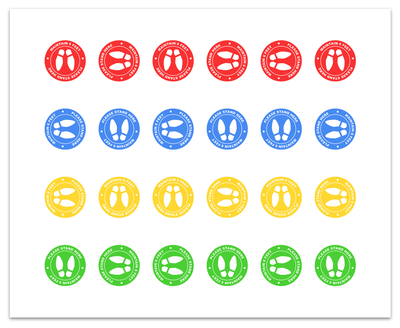 EVPL
It's All Fun And—
A Rhetorical Analysis of Space in the Pandemic
Reception: Friday, April 15, 5-9 PM
Artist Statement: The pandemic has rippled into nearly every space within our lives, expanding the virtual realms we inhabit and the duration for which we inhabit them, while recontextualizing shared intimacies in our daily life. In the same interaction, I can get a deeply personal glimpse into someone's home living space through a video call, while abruptly confronting the fact that I had all but forgotten what their face looked like outside of a mask. 
Masks semiotically have become blended with how we recognize others outside of private spaces. The materials I have used and referenced throughout this exhibition conflate these distinctions between public and private interactions—such as a spatially intimate game like Twister being composed of social distancing stickers—examining the spaces in which we are either recognized with or without masks and which objects surround us in each context to rhetorically construct said spaces.
The title of the exhibition reflects the pandemic's interruption—of time, of space, of norm—as if the inner dialogue of the thought "It's all fun and games" was itself interrupted, taken from the mouth and left silently within the internal space of implication. Games thematically punctuate the concepts addressed within this exhibition, as games are rhetorically associated with social interaction, shared spaces, and domestic nostalgia. Further, games function as micro-systems in which we do not make, but do agree to play by the rules, even though the rules often cater to some and blatantly exclude others. Games carry with them a risk-free sense of frivolity that I have satirically employed here in examination of how people chose to treat one another during the pandemic, wherein risks and privileges were quite tangible. 
Physical spaces have altered—and maybe for some, this was merely a game that is nearly won—but for others, much has been lost, and physical space itself will always remain a bit more distant. All the while, our empathetic spaces have dwindled, and we see less of ourselves in one another, occupying a smaller field of a common ground, constricted more still by our now more visibly broken systems.
The game is rigged. 
______________________________________________
In 2019, Lewis graduated from the University of Montevallo with a Bachelor of Arts in English and a Bachelor of Fine Arts, concentrating in both Drawing and Printmaking. This spring, they will graduate from the University of Louisville in Kentucky with a Master of Fine Arts in Studio Art & Design. In the fall, Lewis will continue their education at the University of Louisville to pursue a Ph.D. in Comparative Humanities on the Public Arts & Letters track with plans to teach at the university-level after graduating.