Scholastic Silvery Key and Honorable Mention
February 13-March 17, 2023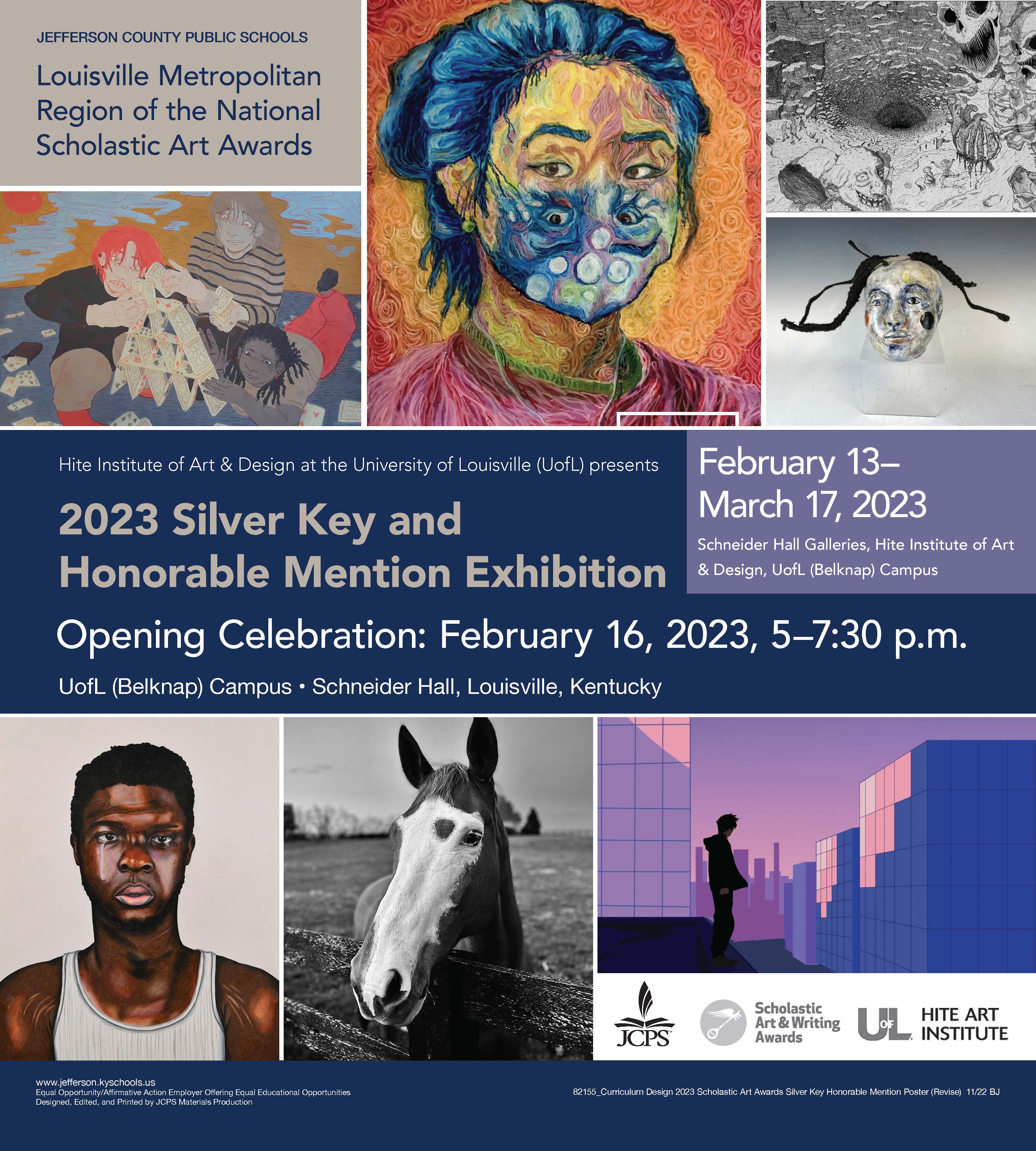 Scholastic Silvery Key & Honorable Mention
Feb. 13-March 17, 2023
Reception: Thursday February 16, 2023 | 5-7:30
Schneider Hall Galleries | University of Louisville
The Hite Institute of Art & Design is pleased to announce the 2023 Scholastic Silver Key & Honorable Mention Exhibition. Presented by the nonprofit organization, the Alliance for Young Artists & Writers, the Scholastic Art & Writing Awards are the country's longest-running and most prestigious scholarship and recognition program for creative students in grades 7–12.  Each year, the Hite Institute of Art and Design is thrilled to offer our gallery spaces for the display of the Louisville region's most talented artists in grades 7-12. We hope you will join us for the opening reception on Thursday Feb. 16 from 5-7:30 pm in the Schneider Hall Galleries.
Begun in 1923, the Scholastic Art and Writing Awards is the longest-running, most prestigious recognition program for creative teens in the U.S. and the largest source of scholarships for young artists and writers...the "Oscars" of the teen art world! The Alliance is a 501(c)(3) nonprofit organization whose mission is to identify students with exceptional artistic talent and present their remarkable work to the world through the Scholastic Art & Writing Awards. The awards have an impressive roster of past art winners including Andy Warhol, Robert Redford, Charles White, Kay WalkingStick, Red Grooms, Robert Indiana, Richard Avedon, Zac Posen, and Tschabalala Self.
The Scholastic Silvery Key & Honorable Mention exhibition will be on view Feb 13-March 17. The gallery is open Mon-Fri 9-4:30 and Saturday 11-4.