Recent Graduates and their Projects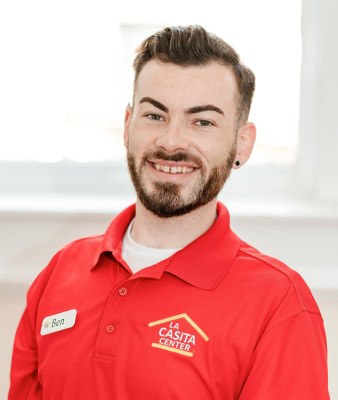 Benjamin Harlan, MA graduate, December 2022
Project overview
Ben is interested in ways people can organize to administer goods and services while also combatting the worst impacts of systemic injustice and building community. He conducted his thesis research with La Casita Center, a Louisville based, immigrant-led nonprofit that accompanies Latinx newcomers. Ben strives to be a community engaged scholar, meaning he is able to express academic interest while also advocating for the community he works with. In his time with La Casita, he conducted semi-structured interviews and participant observation while simultaneously volunteering his time at community events including vaccine clinics and mobile consulates. He completed his thesis: La Casita Center: An Accompaniment Based Approach to Social Justice and Social Service in Fall 2022, and he hopes to use parts of his 108-page thesis to share La Casita's work with more audiences to increase visibility and funding to La Casita.
Ben says his experience with the incredible anthropology faculty at UofL allowed him to hone his academic research and writing skills while also pursuing his career and advocacy goals, stating: "Thanks to the wide array and depth of expertise of faculty members, I've not only learned more about the discipline, but I've also been able to make invaluable connections to community members in Louisville. I've been exposed to scholarship and opportunities at UofL that I otherwise wouldn't have had." After completing his MA, Ben will continue to work with La Casita Center as a research specialist and consultant.
Ben invites you to watch this documentary, which sheds light on the important work the La Casita Center does.
---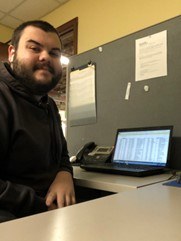 Dane Thomas Pike, MA graduate, December 2022
Project overview
I worked with the Supply Overseas (SOS) International in Louisville, KY as an intern during the Fall of 2022, and had an incredible experience of seeing firsthand the ins and outs of non-profit work. SOS International is an accredited MSRO, or medical surplus recovery organization, which is focused on the collection and redistribution of medical supplies and equipment that would otherwise be thrown away. Through donations from individuals and organizations, such as hospitals and doctors offices, SOS International has been able to send millions of pounds of potentially life-saving medical supplies and equipment to places both locally and internationally.
During my time at SOS International, I worked on various projects, including an analysis of their local health program data to create a list that required outreach, researching foundations and generating a list of prospective funders, updating the prices in the inventory management system, researching various global health organizations (USGLC, USAID, WHO, etc.), and assisting with their audit process. For my special project, I wrote a research paper about the relationship between local and global health, and how the work of MSROs impact global health. This paper was written so that SOS International could use it as a teaching tool and a reference in order to help convey the importance of global health. I learned a lot during my time as an intern for SOS International, such as remaining open-minded, flexible, and professional in the non-profit world. Being at SOS International was an opportunity that I am certain has prepared me for a future career and was an enriching experience that I will look back fondly on.
---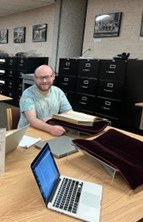 Dustin Smith, MA graduate, December 2022
Project overview
For my Master's fulfilment project, I decided to take the experiential route. For me, this made sense as it was a better fit for my hands- on learning style. Initially my interest was primarily centered on field-based archeology, but during my coursework at UofL, I found myself growing more interested in museums. I suppose this isn't a surprise as museums house artifacts! Zrventually, I found myself being the collections intern at the Conrad-Caldwell House Museum. My experience there was academically enriching and rewarding. I had the opportunity to do research on the servants who lived/worked on the property. We utilized various resources, including genealogy websites, descendant interviews, and city directories. We started the project knowing about 11 servants, but ended up with 53! We were lucky enough to have a photo sent to us from a descendant (with hopefully more on the way). The original idea was to create an exhibit which features information about the servants, as well as more information about being a servant. Although the exhibit had to be put on hold, I did have the opportunity to create an exhibit plan, which will be useful in the future.
I also had the opportunity to gain a better understanding of how a small, non-profit museum works. It truly was all hands-on deck, which was something that I actually enjoyed as I was able to experience a variety of things, including, learning how to use the museum's cataloging system, grant writing, and fundraising, which are skills that will be helpful in future endeavors. To me, the most rewarding part about my internship was helping to make the servants visible, as they had been forgotten by time. I have to credit my training in anthropology for helping me understand how important this project was and how important visibility was for this project. This project has truly been one of the best experiences of my life.
---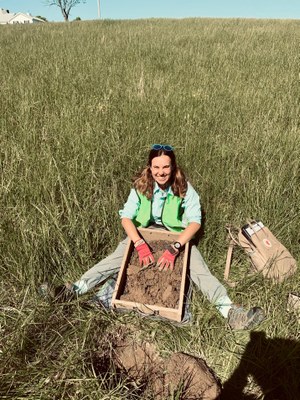 Ashley Lawhorn
For my summer 2021 internship I worked as an archaeological field technician in the Cultural Resource Management sector. CRM works to prevent the destruction of culturally significant historic and prehistoric sites across the U.S. This type of archaeology is unique and invaluable to the lives of so many—CRM archaeologists act as the first line of defense when protecting culturally significant places of the past from modern developments. Throughout the course of my internship, I worked on four different phase I projects across the Southeastern United States. These surveys consisted of surface walking and shovel testing. The projects varied in size and could take anywhere from one week to several months. Throughout my experience I was able to enhance my ability to identify artifacts and soil-color changes. Additionally, this opportunity allowed me to become more familiar with ArcGIS Collector: a mapping technology that records GPS data when conducting field survey. My internship allowed me to enhance my skillset and experience this unique sector of archaeology. Having completed this experience, I'm confident that CRM would be both an exciting and rewarding career option.
---
Jakia Marie
Immigrant and Refugee Programming at the Iroquois Library, Louisville
As the African Immigrant and Refugee Programming Intern at the Iroquois Library, I was able to put what I learned through my Anthropology courses into practice. I was able to assist the library with their weekly programming such as English Conversation Club (ECC) and weekday tutoring and other community events. I assisted in organizing events, leading reflective discussions during events, connecting our community members with other community organizations, and community outreach. I worked directly with immigrant and refugees from around the world, and I worked more closely with those from the African continent. I had the opportunity to work with a diverse population, and my passion for African Diasporic experiences in the U.S. grew.
The Anthropology M.A. program has challenged me to be more critical and analytical in the way in which I understand migration and immigration policies. Refugee Mobilities taught me more about the realities of the refugee experience. The material from this course helped me in understanding those I worked with at the Iroquois Library. Our Globalization Seminar taught me more about the world in general and how global economies and policies impact us all in various ways. This course helped me better understand how groups of people from around the world are marginalized and disenfranchised at the hands of the global elite. What I learned from this course was influential in how I related to the diverse population at the library because I had this knowledge of the complexities of globalization and global migration. Without my background in Anthropology, I would not have been as equipped to work with such a diverse population in a meaningful way. My Anthropology coursework helped me better appreciate the work that is being done at the Iroquois Library and the sacrifices those we have worked with have made.
Working with the Iroquois Library has challenged me to reflect on how I can work harder to make a more equitable community in Louisville and more equitable global society. This internship has helped me become more critical in my thinking as it relates to scholarship concerning African immigrants and refugees in the U.S. I have also reflected on how I can become a better global citizen. In all, this experiences has shaped my scholarship and outlook on life in a positive way.
---
Allan Day
In 2016 I received a Bachelor's degree in English from IU-Southeast. I decided to take the writing skills I had developed and explore the social sciences. My interest in the machinations of culture led me to the University of Louisville Anthropology department, where I focused my Master's work on issues of sustainability and the environment. I wanted to understand how various cultures conceive of the human relationship to the environment, why so many societies function unsustainably, and what impact sustainability efforts might have upon socio-cultural systems. 
During my time here, I became involved in two pertinent research projects. The first was to explore cooperative grocery stores from a social sciences perspective to contribute to efforts to start such an operation in Louisville. The second was a follow-up on a project from a political ecology class exploring students' changing conceptions of nature and the environment. 
I was interested, too, in taking active part in sustainability work beyond the academics. I had previously performed some volunteer work through the WWOOF program, connecting volunteers to organic farms. My university studies in sustainability led me to the Citizen Forester program at Louisville Grows, a nonprofit organization supporting urban agriculture, urban forestry, and environmental education. Citizen Foresters are specially trained to lead teams of volunteers for tree planting events. I concluded my academic career with an internship at Louisville Grows, helping with their various operations and programs. 
The internship transitioned into a full-time fund development position at Louisville Grows through the Americorps Vista program. This position ends in June 2019 after which I intend to continue work pertaining to sustainability and environmentalism. The ideal is to take a position conceived by Louisville Grows in conjunction with Limbwalker Tree Service as an urban arborist apprentice. This opportunity largely depends on pending grant applications, so its feasibility remains to be seen. Meanwhile, while the completion of this position is a little ways off, I keep my eyes open for potential future opportunities.
---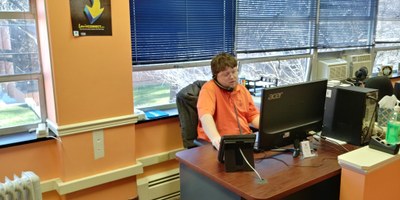 Joseph Knall
My time pursuing a master's degree in cultural anthropology at U of L has been, despite the hard work, the most enjoyable and the most satisfying part of my life so far. My work for that degree culminated in an internship, and a job, at the Coalition for the Homeless. At the Coalition, I work in a project called Single Point of Entry, helping to secure emergency shelter for homeless individuals and families, directing them to resources made available by various organizations in Louisville, and facilitating collaboration between those organizations by participating in programs such as Operation White Flag, Stand Down, and others. While working at the Coalition, I realized that there was a vast and ever-growing amount of data on homelessness across Kentucky to which I and my coworkers had access. It is important to maintain good data for funding reasons, but the data can be useful to the Coalition itself as well. Though some use is made of it, the sheer amount of data to which the Coalition has access piqued my interest, and I began to consider different ways it could be looked at beyond what I knew was already being done. I became interested in the question of why people use and, in some cases don't use, resources that are intended for use by homeless people in Louisville. As a small first step in the direction of answering that question, I undertook a project in which I digitized and then analyzed a good deal of data about individuals who were outside on a specific night and those within the three major shelters with which the Coalition is affiliated, on that same night.
 From even that snapshot of a single point in time, a number of mysteries arose, and I intend to look both backward and forward at other nights on which data about people staying outside was collected in order to see what patterns emerge over time, both from year to year and at different times of the year. I would like to expand my analysis of the data already collected by the Coalition and other organizations to look at how long people stay in shelters and to what demographic and other factors length of stay seems to correlate, and to analyze data about last zip code prior to becoming homeless in order to map housing insecurity in Louisville over time.
I still work at the Coalition for the Homeless, not as an intern but as a full-time employee. Ultimately, my hope is to participate in, and, if necessary, organize, an in-depth ethnographic study of homelessness in Louisville, particularly as it relates to my initial questions about the use of resources, in hopes that it can be used to inform future efforts in the Coalition's ongoing struggle to alleviate and ultimately bring an end to homelessness.
---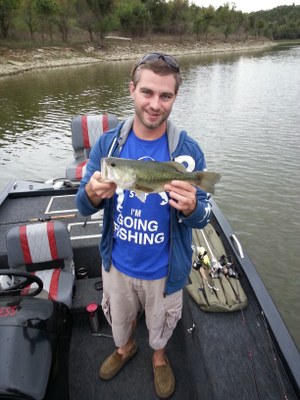 Julian Schagene
Over the summer and fall of 2018, I was an intern of Dr. M. Jay Stottman at the Kentucky Archaeological Survey. The goals of my internship included learning the skills I will need for a career in Cultural Resource Management, networking while working on projects, and familiarizing myself with the state and federal laws that dictate CRM archaeology. During this time, I would participate on a range of projects from public archaeology projects and teaching parents and children about archaeology and history to working on Section 106 Federal projects. The projects ranged in terrain from paved urban neighborhoods to rural and dense forests and surveying steep hiking trails. The projects also covered various time periods from Archaic era shell middens to 20th century homesteads across western, central and eastern Kentucky.
Working on these projects provided me with valuable experience in preparation for a career in Cultural Resource Management by showing me the types of projects that are commonly done, learning about the National Register of Historic Places, and participating in all Phases of excavation. Working at Riverside, The Farnsley-Moremen Landing and the Squire Earick House both public archaeology projects were eye-opening and rewarding by educating the public on the importance of archaeology and history and having them participate in excavations. Surveys in Daniel Boone National Forest were tough at times and provided me with the first experience of my internship. Hiking through remote and steep forest while having to dig shovel probes was rough, but the surveys here not only provided valuable skills that helped me throughout my internship but will help me the rest of my career. In addition to learning skills in the field, I also learned lab skills and how to use artifact databases to store and extract data.
---
Natalie Srouji
My internship took place at Newcomer Academy.  Newcomer Academy is a JCPS institution that serves students in grades 6th-11th, who are participating in their first year of formal instruction in the United States.  Our school provides educational resources to individuals who have recently arrived to the United States.
My role was to explore the existing relationships established through volunteer efforts and to restructure the ways in which our school had previously engaged with its volunteer base. 
I was able to accomplish this through an application of Anthropology that allowed me to collect data through ethnographic research, or fieldwork.  I collected data in the following ways:
Surveys and Open-Ended Questionnaires
Participant Observation
Field Note Writing
Everyday Conversations
And Semi-Structured Interviews
I spent four months developing a platform for which Newcomer Academy would interact with volunteers, logging more than 300 hours.  During this time I was able to accomplish the following:
   1. Developed and managed a volunteer program at Newcomer Academy
   2. Created a Newcomer Academy volunteer website
   3. Coordinated volunteer engagement within the school
   4. Managed community outreach and development
   5. Collaborated with school admin and staff
Through these experiences and with an application of Anthropology I was better equipped to develop a sustainable network of community support.  
Anthropology helped me to think through this process through an application of concepts related to infrastructure.  I treated the space as a socially charged network of engaged individuals, with varying ideas and interests.  I observed the diverse ideologies taking shape within the school.  In doing so, I was able to develop solutions and re-think the existing system in place.
In this process of developing a network of community support I explored concepts of power, and considered the ways in which the staff, volunteers, and myself are often making decisions for the students based upon what we understand as valuable to their success as individuals. Often the decision making process is made in communication with the teachers, rather than the students, requesting that teachers inform us on the ways in which volunteers could support their students rather than directing the question to the student themself.  It serves as a reminder that we need to ask students, and young people for that matter, what it is that we can do for them?
This is now where I find myself; exploring the role of education in shaping our youth and the ways in which identifies are formed within the space of those institutions of education.  I have the opportunity to stay at Newcomer Academy to address these questions working to fulfill the position of High School English and U.S. History teacher.  For the months of January and February I will have the opportunity to make observations through engaging experiences with students at Newcomer Academy.  During this time I will also be working on getting my teaching certificate to begin teaching full time in the Fall of 2019.