Student Government Association
Congratulations SGA Officers
Jason Deakings
President
jason.deakings@louisvill.edu
Nana Ama Bullock
Vice President
nanaama.bullock@louisville.edu
Danial Malik
Treasurer
danial.malik@louisville.edu
Jewels Clarke
Secretary
julianne.clarke@louisville.edu
Alia Khan
Undergrad Representative 
alia.khan@louisville.edu
Paige Combs
Undergrad Representative 
paige.combs@louisville.edu
A'Ryan Jones
Undergrad Representative 
aryan.jones@louisville.edu
Taelor Duncan
Undergraduate Representative
Tailor.duncan@louisville.edu
Victoria Clemons
Graduate Student Representative 
victoria.clemons@louisville.edu
About SGA
The SPHIS Student Association was formed in the fall of 2005, following ratification of its bylaws, which are available in Appendix IX-7. Elections were held soon thereafter, electing officers and other positions specified in the bylaws. Since then, the student government has been self-directed and has accomplished the following, among others:
-- recognition as a registered student organization;
-- membership in the Graduate Student Council, which is the recognized student council for all graduate programs;
-- formation of the local student chapter of the Kentucky Public Health Association; and,
-- elections in the spring and fall of 2006.
The student association is very active in promoting social functions of the student body and in working for and achieving student benefits.
Events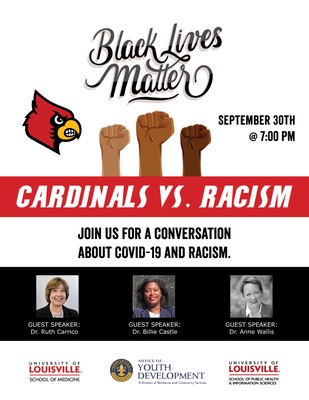 The University of Louisville School of Public Health & Information Sciences (SPHIS) Student Government Association teamed up with School of Medicine Division of Infectious Disease, SPHIS Dept. of Epidemiology & Population Health, and Louisville Metro Government and hosted an open discussion on the topic of "Health Equity Considerations: COVID-19 & Racism."
Speakers included Dr. Ruth Carrico, Professor, Division of Infectious Diseases, School of Medicine; Dr. Anne Wallis, Associate Professor, Dept. of Epidemiology & Population Health, SPHIS; and Dr. Billie Castle, Youth Development Systems Administrator, Louisville Metro Office of Youth Development.