Mary Ann Russell Science Education Exhibit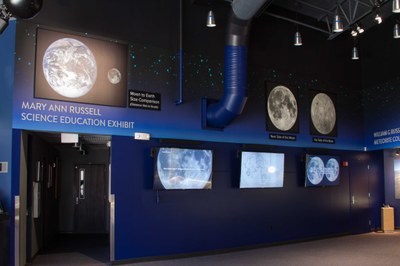 This exhibit takes visitors on a journey through the formation of the moon, humankind's interaction with the moon and common myths about the moon (such as the moon does not suddenly grow in size when it is a "Super Moon"). Join us to learn fascinating details about our nearest celestial neighbor.
The exhibit is free and open during our regularly scheduled public shows or else contact us to arrange a visit on a week day: 502-852-5828 or planet"at"louisville.edu.
Click here for directions and parking information.